Dick, Kerr Ladies – The legendary football team you have never heard of
Posted on 4th March 2021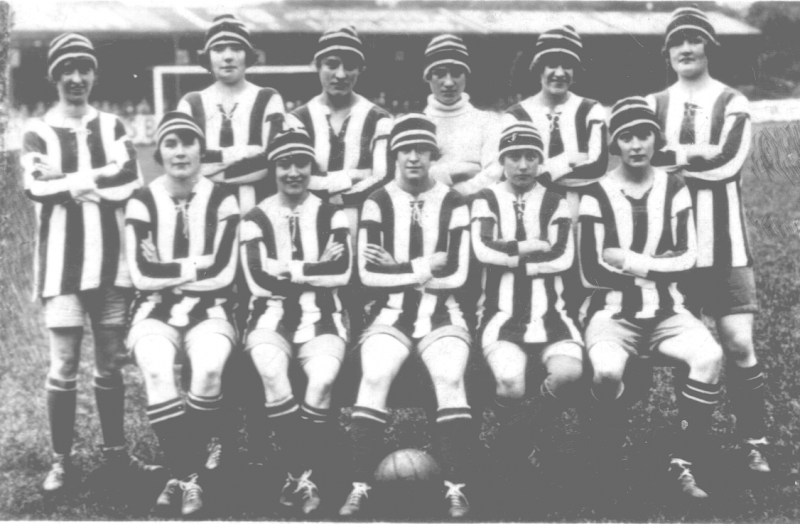 Women's football has seen huge growth and development in recent years, with the FA Women's Super League (WSL) in England gaining significant attention along with the notable commercial success of the 2019 Women's World Cup.
Despite this, the Women's game still sees much discrimination, financing issues and a largely negative attitude towards it, with many citing a huge gulf in quality of play in the sport – an unfair comparison given the uber-elite and highly funded men's game. Many do forget that women's football has a long history in Britain. In fact, if it was not for a ban by the Football Association, the likes of Dick, Kerr Ladies FC would be remembered as one of the greatest teams of the footballing world.
Dick, Kerr Ladies FC was formed in 1894 in Preston, one of the huge footballing strongholds of the early game. They were one of a number of women's football teams in England, and they formed part of a growing game in late-Victorian and Edwardian England. One of the superstars of the game was Lily Parr, an extremely talented player and football superstar who would often attract large crowds purely to see her play. From 1919 to 1950, she would score over 900 career goals, often appearing on the score sheet multiple times for both club and country. One infamous story is of a male goalkeeper condescendingly challenging Parr to beat him from the penalty spot; Parr accepted, and despite the goalkeeper saving her shot, Parr hit the ball with such ferocity that the ball broke his arm. Lily would play much of her career for Dick, Kerr Ladies, the club would pave the way for future women's sides by being the first team to internationally tour, as well as the first team to wear shorts.
One statistic which changed the women's game as a whole was the attendance figure of a game between Dick, Kerr and St. Helen's Ladies at Goodison Park as 53,000 people watched on Boxing Day 1920. Even more impressively, Dick, Kerr player Alice Stanley wrote in her diary that another 10,000 to 15,000 people had been turned away. This attendance figure was so immense that it would only be beaten in 2019 when over 60,000 people filled the Wanda Metropolitano in Madrid to watch Barcelona beat Atletico Madrid. It should be noted that large attendance figures were not uncommon for the women's game, with women's matches often receiving bigger attendances than the men's being played on the same day. Unfortunately, it was this popularity that would cause the Football Association to take action.
The FA accused Dick, Kerr FC of not giving enough money to charity – a ridiculous claim given that all Dick, Kerr matches were played for charity, and that Dick, Kerr would raise £175,000 in their 48-year existence. The FA banned women's football being held in its club grounds on the basis that football was 'quite unsuitable for females', an explanation which unfortunately agreed with the social climate of the day. Women's football would be pushed back to muddy football pitches in parks, dooming it back to obscurity. This ban would also lead to the eventual end of Dick Kerr Ladies.
Gail J. Newsham – former footballer and author of In A League Of Their Own: The Dick, Kerr Ladies 1917-1965 – stated that "we've had 50 years in the wilderness and we're still fighting back". This quote does make many, including myself, wonder where the women's game would stand today if the ban had not been imposed, and where Dick Kerr's place in the beautiful game could, and should, have been.
Noah S, studying A Level Modern History and Politics.