Equality & Diversity
The College is a diverse community and we are proud of this!
The College will provide an inclusive, personalised learning and working environment in which students, staff and visitors are valued as individuals, according to their merits, abilities and potential.
Protected characteristics
There are a number of characteristics that are protected by the law, through the Equality Act, 2010.If you have any concerns about the protected characteristics across the college please email equality@hereford.ac.uk. As you will see, "Gender" is an umbrella term to refer to gender, parenting status, trasngender and marital status. It also refers to sex.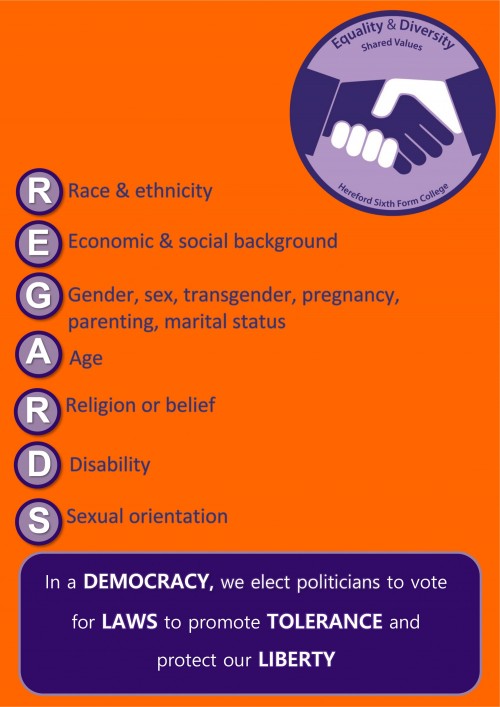 Protected Characteristics
Our aim is to advance equality, tackle discrimination and foster good relations in the wider community, so you can talk to your Personal Tutor, your Director of Studies or any member of the Well-Being Centre about any of these issues.
_____________________________________________________________________________________
If you need some support...
Follow these links for more information about Learning Support and support for students with mental health and Well-being concerns.
If you're trans or non-binary, please do let us know. We are very happy to have open conversations with you about anything you'd like, so please do get in contact with the Directors of Studies, Helen Osborn hmm@hereford.ac.uk or John Pratt jpp@hereford.ac.uk.
If you have a disability and would like to talk to someone about the support we can offer, please contact Emma Horton eh@hereford.ac.uk.
According to the Equality Act, 2010 a disability is a physical or mental impairment that has a 'substantial' and 'long-term' negative effect on your ability to do normal daily activities. If you have any concerns about accessibility across the college please email equality@hereford.ac.uk
Equality, Diversity and Inclusion Report 2019-20
The report includes:
The Single Equality Scheme, Equality Objectives and Action Plan for 2019-20
The Accessibility Plan.
Please read this report to find out about how we consulted our community, how we celebrated diversity and advanced equality and how we plan to go further in 2020-21.
Equality, Diversity and Inclusion Report and Accessibility Plan 2019-20
Equality, Diversity and Inclusion Report 2020-21
Equality, Diversity and Inclusion Report and Accessibility Plan 2020-21
Equality, Diversity and Inclusion Policy including Disability Disclosure and Confidentiality Policy and Procedures 2021-22
Fundamental British Values
The College's Prevent Strategy and Risk Assessment is updated annually and is available upon request from John Pratt jpp@hereford.ac.uk point of contact for Prevent.
Our successful and diverse community works so well because we promote Fundamental British Values alongside equality, diversity and inclusion. These values are: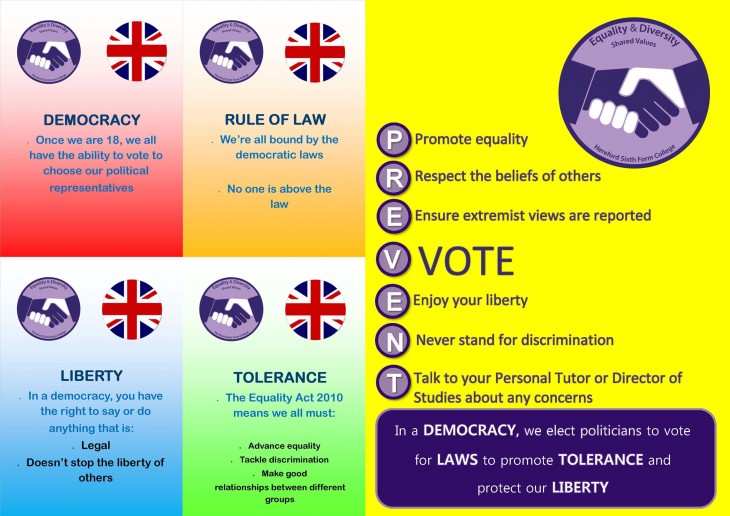 Fundamental British Values
Prevent Duty - Reporting Extremism
Hate speech aginst particular groups in society can be the first steps towards illegal or terrorist behaviour. If you are worried about what someone is saying, either online or in real life, please email equality@hereford.ac.uk or jpp@hereford.ac.uk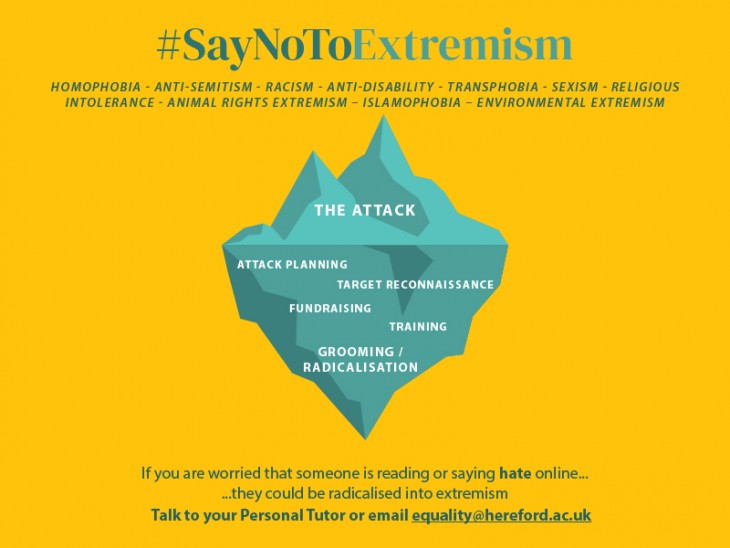 #saynotoextremism
Accessibility
We're committed to making our website as accessible as possible to all audiences (including those with visual, hearing, cognitive or motor impairments) to meet its requirements under the Disability Discrimination Act.
Find out more about this on the Accessibility page.
Accessibility Statement - Website
Accessibility Statement - Portals
Accessibility Statement - Learning Platform
Equality & Diversity News
LGBTQ+ History Month 2022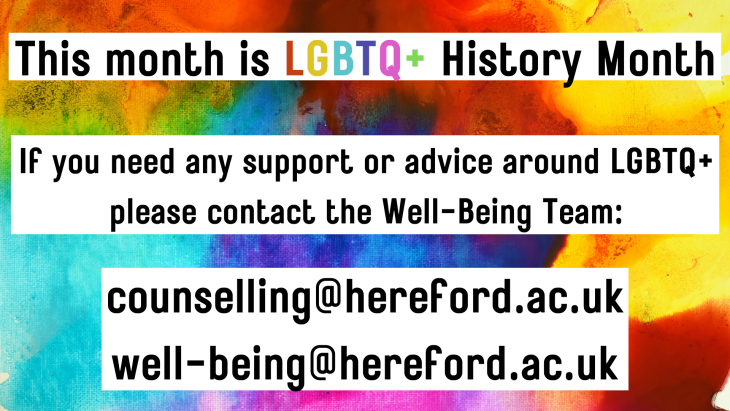 Racial injustice explored:
Two students Lola C and Sacha B have a passion for racial justice and explore the theme in discussion together. In this interview, they share their personal views and historical insights into racial injustice in Britain.
Racial Injustice Conversation
A Conversation about Racial Injustice with Rev Kina Robertshaw.
Following on from a recent visit from Rev. Robertshaw to the College, a live Zoom Q&A session took place to explore racial injustice in the wake of the solidarity shown in Black Lives Matter. A live, in-person event involving students is hoped for the summer.
Black History Month 2020
For Black History Month, we hosted a talk by Rev Kina Robertshaw and Rt Rev Richard Jackson, Bishop of Hereford, called 'Christianity: Racist and Irrelevant?'.
The event is now available to watch below
Students engaged with the topic of Black History Month by contributing articles to the Student Voice.
'The Black Mozart' or 'The White Chevalier'? : The Whitewashing of Classical Music's History by Alex Brian
Black Lives Matter
To show our support for the Black Lives Matter movement that sparked protest across the globe in June 2020, our College Chaplain issued this statement on our social media pages, accompanied by the 'blackout' image below.
"Recent events in the States, demonstrating and enlarging racial divides have broken our hearts here at the College. We stand in solidarity with our black brothers and sisters and insist that "black lives matter". They have equal value and deserve equal opportunity. Racism is wrong. No ifs, no buts. We are heartbroken but we will not stop at heartache. We will not look on in silent outrage. We commit to being part of the solution. If we are white, we commit to listening and le...arning; to asking for forgiveness; to changing where we need to change. If we are black, we commit to forgiving and educating; to healing. If we are any of the other colours of the rainbow, we commit to being part of the conversation and helping heal divides.
"Do not be overcome by evil, but overcome evil with good."
‭‭Romans‬ ‭12:21‬ ‭
College Chaplain, on behalf of all the staff and students at HSFC"

Black Lives Matter - Social Media Blackout
World AIDS Day 2019
Hereford Sixth Form College's LGBT+ Society decided to fundraise for the National AIDS Trust in honour of World AIDS Day 2019. The Student Representative Council will be matching a portion of the total money, raised by students donating to the Rock the Ribbon campaign, as a joint donation.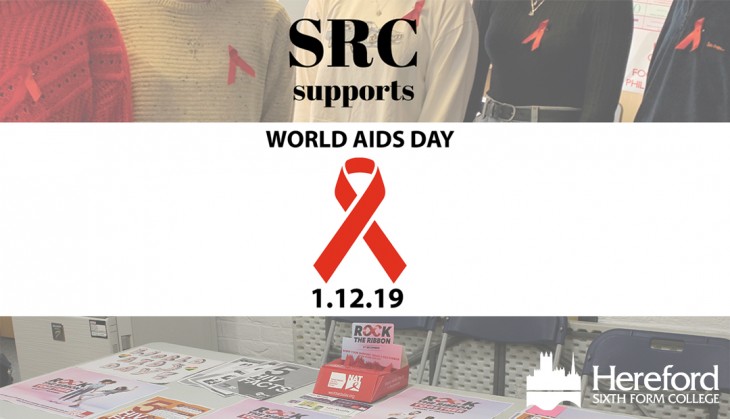 World Aids Day 2019
Mental Health Awareness Week 2019 - 'Mind Your Noodle'
For Mental Health Awareness Week 2019, the College's Well-Being Centre collaborated with Strong Young Minds (a Big Lottery funded project designed to improve the mental health and well-being of young people in Herefordshire), to put on a piece of Theatre in Education and Mind Your Noodle was born.
Congratulations to everyone involved.
You can view the full performance here:
'Mind Your Noodle'
New Zealand Embassy Response
Following the awful events in Christchurch, New Zealand in March, the College Chaplain sent our condolences to the New Zealand High Commission in London. Here is their response: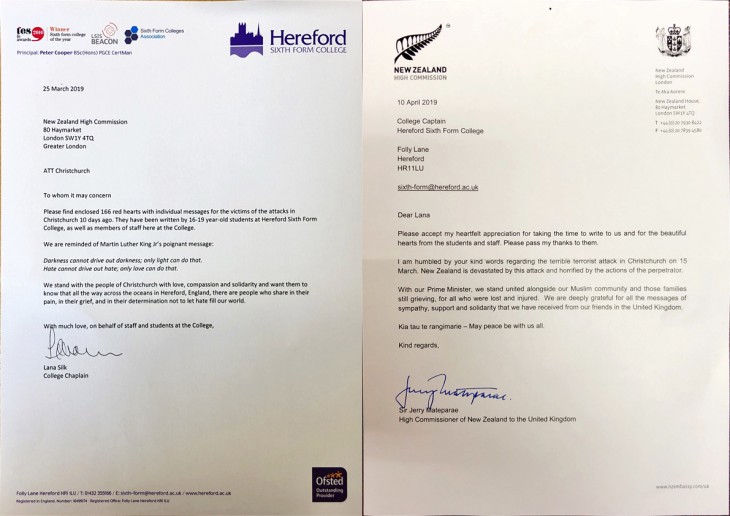 Letters
New Zealand Terror Attack
Read a short statement from the College Chaplain here.
College Sponsors Red Boxes Across Hereford
Staff and students at Hereford Sixth Form College have clubbed together to make a large donation to Hereford's Red Box Project, that will see them sponsoring Red Boxes in eight locations across the city. Read more here.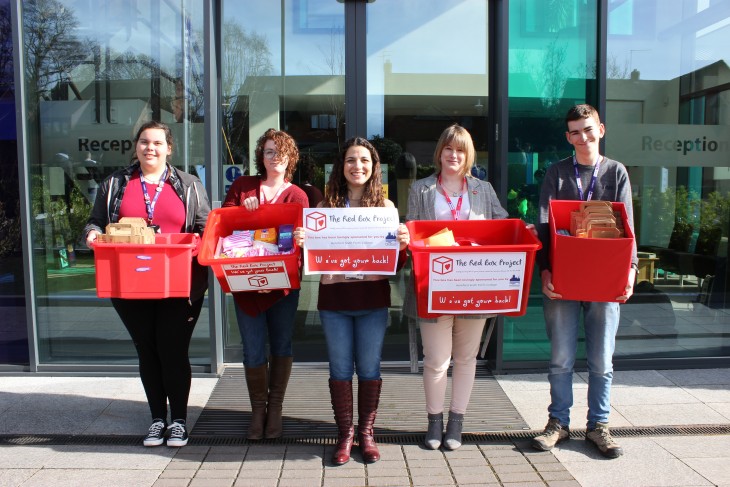 Pictured L-R: Phoebe Spencer (student), Sam Marsh (Red Box Project Hereford), Lana Silk (College Chaplain) and Ed Ceney (student)
Extremism and Fundamental British Values - West Midlands Regional Prevent Co-ordinator Talks to Students
Hifsa Haroon-Iqbal, Regional Co-ordinator for Prevent came to talk to students about the psychology and sociology behind why people are attracted to extremism and to committing terrorist acts. Read more on her visit here.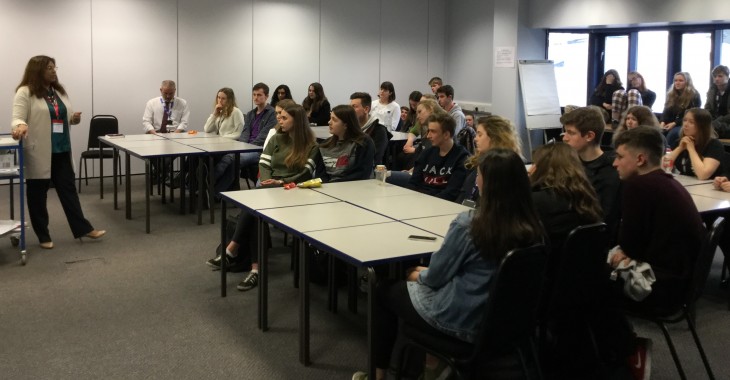 Hifsa talking to a packed house
World Autistic Awareness Week 2018
In order to celebrate World Autistic Awareness Week, 26th March - 2nd April 2018, Fraser Gray and Ellen Lowe, arranged for Debbie Hobbs and Sarah Gillie from the Herefordshire branch of the National Autistic Society to talk to staff and students about how the world can be seen by people with autism and autistic spectrum disorder. Click here to read more.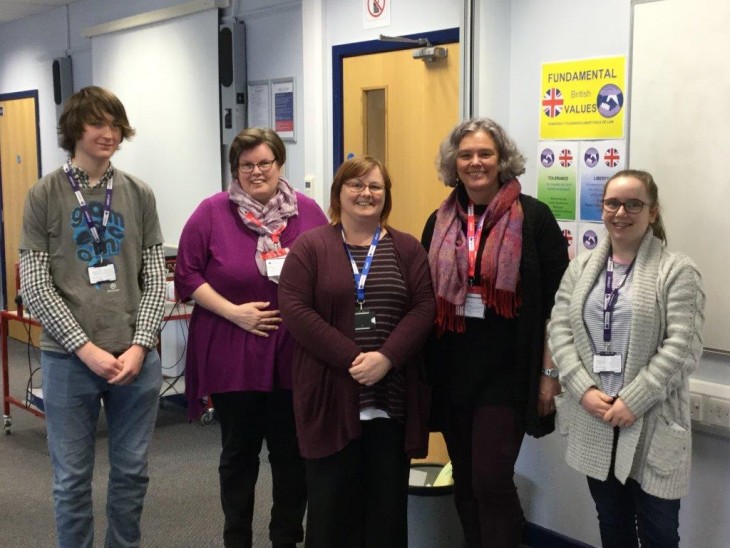 Visitors from the Herefordshire branch of the National Autistic Society
Christian Union and Environment Group Join Forces
The Christian Union and The Environment Group joined forces to run a stall with gifts for Mothers' Day in mind. Click here to read more.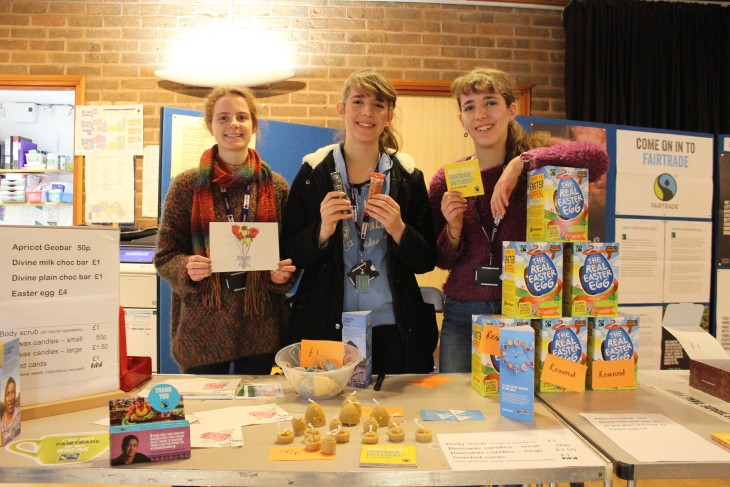 Fairtrade Fortnight
LGBT History Month 2018
The student led LGBT+ Society organised a fund raising parade to celebrate lives and culture in order to challenge prejudice and build equality. Click here to read all about it.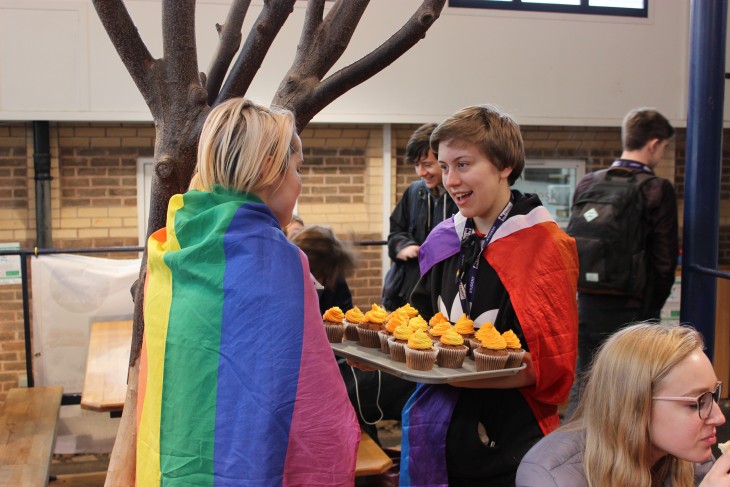 Students selling rainbow cup cakes in aid of Amnesty International's Chechnya Appeal
West Midlands MEP Visits College
On 29th September, we were delighted to welcome Anthea McIntyre, Conservative MEP for the West Midlands, to Hereford Sixth Form College. You can read about her visit here.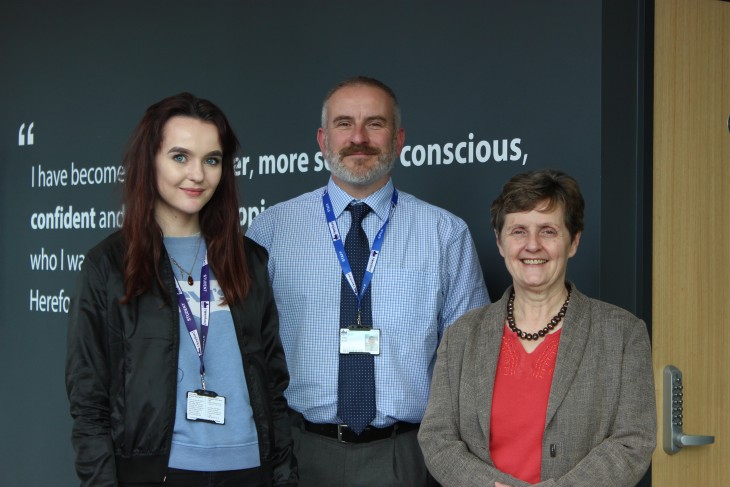 Pictured L-R: Anthea McIntyre MEP, Kitty Cook (studying A Levels in Classical Civilisation, English Language and Government & Politics), John Pratt, Director of Studies
International Women's Day - March 2017
Students, Drew Ellis and Abbie MacFarlane arranged and hosted this year's International Women's Day event which welcomed Clare Mullin to discuss gender inequality in Parliament.
The event saw a great turn out, and Drew and Abbie were very pleased that students were fully engaged in the discussion and are looking forward to celebrating the 100th anniversary of women's entitlement to vote in 2018.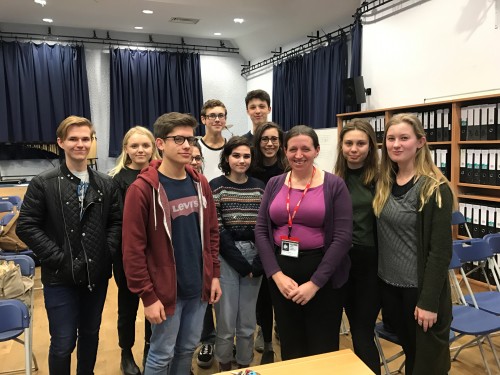 Photo credit: Adam Hill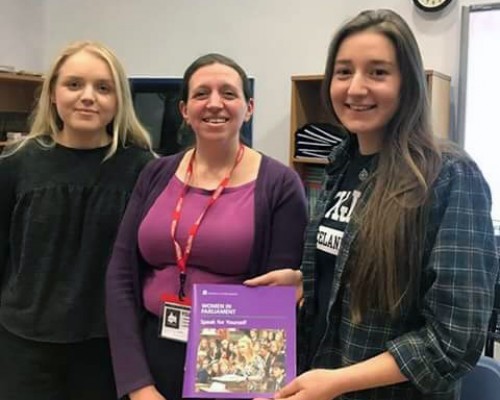 Pictured L-R: Drew Ellis, Clare Mullin and Abi Macfarlane
LGBT History Month 2017
February is Lesbian, Gay, Bisexual and Transgender History Month. To mark this, we invited Lived Experiences Theatre Group to explore the issues many young LGBT+ people experience (such as coming out, facing discrimination and personal identity).
The LGBT+ community celebrated this month by arranging a panel of students to tell their stories. Over 200 friends and allies came out to listen and ask questions. Here is Grace's story.
Grace | My coming out story
If you'd like to talk to someone about these sort of issues, please contact your Director of Studies or a member of the Well-Being team.
FFLAG - Friends and Family of Lesbian and Gay men is a charity that provides advice and support. Here is a link to their site:http://www.fflag.org.uk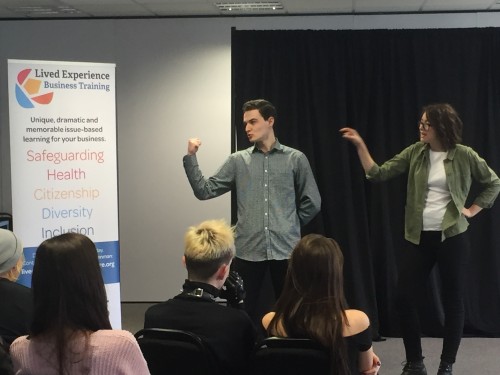 Lived Experiences Theatre Group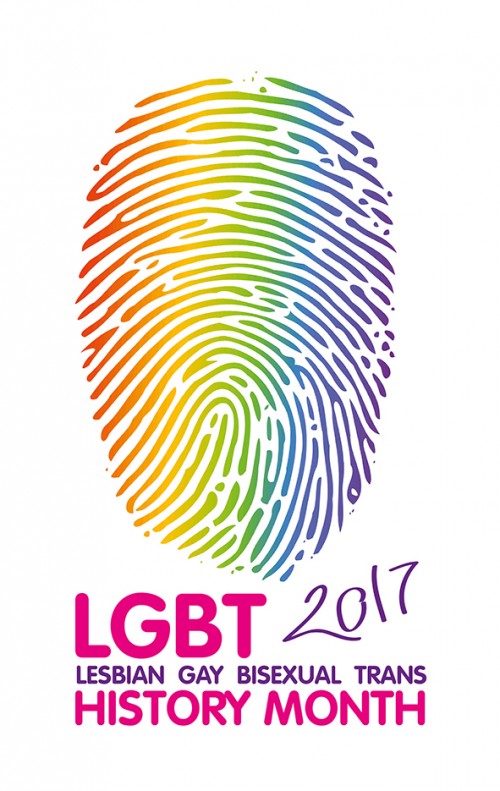 LGBT History Month 2017
From 'The Guardian' 26th January 2016 - Columnist, Owen Jones speaks to former student, Olly Alexander, about facing mental ill health
College Staff Inspired by NAS Ambassador Robyn Steward
Broadcaster, author and artist, Robyn Steward, gave an inspiring and informative training session to College staff on the different aspects of autism. Read about Robyn's visit here.
Everyday Sexism Author, Laura Bates, Visits College
Laura Bates, founder of the Everyday Sexism website and author of the bestselling book of the same name recently visited Hereford Sixth Form College. You can read about her visit here.
Aerosol Arabic's Visit to Hereford Sixth Form College
Language Day – over 50 languages are spoken at Hereford Sixth Form College