Equality & Diversity
The College is a diverse community and we are proud of this!
The College will provide an inclusive, personalised learning and working environment in which students, staff and visitors are valued as individuals, according to their merits, abilities and potential.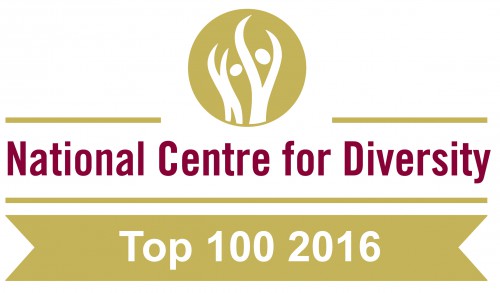 National Centre for Diversity - Top 100 2016
In 2016 we came 24th out of 600 organisations nationally for achieving the Investors in Diversity Stage 2 award. This recognises our ongoing commitment to the principles of equality, diversity and inclusion in order to create a culture of openness and acceptance.
Protected characteristics
There are a number of characteristics that are protected by the law, through the Equality Act, 2010.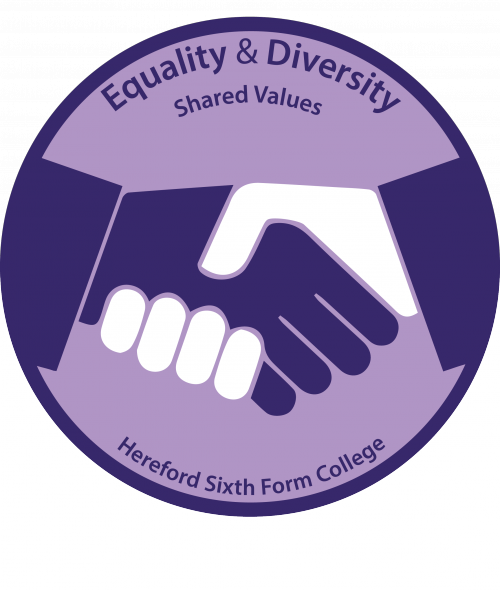 Our aim is to advance equality, tackle discrimination and foster good relations in the wider community, so you can talk to your Personal Tutor, your Director of Studies or any member of the Well-Being Centre about any of these issues.
If you need some support...
Follow these links for more information about Learning Support and support for students with mental health and Well-being concerns.
If you have a disability and would like to talk to someone about the support we can offer, please contact Pat Gaze pg@hereford.ac.uk.
According to the Equality Act, 2010 a disability is a physical or mental impairment that has a 'substantial' and 'long-term' negative effect on your ability to do normal daily activities.
The College also produces these documents:
Publication of Equality Objectives.
Summary of Student Protected Characteristics.
Both updated annually.
Equality, Diversity and Inclusion Policy including Disability Disclosure and Confidentiality Policy and Procedures
Single Equality Scheme and Action Plan 2016 - 2017
Single Equality Scheme and Action Plan 2015-16
Equality & Diversity News
West Midlands MEP Visits College
On 29th September, we were delighted to welcome Anthea McIntyre, Conservative MEP for the West Midlands, to Hereford Sixth Form College. You can read about her visit here.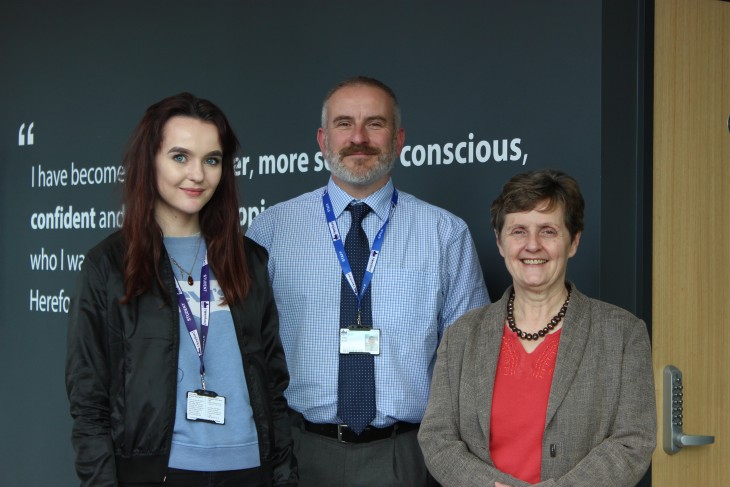 Pictured L-R: Anthea McIntyre MEP, Kitty Cook (studying A Levels in Classical Civilisation, English Language and Government & Politics), John Pratt, Director of Studies
International Women's Day - March 2017
Students, Drew Ellis and Abbie MacFarlane arranged and hosted this year's International Women's Day event which welcomed Clare Mullin to discuss gender inequality in Parliament.
The event saw a great turn out, and Drew and Abbie were very pleased that students were fully engaged in the discussion and are looking forward to celebrating the 100th anniversary of women's entitlement to vote in 2018.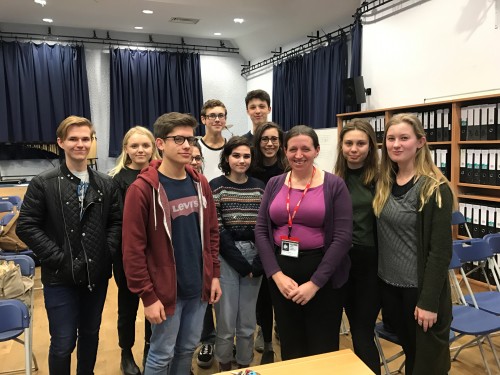 Photo credit: Adam Hill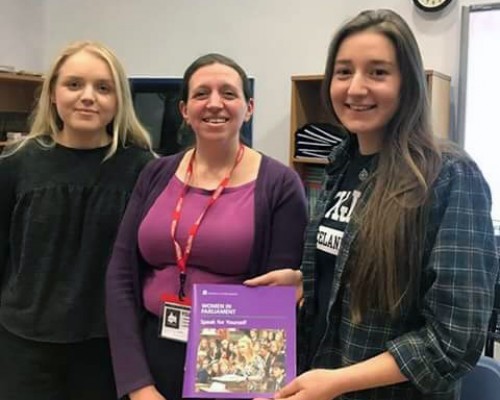 Pictured L-R: Drew Ellis, Clare Mullin and Abi Macfarlane
LGBT History Month 2017
February is Lesbian, Gay, Bisexual and Transgender History Month. To mark this, we invited Lived Experiences Theatre Group to explore the issues many young LGBT+ people experience (such as coming out, facing discrimination and personal identity).
The LGBT+ community celebrated this month by arranging a panel of students to tell their stories. Over 200 friends and allies came out to listen and ask questions. Here is Grace's story.
Grace | My coming out story
If you'd like to talk to someone about these sort of issues, please contact your Director of Studies or a member of the Well-Being team.
FFLAG - Friends and Family of Lesbian and Gay men is a charity that provides advice and support. Here is a link to their site:http://www.fflag.org.uk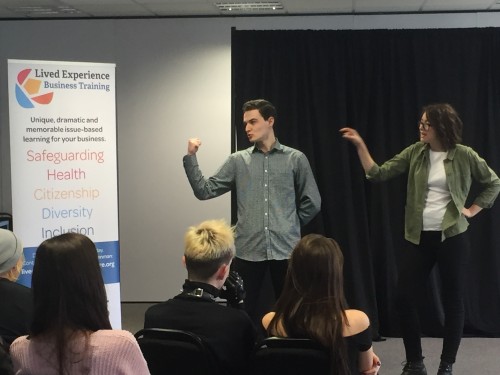 Lived Experiences Theatre Group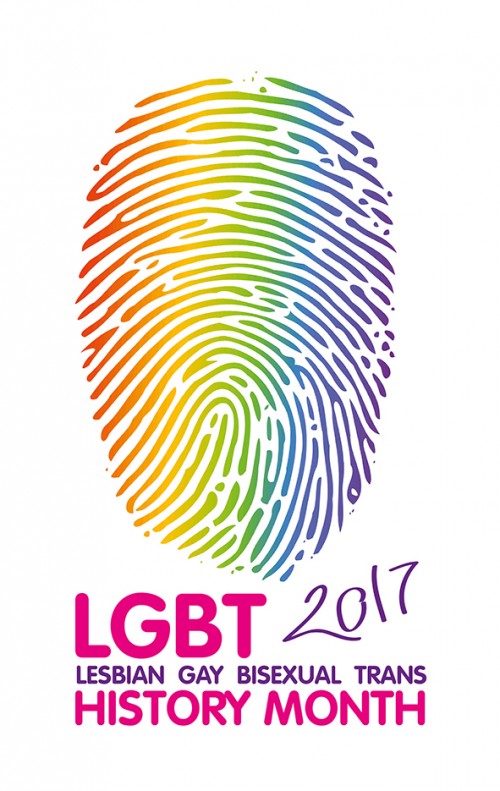 LGBT History Month 2017
From 'The Guardian' 26th January 2016 - Columnist, Owen Jones speaks to former student, Olly Alexander, about facing mental ill health
College Staff Inspired by NAS Ambassador Robyn Steward
Broadcaster, author and artist, Robyn Steward, gave an inspiring and informative training session to College staff on the different aspects of autism. Read about Robyn's visit here.
Everyday Sexism Author, Laura Bates, Visits College
Laura Bates, founder of the Everyday Sexism website and author of the bestselling book of the same name recently visited Hereford Sixth Form College. You can read about her visit here.
Aerosol Arabic's Visit to Hereford Sixth Form College
Language Day – over 50 languages are spoken at Hereford Sixth Form College
Student Induction, September 2015
Friend of the College, Trevor Gordon met new students to talk about the themes of community, respect for diversity and fundamental British values.