Academic Success
Established in 1973, Hereford Sixth Form College is one of the most successful sixth forms in the country and has been graded as Outstanding in all aspects of its work by Ofsted.
We have high expectations and expect you to work hard but you will find the college an enjoyable place to study, meet new friends and gain the skills and qualifications you need for the future.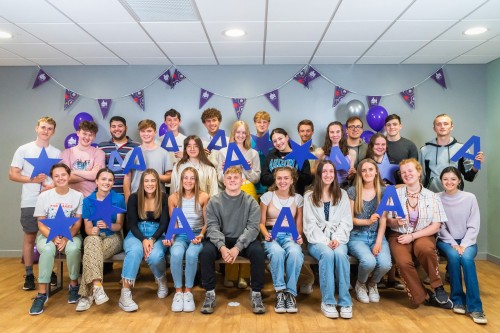 A Level Results Day 2022
Specialist teachers
Staff at College are not just experts in their subject, (often examiners), but also excellent communicators having a sympathy and rapport with students which leads to excellent exam results.
At Hereford Sixth Form College the lessons are really interactive which is what made it such a good experience. There were lots of opportunities to ask questions and discuss with classmates, meaning you got to know everyone in the class, which was great.
Outstanding results
The College regularly gains one of the highest point scores per A level entry of nearly 100 sixth form colleges nationally.
For the last three years the College has been identified as one of the best institutions in the country for value-added exam results in government tables. These consider students' performance in the light of their previous GCSE results and measure progress made.
The number of students gaining A*, A or B grades is above the national average and the proportion of successful applications to Oxford or Cambridge is twice that of schools and colleges nationally.
Hereford Sixth Form College not only helps you to meet your potential, it constantly looks to better its students and guide them to exceed expectations. The relationships that students are able to build with the tutors really sets the College apart.
2022 A Level examination results
2021 A Level examination results
2020 A Level examination results
2019 A Level examination results
2019 GCSE examinations results
2018 A Level examination results