Our Curriculum
At Hereford Sixth Form College our extensive range of subjects and enrichment opportunities ensure that programmes of study meet the individual needs of our students. It is our intent that all our students achieve outstanding academic outcomes and develop personal skills so that they are well equipped to progress to university, employment or an apprenticeship of their choice.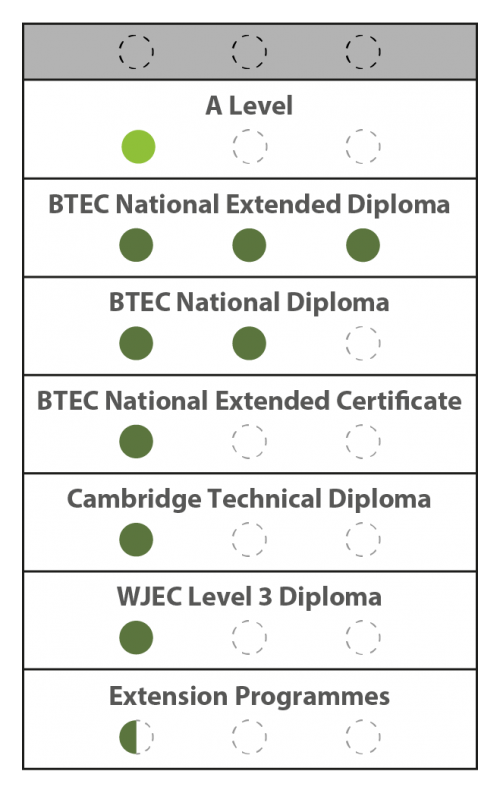 Programme of Study
The Level 3 Programme of Study consists of three options. Some students may choose to take on four options. A Levels take up one option; vocational courses can take up one, two or three options, as shown in the guide to the right.
Students can combine these different elements to create their own individual programme of study. Options are incredibly flexible, with 99% of combinations possible. It is important that students choose what they enjoy as well as what will qualify them for any future career aim.
The Level 3 Programme of Study is supplemented with the Impact Programme, the Extended Project Qualification and Certificate in Mathematical Studies.
In addition to academic subjects, students have compulsory, timetabled Impact sessions that provide valuable information and important advice about the College, personal safety, careers, and life skills. The Impact Programme forms part of the Programme of Study for all students and encourages students to participate in extension programmes and extra-curricular activities beyond their studies.
How many years will you spend at College?
Level 3 courses are the next step after GCSEs and include A Levels and Vocational courses. These courses should be viewed as two-year programmes.
The Level 2 programme is for one year with an aim to progress onto the Level 3 programme in the following year.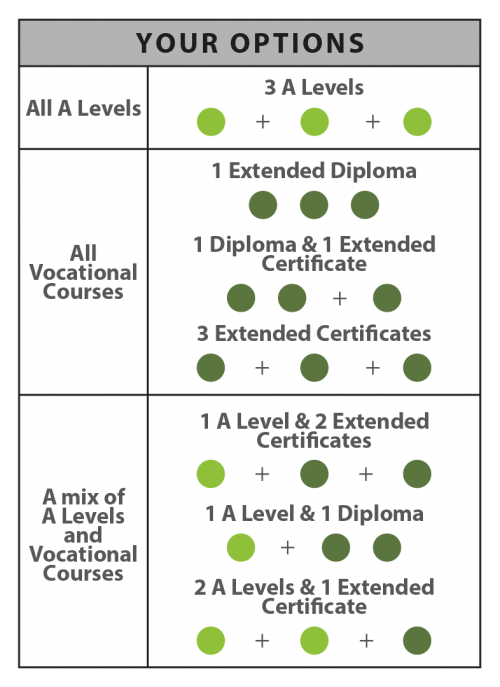 Curriculum Intent
The A Level and Vocational courses available are selected to offer a broad curriculum with excellent opportunity for progression. The College is dedicated to supporting students in choosing the courses best for them. During the interview process, staff will discuss course choices with applicants to ensure their selected programme of study is suitable and offers the best route for their chosen career path and future goals.
The Level 2 courses we offer are aimed at students who need another opportunity to gain qualifications and the curriculum is designed to ensure they achieve the grades required to secure progression onto the Level 3 courses
For each of our subjects we have outlined the curriculum followed.
Progression Opportunities
Successful completion of a Level 3 programme will enable you to progress to a wide range of employment and higher education opportunities.
You will enhance your chances of success considerably by showing evidence of the following:
Wider reading and extension work, including Extended Projects
Subject commitment, eg, attending lecture visits, theatre/museum visits, university tasters/summer schools
Participation in extra-curricular activities, including Academies, Duke of Edinburgh's Gold Award, the Student Representative Council, the Debate Society, Upstage Productions and sports teams
Particular careers or higher education courses may require specific subjects. If you have clear ideas about a chosen progression route, please let us know via your application or interview so that we can advise you on the suitability of your subject and enrichment
choices.
Different subjects will develop certain skills which may be especially suitable for certain progression routes. It is worth remembering, though, that many progression routes do not require particular subjects to have been studied – the important thing is to do well at whatever you do.
Successful completion of the Level 2 Programme will enable you to progress to a Level 3 programme, either at the College or elsewhere.