Sociology A Level
Sociology is the study of society and engages students in challenging their existing ideas about the world as they know it. The main aim of Sociology is to understand the relationship between individuals and their society over time with a focus on contemporary and global issues. If you are interested in people or if you want to understand what is happening in the world, this is the course for you.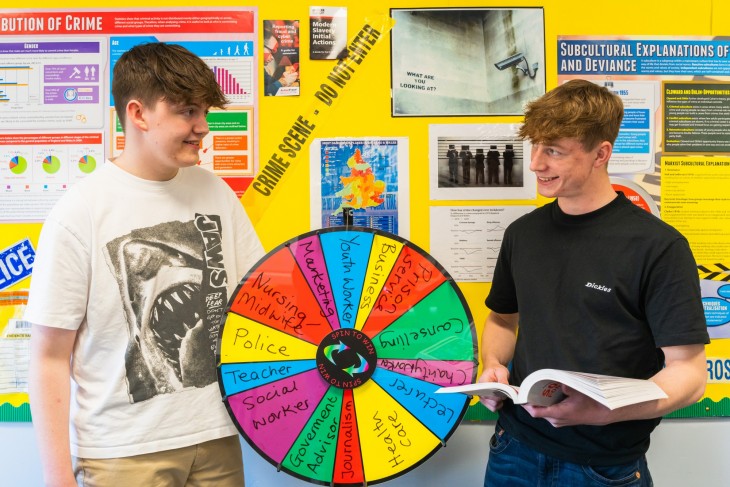 What does the course involve?
By studying Sociology, you can develop a greater understanding of the society and processes that shape our behaviour. You will learn how to apply different theoretical explanations as well as how to research and analyse sociological evidence. In addition, you will also learn how society operates, why problems arise and how we can solve them. During the course you will develop the ability to debate ideas and communicate them in writing.
Year One
You will study:
Families and Households: Has childhood improved in the past 50 years? Why is marriage in decline? Why are women having less children now than before?
Education: Is the education system fair? Does it prepare us for work? Why are girls outperforming boys?
Research Methods: How should we study society? Can you study people scientifically?
Year Two
You will study:
Sociological Theory: Is society fair? Do we get equal chances in life? Is the way we behave a result of how others see us?
Crime and Deviance: Why do people commit crimes? Is it a rational choice? Why do women commit less crime?
The Media: Is the media brainwashing us? Does it make us more violent? What effect does social networking sites have on our lives?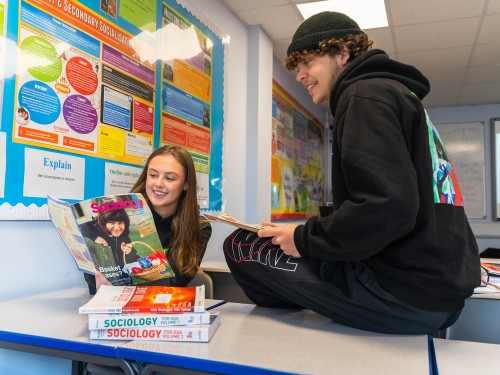 Assessment
Assessment is by three 2 hour exams at the end of Year 2, each contributing 33.3% towards the overall A Level grade.
Trips
There are no compulsory visits but you will have the opportunity to attend conferences and lectures.
What can you do after the course?
Former students have gone on to study a wide range of subjects including anthropology, criminology, politics, international relations, psychology and social policy.
Sociology is also studied as part of the training for many professions including business management, advertising, journalism, prison work, teaching, law, nursing, the police and social work.
Sociology is my favourite subject. I find it really relevant in real life situations and it has made me question things a lot more - in a good way. I'm hoping to study Sociology and/or Anthropology at university and in the future I hope to work in media and broadcasting, particularly documentaries.
Lily talks about Sociology at Hereford Sixth Form College