Music Academy
The Music Academies are open to students who pass an audition, and who are prepared to commit to a programme of advanced specialist training. Any student can apply be a part of the Academy, regardless of whether they are studying Music at A Level.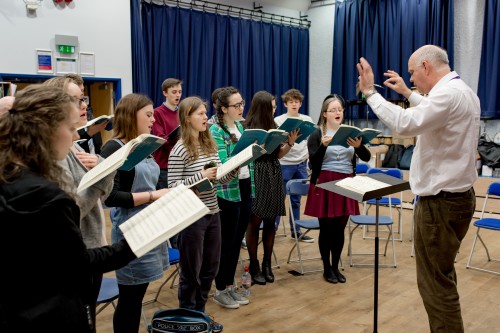 Choir rehearsal in the performance studio
Choral Academy
This Academy is designed for students who have a particular aptitude for singing.
Successful applicants form the Academia Musica Choir and are provided with advanced choral training. You will have access to singing lessons, and a range of activities and events designed to help you improve your choral singing. The training that students receive significantly develops the sight-singing and musicianship skills that are required in the profession and as freelance singers.
The Academia Musica Choir have recorded two CDs with Priory Records, broadcast on the BBC and work with professional ensembles such as the English Symphony Orchestra and choirs such as Selwyn College Choir, Cambridge.
The choir regularly perform concerts, recitals and evensongs throughout the year, including national and international venues. During each year the choir goes on two tours, one to either Oxford or Cambridge and one to a major cathedral city in the UK or abroad. In 2023 the choir went Cambridge in March and Bury St Edmunds in July. In 2024 they will be visiting Oxford in March and Dublin in July.
Instrumental Academy
This Academy is designed for advanced instrumentalists (normally Grade 5+).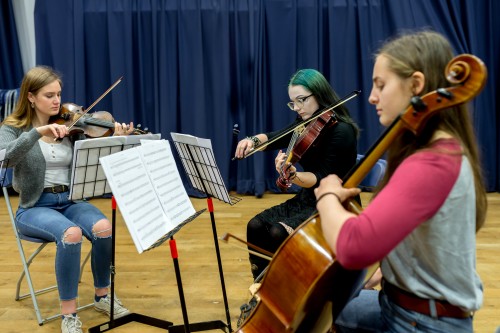 Music Academy (Instrumental) - String Quartet
Successful applicants receive advanced instrumental training and are involved in chamber music of all genres including classical and jazz. Previous members of the Academy have worked with the English Symphony Orchestra and representatives from some of the best conservatoires.
The Music Academy (Instrumental) Programme focuses on chamber music. This enables students to work together in small groups, mentored by professional music staff to produce programmes of chamber music for regular concerts throughout the year. 
There is no full orchestra at the College, so students are strongly encouraged to get involved with Herefordshire Youth Orchestra and the other ensembles run by the Herefordshire Music Service. 
Rock and Pop Academy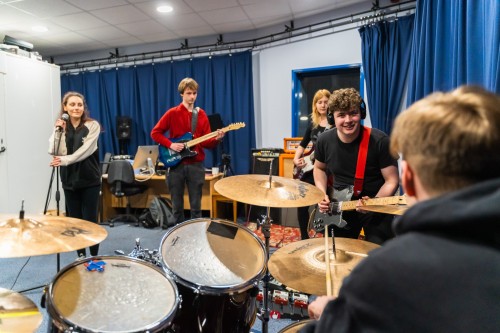 Rock and Pop Academy band "Fandango" at rehearsal
Successful applicants are formed into bands based on their musical preferences and rehearse twice a week with a professional mentor to prepare set lists composed of cover songs and original material. The Rock and Pop academy is focussed on practical application of music and performance skills, so it is essential that our academy bands play regular gigs throughout the year, in a variety of venues. Student bands also have access to the college recording studio and can create demos of their material whilst learning session etiquette and skills.
Alongside the rehearsals for gig preparation, you will be given access to twenty private lessons with a specialist tutor of your instrument who will provide expert knowledge and guidance to further improve your abilities and understanding of your instrument.
Download a Music Academy Application Pack
Choral Academy Application Form 2024
Instrumental Academy Application Form 2024
Rock and Pop Academy Application Form 2024
Please return Music Academy application forms via email (music@hereford.ac.uk) or by post (FAO Music Department, Hereford Sixth Form College, Folly Lane, Hereford, HR1 1LU) as soon as possible, since places are limited.