Student Travel
Travelling by bus or train
Students are entitled to apply for a travel pass if you live more than three miles from the College.
You can apply for a bus or train pass by submitting a completed application form and cheque payment for £285 made payable to Herefordshire Council.
Click here to apply, or for more information from Herefordshire Council.
Costs
During the academic year 2018-19 the costs will be as follows:
£285 for the Autumn Term.
£285 for the Spring Term.
£219 for the Summer Term.
Please note: you may find that, if you travel on certain routes to College, the cost could be lower than paying the above parental contribution.
You must allow up to 28 days for the provision of a travel pass and no refunds for travel expenses within that timescale will be made. Refunds are only permitted where, following full payment with the application form, the issue of the travel permit has exceeded the 28 days.
Passes are to be collected from the College following full payment each term.
Train routes to Hereford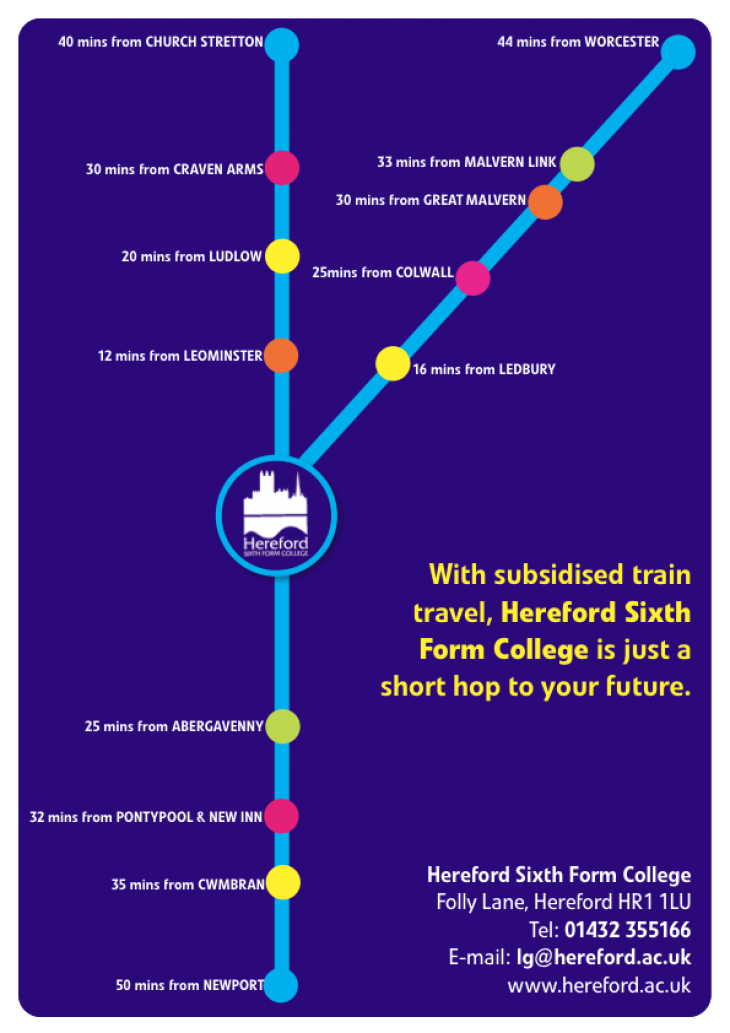 Train Routes 09-2018
Please Note
No Autumn Term train pass can be purchased after 14th September, 2018.
No Spring Term train pass can be purchased after 11th January, 2019.
No Summer Term train pass can be purchased after 29th April, 2019.
A photo ID will be required when you collect your train pass. Any student provided with a train pass, must keep the photo ID card throughout the duration of College life.
At all times the travel ticket and the photo ID card must always display matching pass numbers. It is the student's responsibility to check this upon receipt of all new passes.
If you have any queries, please contact
Herefordshire Council: Transport Team on 01432 383330.
Lyn Gage: Transport Officer at Hereford Sixth Form College on 01432 355166.
Bursary fund
Depending upon household income and personal circumstances, you maybe be eligible to apply to the College's Bursary Fund for support with travel and other costs relating to your studies.
Please contact Clare Edmonds, the Student Finance Officer at the College, by e-mailing cle@hereford.ac.uk
Travelling by car
Due to the limited space for parking, students must have permission to bring their cars onto the campus.
Many of the roads around College have restricted or limited parking.
Parking is available in the Aylestone Park car park on Aylestone Hill (coming towards Hereford from the Worcester side). Students must obtain a permit from College reception which should be displayed on the dashboard.
Mopeds and Scooters
Students are allowed to park their mopeds and scooters on the campus.
Cycling
Students are encouraged to cycle to College and cycle racks are available.
For directions to College see How to Find Us.