Back to list
Assistive Technology
Many students find assistive technology and software useful and it may speed up or improve the quality of their studies.
The following information shows assistive technology that is available in College. Some of this is available to all students, such as Claro reading software and Inspiration Mind Map software. Others are intended for students who have a learning difficulty and have been referred to the Learning Support Department.
Some software tuition may be available in study skills workshops. Seek advice from your Personal Tutor if you think you need help.
Claro software
Claro can help develop reading skills. It is read aloud software and is available in College for all students to listen to documents, the internet, their emails, etc.
Students with readers in exams may be able to use Claro software as an alternative to a human reader.
Browse Aloud is also a reading program which is on the College website for prospective students and parents to use. It also has a translation option.
Inspiration software
This is intended to aid planning, organisation, essay and coursework planing and lots more.
Inspiration is a mind map and concept map programme. There are also templates to adapt. It is easy to use and has a training component in the programme.
Inspiration is currently available everywhere in College for all students to use.
Dragon naturally speaking software
This is voice activated software which is very easy to train.
The programme is only available to a small number of students who have physical or learning difficulties and special examination arrangements.
Dictaphones
Dictaphones are available in some College departments. Some students wil be able to borrow dictaphones from Learning Support.
Some of the dictaphones will download voice files to the computer.
Other devices
Students may also use their own equipment to assist them. For example a mobile phone would help with prompts and reminders, may allow students to record homework details and can be used for screenshots in class.
Students must check in advance that a tutor is happy for them to use mobile phones in class.
Some students may use laptops or tablets in College, but you must check with tutors first if you want to use one in class.
There may be a limited number of laptops in Learning Support for student to borrow.
Exams
Only students with learning or physical difficulties may use word processors in examinations.
See Learning Support for more information.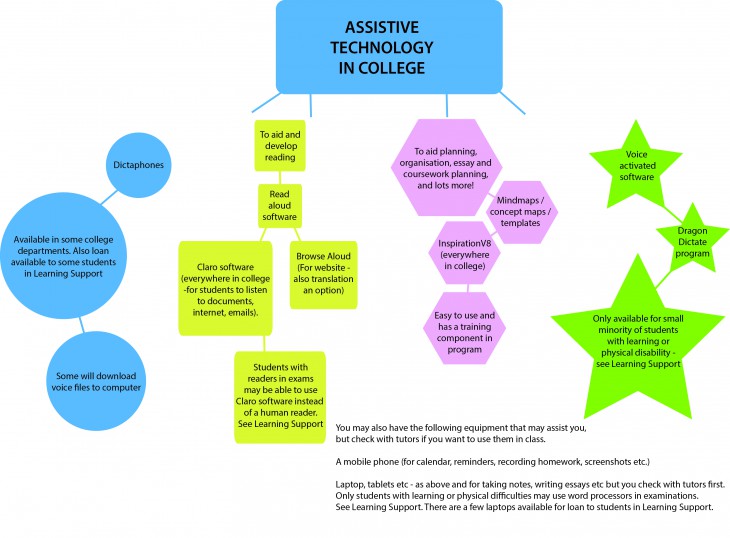 Assistive technology concept map