Back to list
Destinations
All students are encouraged to be reflective (with the help of a psychometric profiling programme) and to make informed, individual progression decisions. The Careers Department supports students in whatever pathway they choose and this has led to successful destinations to higher education, employment and apprenticeships. Our destination information is updated on an annual basis.
University Applications - some facts and figures
The majority of our students go on to university, either straight from College or after a gap year.
There was a dip when the new tuition fee system was brought in but applications have bounced back as students recognise the value of the financial investment.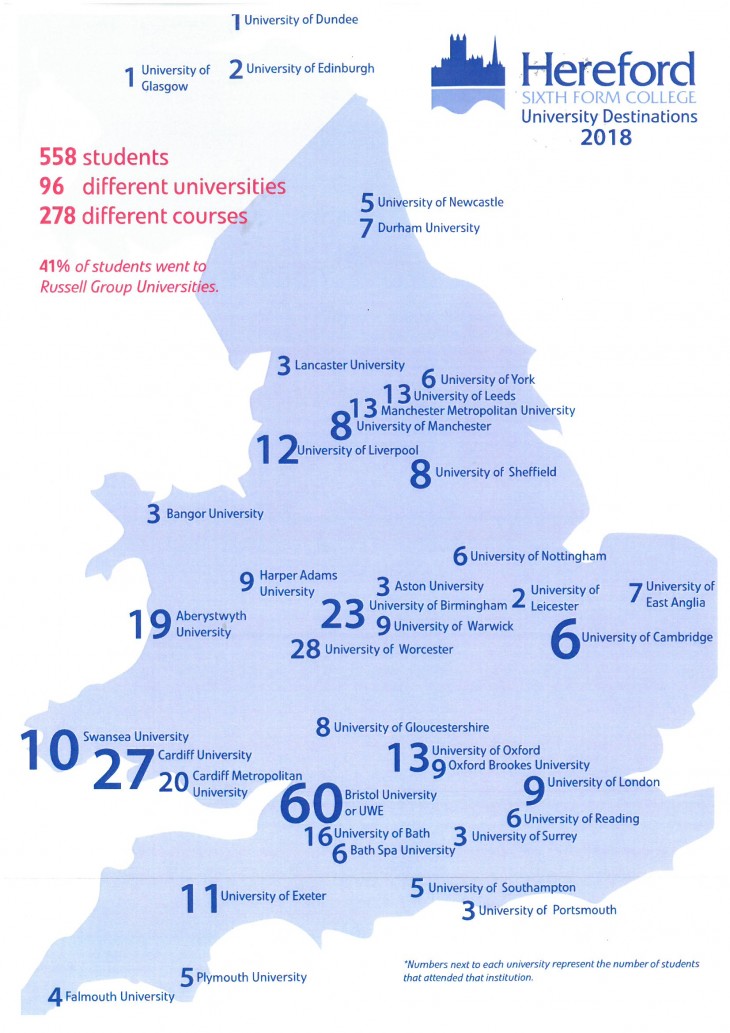 Destinations 2018
Recent statistics:
580 students were offered places at university in 2018 (including former students).
In almost every subject area, our students achieve a 100% university application success rate.
67% applied to a Russell Group university, 44% of these gained places (2018).
Over 250 students have applied to Oxford or Cambridge in the last 5 years. Our Oxbridge success rate is tremendous; 36% in 2018 (the national average is less than 20%).
Application success rate for medicine in 2018 was 63% (the national average is 36%).
Primary Teaching applications in 2018 were 71% successful (the national average is 54%).
Nursing applications in 2018 were 58% successful (the national average is 45%).
My son has the chance to go to Imperial College, London or Durham University to study Chemistry. He has not only enjoyed studying at Hereford but has also taken part in other activities and made some good friends. We are very, very happy and extremely grateful to everyone at the College.
Apprenticeships and Employment with Training
2017/18 was another successful year for students progressing onto apprenticeships and jobs with training.
Competition for these places is often fierce and students were prepared for applications through the College Job and Apprenticeship Support Programme which includes work experience, an employment and training convention, CV and letter writing sessions, training provider open days, research support etc.
Listed below are some of our recent successes (including degree apprenticeships):
Accountancy and Finance.
BBC Production.
Engineering.
Quantity Surveying.
The Armed Forces.
Business Administration.
Health and Social Care and many more.
Performance Tables
Information about destinations is included in the Government Performance Tables.
Click here for information relating to Hereford Sixth Form College prior to March 2017.
Click here for information relating to Hereford Sixth Form College since March 2017.