Student Youth MP leads debate in the House of Commons
Posted on 18th January 2023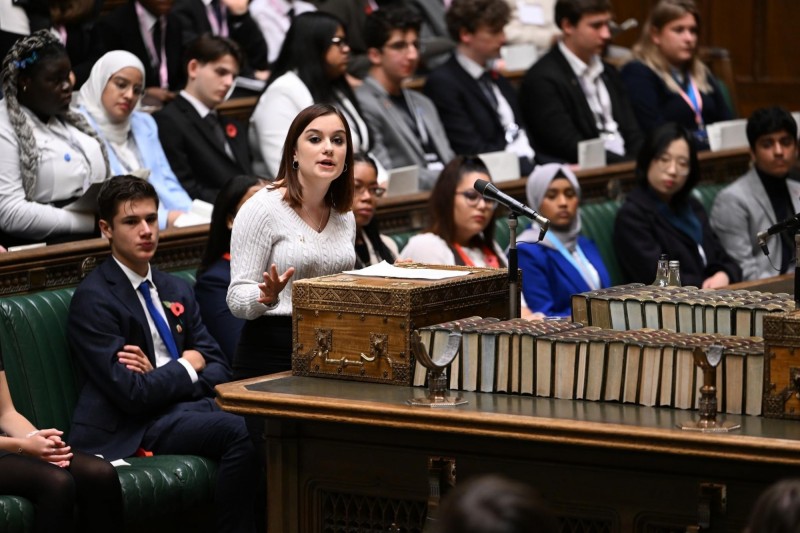 HSFC Student Abi Edwards feels "honoured and privileged" to have recently led a debate focused on respect and discrimination in the House of Commons as part of her role in the UK Youth Parliament.
Abi explains, in her own words, more about her role and passion for politics and law:
"I have always been interested in politics and law. The most important part of democracy is every single person being able to have a voice. As young people our voices and opinions are often neglected so by having a youth Parliament, we can have a voice on the issues that are so important to us. I was elected as the UK Youth Parliament member for Torfaen in South Wales. I also chair the youth council for my constituency, this has given me many opportunities such as being a debate lead in the House of Commons.
I have applied to read Law at University and have already received an offer. After University I want to qualify as a barrister and I feel my politics experience will help with this.
Before the coronavirus pandemic every year there would be a Youth Parliament debate in the House of Commons. During the pandemic this was not possible, therefore November 2022 saw the return of the Youth Parliament. Every Youth MP are invited to come together to debate the issues that matter to us and our constituencies and to call for change. There is also one debate lead to represent each region of the UK with only one representative from the whole of Wales. I sent in a practise speech about education and the need for reformation. This was then sent out with other candidates' application and voting began. Whilst I have public speaking experience, I did not expect to be elected to represent Wales in Parliament as the debate lead! I was actually the debate lead of the first topic too which was incredible.
We were all assigned topics to debate. I expressed how damaging discrimination is and its impact on health. This debate is very important to me and my constituency. With the homophobia, sexism and racism so prevalent in my constituency it was an honour to talk against it. "Every single person deserves to be treated with respect"."
During the day Abi was selected to take part in a BBC Politics interview and an interview for the DMCS for the government.
Follow the links to view Abi's BBC interview and debate in the House of Commons:
https://www.bbc.co.uk/news/av/uk-politics-63520778?fbclid=IwAR2tngbt7PvHWUl12C2yR8V98OZPoI7b33XY2DD9QchezvSXe-05uDAbTwU
https://twitter.com/dcms/status/1592079900952797184?s=46&t=SG5t6iOxWLVT0-X7o6QEKw
https://twitter.com/abiedwardsukupm/status/1588869135710453762?s=46&t=SG5t6iOxWLVT0-X7o6QEKw
Principal Catherine Brearey said: "The College is extremely proud of all Abi has achieved so far during her studies at HSFC and externally in her voluntary roles; we certainly see a bright future ahead for her!"