Results Day 2023
Posted on 17th August 2023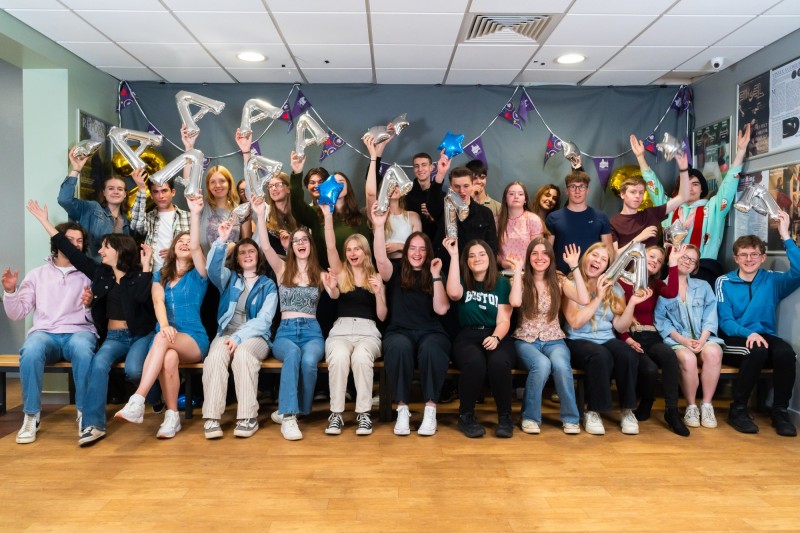 Hereford Sixth Form College is delighted with their students' achievements this year.
A Levels once again exceeded the national level with 54.8% of grades at A* to B with an overall pass rate of 99.4%. This is a huge success story, with top performing students on par with the leading independent, state schools and colleges in the country.
Applied courses also exceeded the national average with 48.2% of students gaining Distinctions, with an overall pass rate of 99.7% for year two.
A remarkable 40 students achieved all A*/A grades with 96 students achieving 3 A*/A or Distinction grades, or more.
Lilly B, a former Hereford Academy student, is celebrating an amazing A*A*A* "I have loved my time at College, the support, especially through the Reach programme has been phenomenal… my results enable me to go to my dream University!" Lilly will be studying Geography at Oxford University.
Isobel K, a former Bishop of Hereford Bluecoat School student, is celebrating an amazing AAB in her A Levels securing her place to study Medicine at University of Nottingham. She says "HSFC have been so supportive in my application to study Medicine, helping me every step of the way. I'm incredibly excited to start my studies!"
Congratulations to the 19 students who will be taking up their Oxbridge places, 9 at Oxford and 10 at Cambridge. The College is also delighted to celebrate the success of our students who have secured degree apprenticeships with national and international companies.These include Samworth Brothers (Food Science and Technology) and Airbus (Aerospace Engineering).
Josh D, a former Tenbury High Ormiston Academy student, has secured an apprenticeship with Newsquest at the Hereford Times to pursue a career in Journalism, he is celebrating A*BB and said "HSFC has given me the tools I need to achieve". Chloe P, previously of St Mary's RC High School, is thrilled with her results as they meet the entry requirements for the Police Constable Apprenticeship she intends to apply for.
Catherine Brearey, College Principal, was delighted with the excellent performance saying, "These results reflect incredibly well upon our hard-working students and dedicated staff after a challenging couple of years. I am extremely proud of all our students and delighted that they have strong foundations on which to build. Many will be going to university, with a high proportion to higher tier universities, with others securing highly competitive Apprenticeships. Our students should be very proud of their achievements, and we can't wait to hear what they have accomplished in a few years' time. Well done to you all!"