Outstanding Oxbridge Success Continues at Hereford Sixth Form College
Posted on 14th February 2023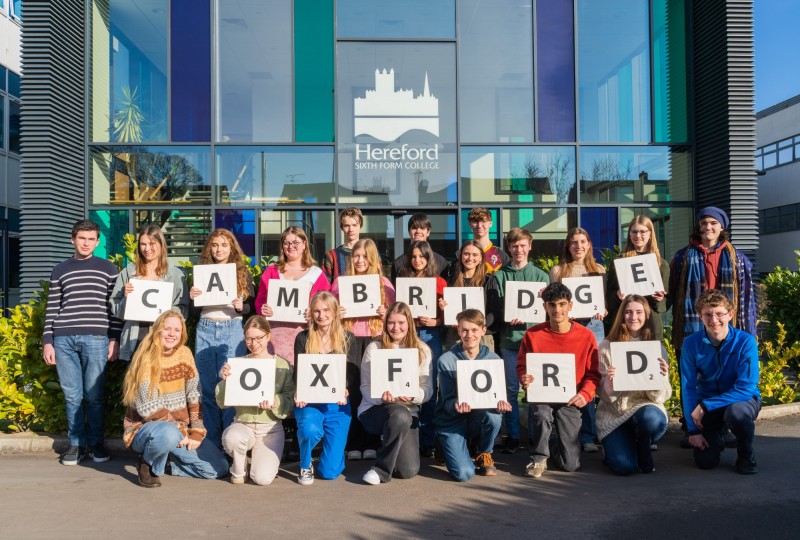 Hereford Sixth Form College has continued the success of their Reach programme, as 23 students have secured offers for Oxford and Cambridge Universities, 38% of those who applied, against the national average which is less than 20%. This means that in the past five years, over 100 students have now successfully applied to Oxbridge, as the college enters its fifth decade.
Principal Catherine Brearey shared her delight, "We are extremely proud of our students for achieving competitive places on such a diverse range of courses. The College encourages all students to realise their full potential and make informed decisions through our Reach programme."
Students went through the rigorous process of applying, taking admissions tests and attending interviews with the bespoke support of the Careers team, including Vicky Orsmond, Senior Progression Lead and Dr Phil Evans, specialist support for Medicine, Dentistry and Veterinary Medicine.
Amongst the impressive offers are two students who have offers for Veterinary Medicine at the University of Cambridge. Aspiring vets attended mock interviews with Professor Christianne Glossop, former Chief Veterinary Officer for Wales, who took time out of a busy international schedule to give individual support to students. Overall, all STEM areas have seen multiple offers to students, two offers each for Biology, Natural Sciences and Maths.
Sasha, formerly of The Chantry School, received an offer for the incredibly competitive Philosophy, Politics and Economics (PPE): "I am proud to be offered a place at Oxford…the college helped me to realise my ambition".
Cory, who joined from Tenbury High Ormiston Academy, gained a place for the notoriously tough Economics and Management degree: "The college supported my application with a range of activities, I was able to meet current Oxbridge students to discuss the admissions process, tests, and interviews. This useful insight from people who have already been through the process, helped to give me confidence throughout.'
Humanities and Social Sciences students have also excelled; three outstanding students have offers for Modern and Medieval Languages (MML) at Cambridge, one for Asian and Middle Eastern Languages, and one for German and Classics.
Isabelle Celie-Bone, Head of Languages said, "The languages department is extremely proud of our students' achievements in securing five Oxbridge offers and delighted that the wonderful long established work of the department, expertly supported by native foreign language assistants, is gaining the recognition and rewards our dedicated students thoroughly deserve."
Further offers were received by students for diverse subjects such as Human Social and Political Science (HSPS), English, Geography, History and Education which shows the breadth of talent in the year group. Mair, formerly of Whitecross High School, said "To get an offer really feels surreal - it's so rewarding to have worked so hard and achieved so much! The support from college was unlimited, staff were more than willing to give up their time to help me feel more confident and give me the best chance of success. As the first generation in my family to apply to university, Hereford Sixth Form College and the Reach programme were responsible for making me believe that going to Oxford was possible."
The college's Reach programme won the Aspire "School of the Year" award for Social Mobility in 2022, this again proves that Hereford Sixth Form students compete with the best independent schools for places at some of the most competitive universities in the world. Reach comprises 16 weeks of lessons, to help students consider which universities or degree apprenticeships are for them, ensuring Hereford Sixth Form students make informed education and career choices. Vicky Orsmond, says: "The students have done incredibly well this year. It has been more competitive than ever, but the independence, ability and drive of the applicants speaks for itself. Over the past five years, students have been offered places in almost every subject- this is the breadth of talent we find at Hereford. They are totally brilliant!"
The following students have been offered places at The University of Cambridge:
Flora A (formerly St Mary's R.C High School)
Callum B (formerly Ludlow C.E School)
John B (formerly Crickhowell High School)
Willow B (formerly John Masefield High School)
Jacob F (formerly Fairfield High School)
Millie F (formerly John Masefield High School)
Ossian F (formerly Oundle School)
Erin L (formerly Hanley Castle High School)
Poppy M (formerly Dyson Perrins Academy)
Morgan P ( formerly Fairfield High School)
Alice W (formerly Crickhowell High School)
Bonnie W (formerly Bishops of Hereford Bluecoat School)
Elizabeth W ( formerly Fairfield High School)
Gwilym W (formerly Monmouth Comprehensive)
The following students have been offered places at The University of Oxford:
Mair A (formerly Whitecross High School)
Lilly-May B (formerly The Hereford Academy)
Sasha B (formerly The Chantry School)
Rowan H (formerly King Henry VIII School)
Amy L (formerly Crickhowell High School)
Cory L (formerly Tenbury High School)
Daisy R (formerly Broadoak Academy)
Ollie R (formerly Monmouth School for Boys)
Rosie R (formerly Wigmore High School)