Mental Health Awareness Week 2023
Posted on 19th May 2023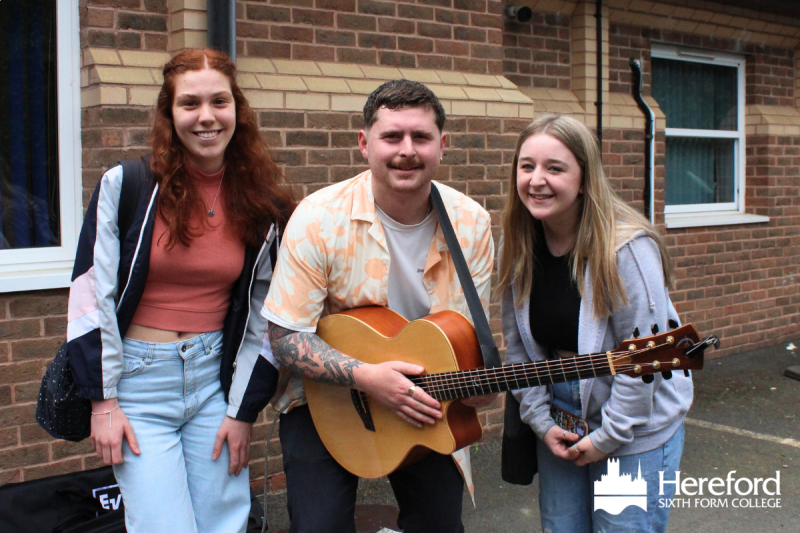 The college's Wellbeing team this week marked Mental Health Awareness Week with a variety of competitions, guests and events. The awareness week coincided with several exams and assessments for students, with many feeling stress and anxiety around this, it was more important than ever that students were able to receive advice and guidance around understanding and supporting their own mental health.
Student Mental Health and Wellbeing Advisor, Rosie Laws said: "it's important that our students balance studies and exams with downtime, this week's events were designed to encourage students to relax and enjoy time together".
At the start of the week, students enjoyed a sweet treat with a queue snaking off into the distance for the free doughnuts on offer! Students could also enter competitions to win plants and a wellness box, kindly donated by local companies Allensmore Nurseries and Willy's ACV respectively.
Rosie from Turning Point hosted a stand providing advice and guidance on eating healthy, sleep and the effects of drug and alcohol use on the body and mind. Whilst the Library ladies went green on Thursday to mark "wear it green day".
The week rounded off with a lunchtime performance from local superstar and former student Jake Gamble, known as Jake of Diamonds. Jake studied Drama & Theatre Studies, Sociology and Film Studies during his time at HSFC. Last year he featured on television on The Voice UK, reaching the semi-finals whilst mentored by music legend Tom Jones. Since then, Jake has continued to forge his music career, supporting Tom Walker on tour and having his original songs heard worldwide, notably on ITV's Love Island.
Students and Staff had a great time letting loose to Jake's set of original and cover songs, students danced and Jake was even joined by students Josh playing the spoons and Ben singing the second verse of Valerie!
For support and guidance at College:
The College Counselling Service and Wellbeing Advisor are based in rooms A158, A159 & A160 in the WellBeing Centre. This is on the first floor of the Aconbury Building, above the Library and beside Languages.
Students can contact the Counselling Service by text: 07595 611112, email counselling@hereford.ac.uk, at a Drop-In, or can ask a member of staff to arrange an appointment.
To see the Well-being Advisor, Rosie Laws - Students can come to lunchtime Drop-In sessions (Monday - Friday except Wednesdays) or can contact the Well-Being Adviser by text, 07734 231 944, or by email rosie.laws@hereford.ac.uk or can ask a member of staff to arrange an appointment.
Please find detailed below a list of external support services and agency information links that you may find helpful.

Childline
Confidential online chat with a counsellor and telephone Helpline for anyone
up to age 19 about anything that is worrying you. 0800 11 11 free calls
www.childline.org.uk

Samaritans
24 hour confidential emotional support for anyone in distress
116 123 (free helpline) www.samaritans.org

The Mix
Confidential Helpline and Webchat for young people. Free calls from mobiles and landlines 0808 808 4994
http://www.themix.org.uk/get-support/speak-to-our-advisors

Kooth
An online mental wellbeing community which provides free, safe and anonymous online support and counselling. https://www.kooth.com/

Mental health support services directory
List of support agencies for mental health issues in your area - just type in your postcode. https://hubofhope.co.uk/

Cruse Free and confidential help for people who are bereaved (local and national support) http://www.cruse.org.uk
Talk to Frank -Honest information about drugs and links and information with regards to support services. https://www.talktofrank.com/

WISH
On line directory of information about local services and support on a range of issues.
https ://www.wisherefordshire.org/