Hard Work Pays Off For Budding Actors
Posted on 24th May 2023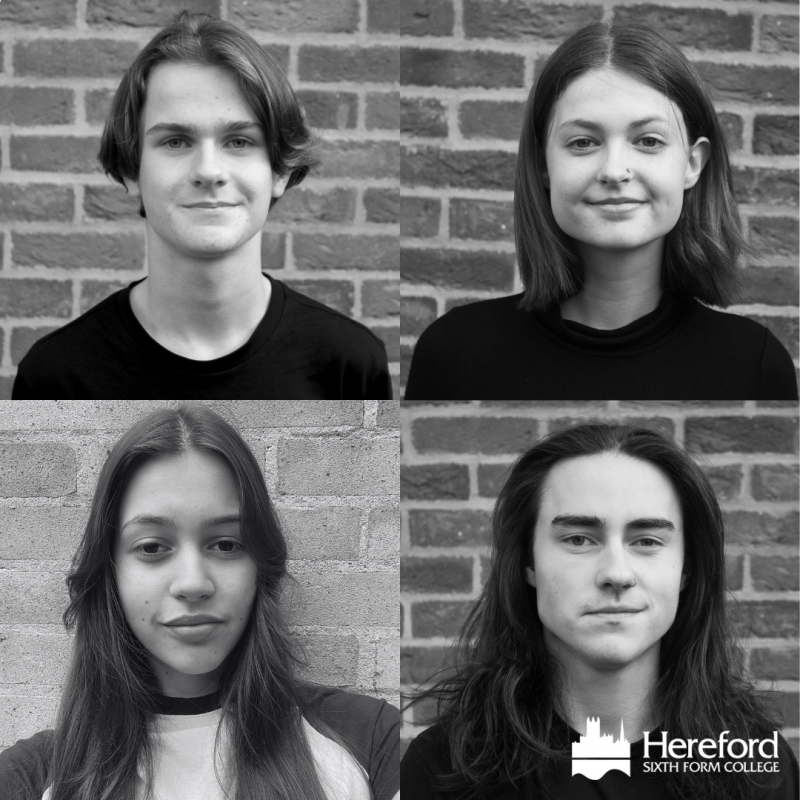 Four students who took part in the college's Actor Training Academy have secured prestigious places at The National Youth Theatre. The National Youth Theatre (NYT) is widely regarded by theatre professionals as the leading institution in the world for training young actors.
All Actor Training Academy students are coached through audition speeches for the NYT, compared to other education providers nationwide, Hereford Sixth Form College enters a significant number of students for NYT auditions. With a high audition success rate, over thirty students have been accepted as members in recent years, with a significant number participating in NYT productions.

First year students Tom (top left of image) and Mia (bottom left of image) are incredibly excited; Tom says: "'I'm very excited... the Theatrical Arts department have helped me massively to improve my acting and secure my place at NYT".

Mia said: "Having this opportunity through the college has made me optimistic for the future when I will be looking at drama schools. The audition process was nothing but welcoming and inspiring to learn from. I am thankful to the Actor Training Academy for the support and opportunity".

Second year students Sylvie (top right) and Eben (bottom right) have completed their studies and are off to pursue their dream careers in the acting world.

Sylvie said: "I had such a good time in the NYT audition. Our auditioner created a really fun environment where we were free to explore and play, which was wonderful and so interesting. Our individual auditions were very personalised to us and I think everyone left feeling amazing which is such a nice feeling to have after an audition! I am really looking forward to becoming a member and doing the intake course over the summer. "

Eben said: "I had a blast auditioning for NYT. The audition was engaging and felt more like a fun workshop - they had us acting in unique and inventive ways. I'd definitely say the college has prepared me for NYT and the industry as a whole - I feel like I've performed loads over the last two years which I'm really grateful for. I'm going to reaudition for drama schools this year and then pursue acting - I feel that college has solidified my passion, so I'm confident that it's the career for me."
Click for more information on the Actor Training Academy.