Collaborative art project brings students together
Posted on 11th January 2023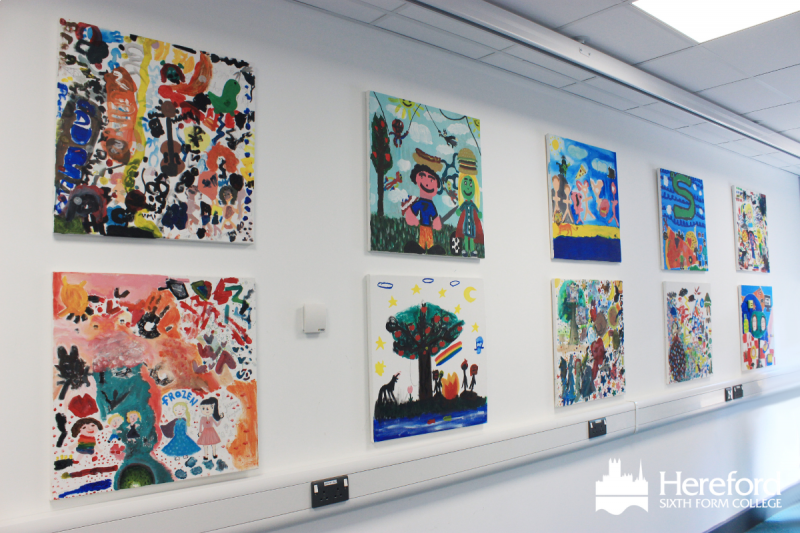 In the summer of 2022, Hereford Sixth Form College students collaborated with pupils at Beacon College on an exhibition of paintings as part of an exciting seven-week project entitled, 'This is me'.
Aspiring Health Care Professional students took part in the project as part of HSFC's REACH programme, which empowers and enables academically gifted students to realise their potential to win places at the highest ranked universities and degree apprenticeships, in an increasingly competitive environment. These students were able to develop their soft skills in the local community, whilst working with pupils from Beacon College, many of whom have complex communication needs.
Senior Progression Lead, Vicky Orsmond said: "Alongside their academic programme, many of our students enjoy making community links by working in different settings, and it's invaluable experience for them as we see such a positive and empowering environment at the Beacon College."
The sessions focused on art as a way of communicating through image making, having conversations about different aspects of life, and forging positive connections through play. Each week students were given a prompt such as "family", and offered different drawing and painting materials to get in touch with things that they like or find challenging in their lives, and to provide support, encouragement, and empathy to one another.
Daisy Dixon, Teacher of Photography/Fine Art, greatly enjoyed supporting on the project: "For me personally, the ultimate success of this project, over and above their triumphant paintings, was the increased confidence, self-esteem and friendship students experienced."
Students gave positive feedback about their experience:
'Art allowed us to understand each other. Over the weeks communication became easier. It was a very positive and rewarding experience.' Caitlin.
'I have definitely seen the benefits of being able to collaborate and express yourself through art from this project. I found it easier to find a way to communicate with different students – it has given me confidence to persue my plan of becoming a therapist.' Abi.
Following the success of the project, further collaboration is planned, with projects involving textiles, sculpture and gardening in the development stages.