Back to list
Dr Beth Healey (2003-2005)
Medical Doctor
(Former Research MD for the European Space Agency at Concordia Station, Antarctica)
Beth grew up in Ballingham, Herefordshire. After leaving school (The Bishop of Hereford's Bluecoat School), she joined Hereford Sixth Form College to study A Levels in Art, Biology, Chemistry, General Studies and AS Mathematics and went on to study medicine at Bristol University.
Beth spent a year with the European Space Agency (ESA) as a Research MD, Concordia Station, Antartica. During this mission at Spaceflight Analogue Concordia 'White Mars', she was responsible for co-ordinating and implementing seven research protocols, selected by the ESA, to investigate the effects of this extreme environment on the physiology and psychology of the crew. Beth was lead of the medical rescue team and worked alongside the base doctor in case of emergency.
You can read a fascinating insight into the team's work and experiences via their blog http://blogs.esa.int/concordia/ or follow Beth on Twitter @Bethahealey
Beth, a Gold Duke of Edinburgh's Award holder, has a very sporty background - she was a district cross country runner and played county hockey but she now has a penchant for something more extreme having many and varied qualifications for mountaineering, exploration and water sports under her belt.
This has dovetailed neatly into Beth's career and some of her volunteer work, including:
Tangent Expeditions Snowmobile and Logistics Staff (North East Greenland)
Assistant Doctor at the North Pole Marathon
Medical Student Volunteer at Scorsbysond Hospital (North East Greenland)
Support Team Member at the Extreme World Races (Lake Baikal, Siberia)
Assistant Leader on the British Schools Exploring Society (Svalbard)
Beth's employment and training history includes:
Hospital Doctor - NW Thames Foundation Programme, London
Chelsea & Westminster NHS Trust (FY2): Trauma and Orthopaedics, General Practice, Accident and Emergency
Ealing Hospital NHS Trust (FY1): Obstetrics and Gynaecology, Infectious Diseases, Surgery
Photo credit: ESA/IPEV/PNRA–B. Healy from http://www.esa.int/Our_Activities/Human_Spaceflight/Concordia/Scientific_spring_in_isolated_Antarctica
I have a lot to thank Hereford Sixth Form College for. I had a fantastic two years and felt very supported during my A Levels and whilst applying for university.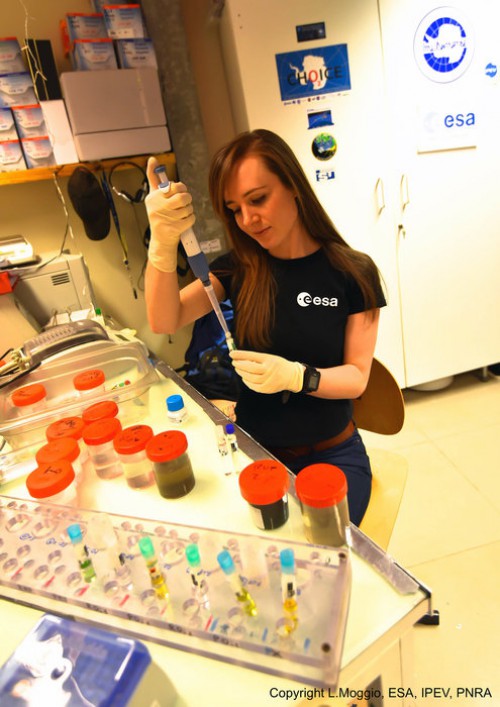 Dr Beth Healey testing water from the 'grey water' recycling machine in Antarctica (a prototype for the one used on the ISS) - from http://www.esa.int/Our_Activities/Human_Spaceflight/Concordia/Scientific_spring_in_isolated_Antarctica