Young Carers Awareness Day
Posted on 28th January 2016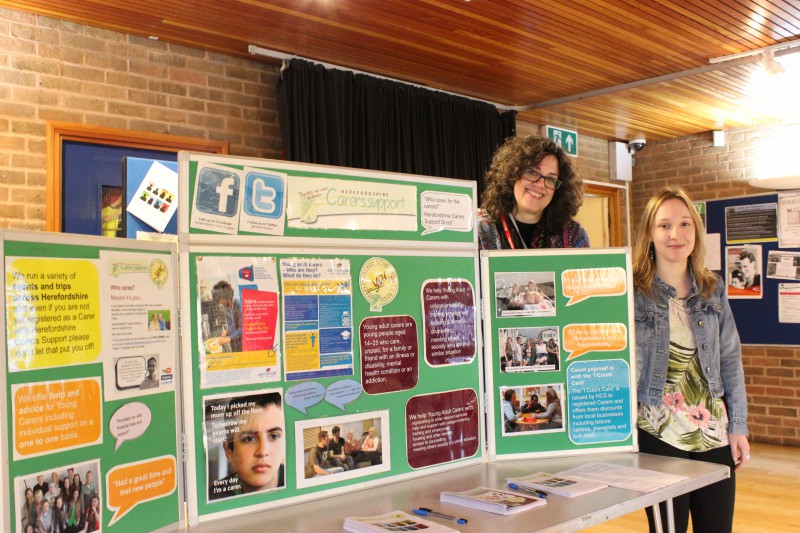 Thanks to Susan Brace, Young Carers Community Development Worker, for visiting the College on Young Carers Awareness Day.
Susan was at College to inform staff and students of the support available from Herefordshire Young Adult Carers (YAC - part of Herefordshire Carers Support).
A significant number of 16-25 year olds look after a member of the family or a friend with a disability or long term illness. While this can be very rewarding, it can also impact on their own lives and wellbeing. YAC can help in a wide variety of ways including signposting to relevant agencies, help with education, training and employment and advice on benefits. YAC also organise social events where young carers can meet up.
Student, Gemma Herrington, is a young carer who helped out at today's event. Gemma said, "YAC has helped me tremendously. I've been given advice on how to balance my caring role and my College and social life. It's made me more mature and very determined to get to where I want to be in life. Through YAC's support I have met carers of all ages and it helps to share our experiences."
Susan said, "It's been a really nice opportunity to come to the College and let everyone know of the Young Carers support available locally."
If you would like to get in touch or find out more, please contact:
Herefordshire Carers Support
Berrows Business Centre
Bath Street
Hereford
HR1 2HE
T: 01432 356068
E: help@herefordshirecarerssupport.org