Welsh Rugby Star Recognises Sports Leaders
Posted on 24th September 2014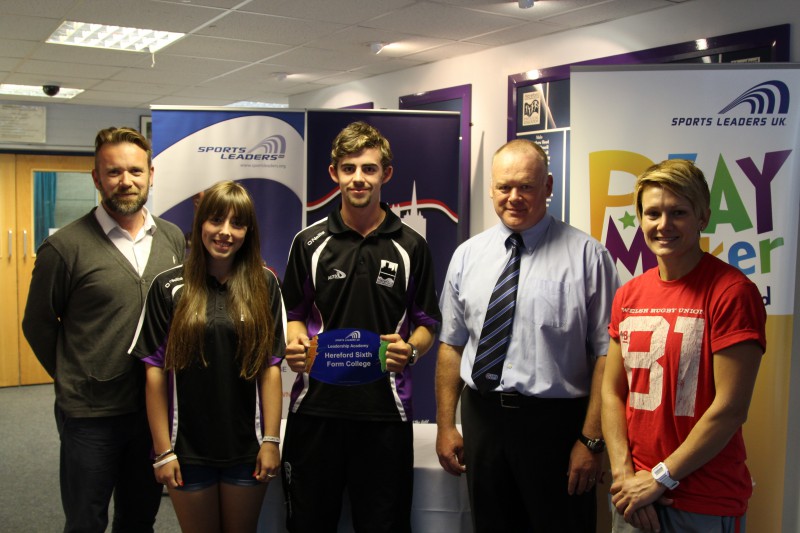 Hereford Sixth Form College received a special visit from Welsh Women's Rugby star, Philippa Tuttiett, through the Sport England Active Colleges initiative.
The College was rewarded with the visit after submitting a fantastic story to Sport England about one of its outstanding projects that has encouraged more students to take up sport.
During her visit, Philippa gave an inspirational talk and delivered a coaching session to Academy students, took part in a BTEC Sports Science lesson on sports injuries and held a Q&A with students on the College's Elite Athlete Support Programme, giving them invaluable advice and guidance. Students at all levels of performance felt inspired to continue in their participation of sport after hearing Philippa's story.
On the same day, Hereford Sixth Form College was also recognised for its exceptional contribution to leadership development and volunteer deployment in the community. Sports Leaders UK awarded the College's good practice by granting them Leadership Academy status and marked the occasion with the presentation of a plaque. Philippa was also on hand to speak to some of the Student Activators, who are supporting the delivery of the FE activation programme at the College.
Linda Plowright, Chief Executive, Sports Leaders UK said, "Leadership Academy status is only awarded to the centres that stand out as beacons of best practice."
Richard Shenton, National Development Manager from Sports Leaders UK presented the plaque to Student Activators, Kelsey Francis and Ewan Hellier-High along with Andy Douthwaite, Head of PE.
Andy Douthwaite, highlighted comments made by Richard Shenton noting that students from Hereford Sixth Form College had contributed over 5,000 hours of voluntary leadership to the local community, playing a vital role in supporting local and grassroots sports.
Andy also thanked Philippa for her contribution to the day which was a celebration of how sport can benefit the development of all participants, whether players, performers or volunteers.