Visit from Commonwealth Gold Medallist
Posted on 9th December 2014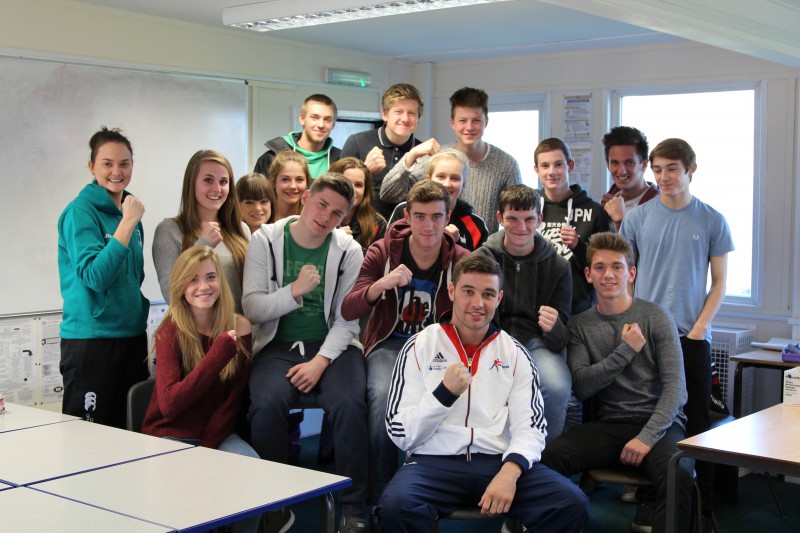 PE students were given a fascinating insight into the world of amateur boxing recently with a visit from Commonwealth Gold Medallist, Scott Fitzgerald, along with the Chief Executive of the Amateur Boxing Association (ABA), Mark Abberley, a former student of the College.
Scott from Preston, was late coming to the sport, switching from a promising football career with Blackpool FC. He committed fully to Boxing at the age of 15 but was only picked up by boxing scouts in 2013, aged 21, and, with seven weeks to go, was selected to compete in the 69kg (welterweight) category at the 2014 Commonwealth Games.
Both Scott and Mark talked to students about the set up at the Team GB base in Sheffield where Scott spends 4 days each week training with the rest of the British elite boxers. They also talked about the funding and support each athlete receives.
Sports psychology played a huge part in Scott's win, not to mention the medical support as he competed in the final with two broken bones in his hand. Nutrition is also key and Scott is lucky enough to have the same nutritionist as Andy Murray and the Manchester United team.
Scott's next big challenge will be to qualify for the Olympics in Rio and he's certainly made some new fans in Hereford and we'll watch his progress with interest.