Top Selling Historian, Derrick Murphy, Visits Hereford Sixth Form College
Posted on 18th January 2019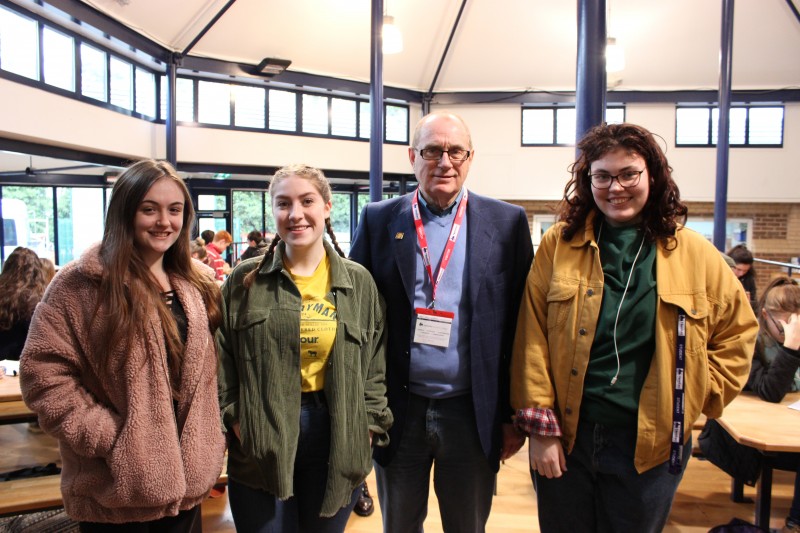 A Level Modern History students were privileged to hear from top selling history author, Derrick Murphy, this week on the topic of "Why did Stalin emerge as the undisputed leader of the USSR by 1929?"
This is one of the key issues studied by the A Level Modern World History students for their unit on Russia 1855-1964, and for their coursework assignment on Stalin's rise to power.
Derrick spoke to an audience of over 70 students for 45 minutes, before taking questions from the floor. It was a fascinating insight into the subject and students took plenty of notes.
To conclude, and in answer to the question of why Stalin rose to power over his rivals, Derrick said, "The situation in Russia after the Revolution and during the Civil War demanded ruthlessness… Stalin was more ruthless than all the others, that's why he rose to the top."
Students were very lucky to have such a distinguished author in their midst. He is the author of numerous historical works, most recently those for the Flagship History series of text books used by A Level History students across the country and beyond. In fact, he has authored and sold more A Level History texts than any other author of similar work.
Derrick has also worked for Cambridge University and been Chief Examiner for History for both AQA and OCR Examination Boards. He has advised the UK government on curriculum issues and has worked for the government of Singapore, South Africa and Hong Kong. He is now based in Hereford and is a successful breeder of alpacas.