The College's Partnership Continues with the English Symphony Orchestra
Posted on 4th October 2018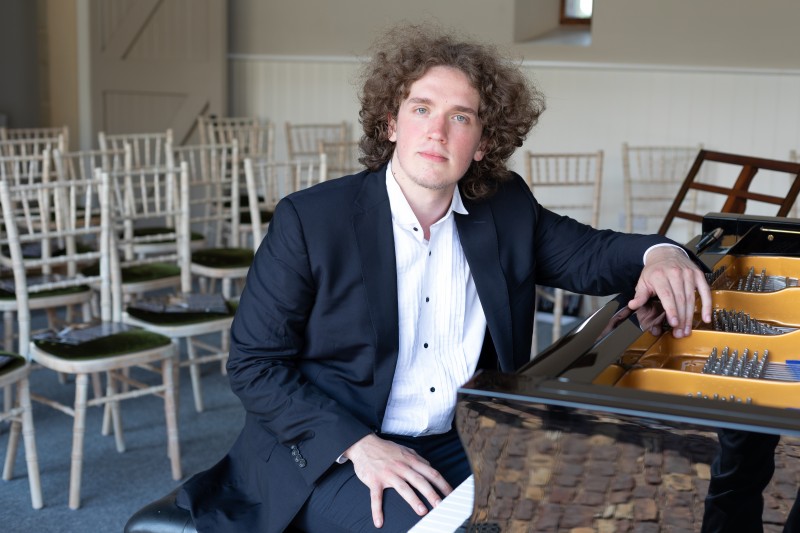 The English Symphony Orchestra (ESO) will be giving a concert at the Shire Hall, Hereford on Sunday, 7th October at 3.30pm. This continues the partnership the College enjoys with this highly regarded orchestra and is a fantastic opportunity for some of our students to play side by side with professional musicians.
Since taking up their position as Herefordshire's Orchestra-in-Residence in 2015, the English Symphony Orchestra's regular Shirehall concerts have become one of the most anticipated and talked-about facets of Hereford's cultural calendar, and the International Orchestra of Elgar Country's 2018-9 season promises to get off to a thrilling start on 7th October with a programme combining symphonies of Schumann and Sibelius with Liszt's greatest pianistic virtuoso tour-de-force: his Totentanz for Piano and Orchestra with the Gold Medal winner of the Hastings International Piano Competition, Roman Kosyakov.
Already hailed as one of the major pianistic talents of his generation, Kosyakov has already amassed a litany of triumphs at piano competitions around the world, including the Young Talents of Russia" (Russia, Moscow 2006), the 1st International competition "Sforzando" (1st Prize, Berlin, 2007), the International Alexander Scriabin Piano Competition (1st Prize, Paris 2011), the 8th Open Competition of Musicians Performers N. Savita (1st Prize, Russia, Ufa, 2012), the 4th International Piano Competition " Russian season in Ekaterinburg " (1st Prize, Russia, Ekaterinburg, 2015, Gold prize of the 3rd Manhattan International Music Competition ( 2018 ), First Prize and the Audience prize of 10th Sheepdrove Piano Competition (2018, UK).
For his debut with the ESO, Kosyakov will perform the last of Franz Liszt's works for piano and orchestra, Totentanz ("Dance of Death") a series of fantastic variations on the medieval chant "Dies Irae."
"I think it is by miles Liszt's greatest and most fun work for piano and orchestra," says the ESO's Artistic Director Kenneth Woods, who conducts the concert. "We're a little early for Halloween with this one, but Liszt captures that mixture of fun and danger that we associate with that holiday in a piece that pushes the piano to its very limits."
The concert is framed by performances of two closely related symphonies, Schumann's Fourth and Sibelius' Seventh. "There are all kinds of fascinating links between these two works, which we'll explore in the programme notes," said Woods, "but what listeners really need to know is that these are two of the most thrilling and moving pieces ever written. To hear them together on the same concert is something very special."
The performance of the Schumann, which opens the concert, is part of Schumann '18, a major exploration of Schumann's music throughout the current year which includes all four of his symphonies and his Violin Concerto, which the orchestra perform in Malvern Priory on 7th November. Schumann has long been a specialty of the ESO's conductor, Kenneth Woods, whose recoded cycle of the four Schumann symphonies on Avie has been hailed as one of the finest ever made. ClassicalSource wrote of Woods' recording that "this thoughtfully considered account belongs in the Schumann 4 collection alongside Boult, Celibidache, Sawallisch (Dresden) and Szell."
The concert also includes one of the most beautiful and beloved works in the repertoire, Sibelius' haunting Swan of Tuonela, which will feature the ESO's principal oboist Graeme Adams on cor anglais.
The ESO enters their new concert season following a triumphant 2017-8 season, which included a range of accolades including a number of "best recording of the year" awards from the likes of Gramophone, Forbes and MusicWeb.
Closer to home, the orchestra was recently appointed as Resident Orchestra of The Elgar Festival and the official orchestra of the City of Worcester. They are active in supporting music education across communities in Elgar Country, and are proud to serve as the official associated orchestra of the Music Hubs in Herefordshire and Worcestershire and working in close partnership with Hereford Sixth Form College, King's School Worcester, Elgar School of Music and many others.
The 7th October concert also sees the ESO welcoming several young "orchestral scholars" from Hereford Youth Orchestra and Hereford Sixth Form College who join the ESO under the guidance of professional orchestral mentors for the chance to play a major symphonic work in a professional orchestra. "These opportunities to see what it's like to make music at the highest level are really life-changing," says Jon Weller, Head of Music at Hereford Sixth Form College. "It's not something that is available all that readily to aspiring musicians even in places like London or Manchester, so for our young Herefordshire musicians to get this opportunity something we are passionately excited about."
The ESO continue their Shirehall series on 17th October with a celebration of the best of English string orchestra music featuring Britain's greatest living oboist, Nicholas Daniel, in Ralph Vaughan Williams' Oboe Concerto.