The College Act of Remembrance 2019
Posted on 11th November 2019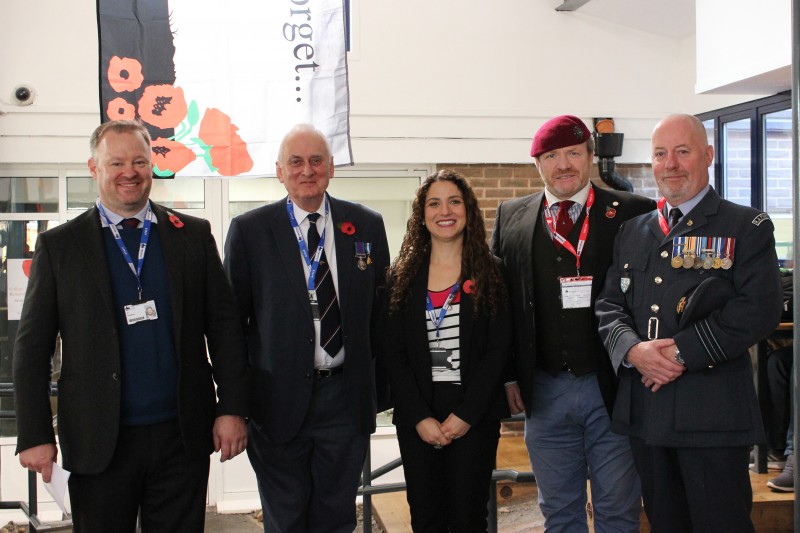 As is our habit every November, the College took time out of normal timetable to take a moment remember those who have paid the ultimate price, for the freedoms, we enjoy today. The College Act of Remembrance is not shoe-horned into otherwise-free time, but lessons are put on pause, while we all come together to pay tribute.
Staff and students filled the Pavilion to overflowing, for a respectful time of reflection and remembrance. We were honoured to welcome guests, Squadron Leader Rich Wylor-Owen RAF Regiment, and Councillor Jim Kenyon, as well as members of staff who have previously served in the forces. The wreaths were laid by staff member Alastair Chapman Irish Guards Rtd, and Councillor Jim Kenyon, also ex-Forces. Readings from staff and students pointed to the importance of remembering, honouring, and thanking those who have fallen in conflict. Academia Musica gave a moving performance of 'For the Fallen', with student Charlotte Ainsworth, taking the bugler's role on her trumpet.
All in all a fitting tribute. Personal tributes to loved ones we have lost to war will be up outside the Pavilion for the duration of the week.
We will remember them.
Lana Silk, College Chaplain