Students Win Aberystwyth University Awards
Posted on 14th March 2018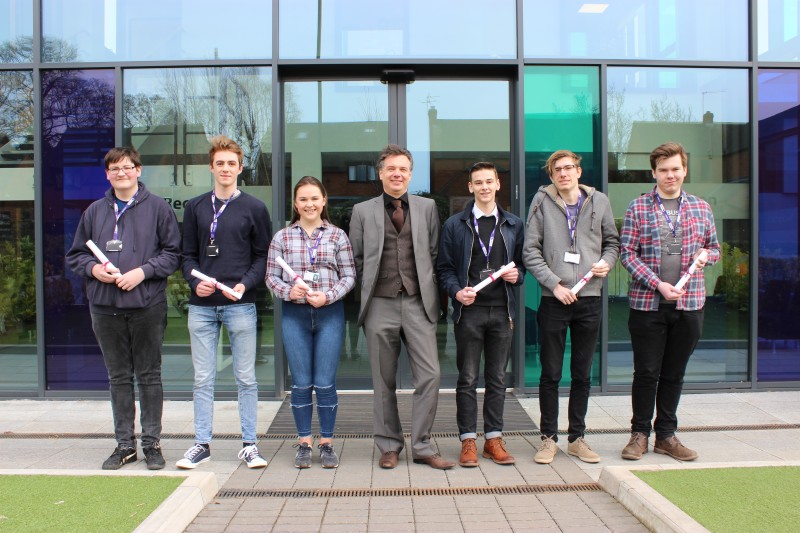 Students from Hereford Sixth Form College have been successful in Aberystwyth University's Entrance Scholarship competition.
This year, the University awarded 68 Scholarships and a number of Merit Awards to students applying to study at Aberystwyth in September 2018.
Josephine Franklin was awarded an Open Scholarship, Amy Hammonds was awarded an Evan Morgan Scholarship, Megan Wilkins was awarded an Institute Entrance Scholarship, Jack Prosser, Jack Robinson and Charlotte Ward received Merit Awards, and Daniel Beckett, Edward Bullock, Owen Clee, Jon Faulkner and Benjamin McKenzie all received unconditional offers based on their strong performance in the exams.
Peter Cooper, Principal of the College, congratulated the students saying "We are delighted that once again our students have demonstrated their talents and skills and these have been recognised and rewarded by Aberystwyth University. It is a great tribute to the students efforts and to the staff who have supported and encouraged them throughout their studies."
Aberystwyth University runs a scholarship competition every January, with awards worth up to £2,000 a year to help students with their living costs. The Entrance Scholarships are part of a wider package of scholarships and bursaries offered by the University. Kylie Evans, Academic Awards Officer at Aberystwyth University, said, "We would like to congratulate the students who have been successful in this year's exams and we look forward to welcoming them to Aberystwyth in September. The entrance exams recognise academic ability but we also have a wide range of other awards to help students with their living costs. In some cases, students can receive in excess of £15,000 over the course of their studies."
Other awards available include:
Academic Excellence Studentships
Departmental Scholarships
Sports Scholarships
Music Scholarships
Means-tested Aberystwyth Bursary
Welsh Medium Study Scholarships
Bursaries for Care Leavers and Young Carers
Amy Hammonds, awarded an Evan Morgan Scholarship, said, "I am delighted with the results of the entrance scholarship exam and I can't wait to start Aberystwyth University in September. I would also like to thank my teachers for their help and support".
To find out more about Aberystwyth University awards, www.aber.ac.uk/scholarships or 01970 622065.