Students Quiz Experts at Hay Festival
Posted on 7th June 2016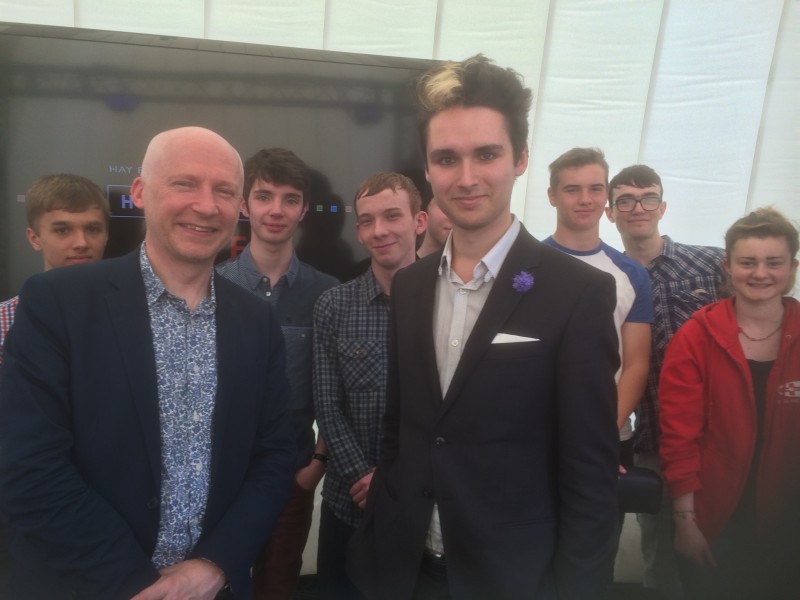 Following the huge success of the Hay Levels project in which academics and authors have made short films on A Level topics, Peter Florence, Festival Director, assembled stellar teams of experts to take part in seminars with Hereford Sixth Form College students which were streamed live from Hay. These can now be viewed on the Hay Levels YouTube Channel.
The five 50 minute seminars covered Physics, Maths, Tudor History, Genetics and Shakespeare.
Over 60 students from the College took part. The experts included Quantum Physicist, Actor and Comedian Ben Miller; Monica Grady, Professor of Planetary & Space Science at the Open University; Marcus du Sautoy, Professor of Maths and the Public Understanding of Science at the University of Oxford; James Shapiro, Professor of English at Columbia University; John Mullan, Professor of English at University College London; Steve Jones, Professor of Genetics at University College London and John Guy, Professor of History at the University of Cambridge.
Ben Miller said,"I was extremely impressed by the questions the Sixth Form College students came up with. It was a really enjoyable session."
John Mullan added, "I wish I had been as confident and articulate as these students when I was in the sixth form. It was good to engage in a dialogue with Shakespeare scholars of the future."
Jonathan Godfrey, Principal, said, "It was a fantastic opportunity for our students to be involved in seminars with such distinguished academics who freely gave their time to this collaborative project. We are extremely grateful to Peter Florence for his enthusiasm and ongoing support for the College."
Pictured L- R: Emily Grossman (Broadcaster), Heather Lacy (Jaguar/Land Rover), Professor Monica Grady (Open University), Taliesin Chalkley, Ben Miller (actor), Morgan Walters, Sam Spedding, Fleur Hodges, Luke Baker and Joe Papworth