Students publish an article for the Molecule of the Month site
Posted on 8th November 2019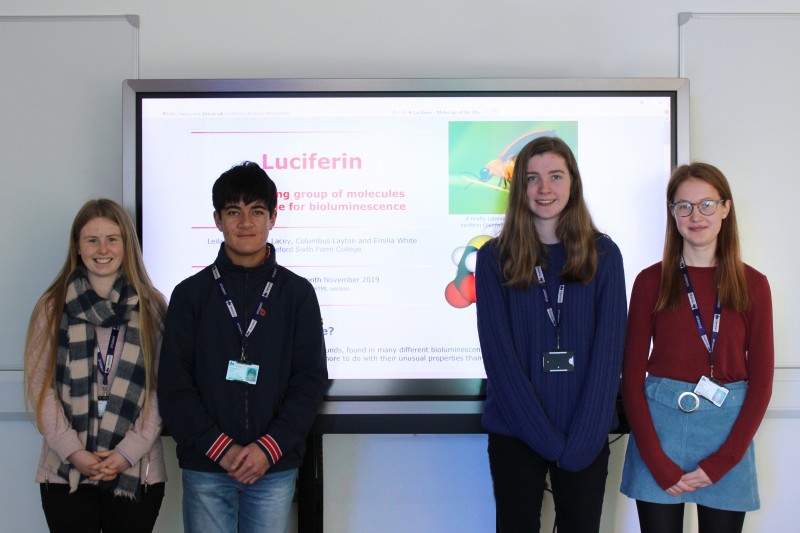 Four second year Chemistry students (Leila Hewitt, Elise Lacey, Columbus Layton and Emilia White) have published an article in the University of Bristol's Molecule of the Month.
Molecule of the Month was established in January 1996, making it one of the longest running chemistry webpages on the internet, with contributors from all over the globe (such as Bangladesh, Spain, and Taiwan). It is run by Professor Paul May, School of Chemistry, University of Bristol and Dr. Simon Cotton, School of Chemistry, University of Birmingham. Publishing an article with the Molecule of the Month combines many skills, such as the scientific knowledge needed to write so articulately about the chosen molecule, writing skills, referencing and researching in order to bring the article to life.
The students were inspired to begin this project by their Chemistry teacher, Claudia Orellana, who was once a science writer and has also published a Molecule of the Month about Rose Bengal in May.
The molecule chosen by the students, Luciferin, is responsible for bioluminescence. The students chose to write about this molecule in particular due the interdisciplinary nature of its study; it combines biology, chemistry, and physics, as well as because it is intriguing and plain cool. The demonic connotations of the molecule's name were entirely unintentional; though it does give an interesting insight into the impact of bioluminescence on mythology and history.
It is a truly fascinating topic that has been eloquently described by our fantastic students; who dedicated their free time over the summer to this project, demonstrating their devotion and passion for the sciences.
Well done Leila, Elise, Columbus and Emilia!
You can read the article here.