Students Interview Professional Dancer, Scott Jennings
Posted on 15th March 2016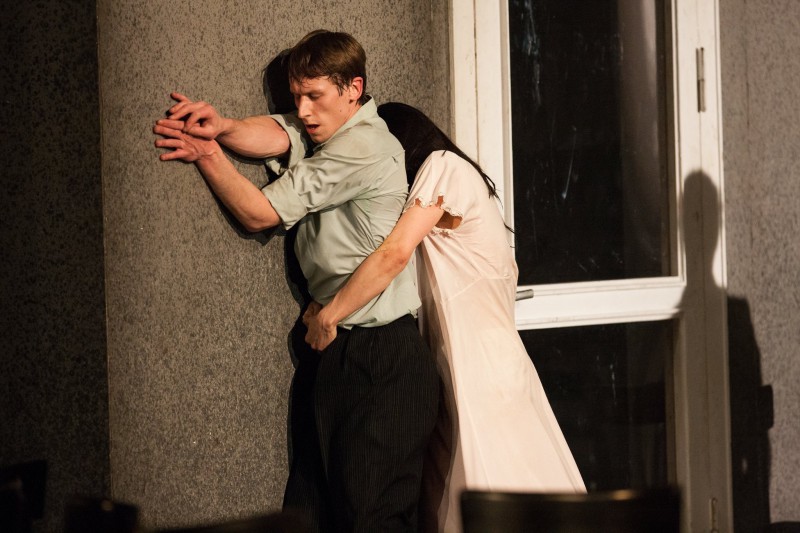 Scott Jennings was born and grew up in Kent, England. He began his training at The BRIT School and then went on to study at London Contemporary Dance School, graduating with a BA (Hons) degree.
Scott has worked widely in the UK and in Europe with artists such as Matthew Bourne, Alexandra Waierstall, Rick Nodine, Lorena Randi, Luca Silvestrini and Suzy Willson.
He has taught classes and workshops in London, New York and Chile and has shown his own work in Malta and Italy.
Scott is currently based in Germany and has been a member of Tanztheater Wuppertal Pina Bausch since 2012.
Students studying BTEC Musical Theatre, Dance and Drama & Theatre Studies at Hereford Sixth Form College had the privilege and golden opportunity of asking Scott their burning questions about the lifestyle and demands of being a professional dancer.
From questions ranging from dietary requirements to theories of practitioners, the interview is detailed below:
What are your top tips for devising physical theatre without losing the meaning?
I often begin a process with a series of questions to myself. What is 'meaning'? Where does/can it come from? What themes do I want to explore? What are my intentions? Do I want to explore these physically or with the use of the voice, props, objects? Can meanings be generated or explored through sounds or digital media? It can often be challenging to know how to artistically shape ideas that only exist in the head. Explore thoroughly and allow things to unravel and grow. Propose questions, even if you can't find answers.
How much more intense is 'official' Drama School compared to A-Level?
It's quite a lot more intense. Subjects and courses were explored in a lot more detail and depth. I was guided through my years at London Contemporary Dance School (LCDS) with a lot of care from tutors and lecturers but spent a lot of my own time reading, writing, playing and researching independently. Often ideas and methods were offered or proposed rather than 'taught'. This meant a lot more research, personal reflection and studio time, but allowed me to start to shape the way I wanted to work.
I'm looking into dancing professionally on the West End one day and I was wondering what your day is like? How many hours are you training and performing?
A standard working day is 8 hours. Normally we work 10.00am-2.00pm and then 6.00pm-10.00pm, five days a week. Morning training is from 10.00am-11.30am and the rest of the time is spent rehearsing. When we have performances we also have a warm up class that starts one hour before the performance begins. In the Tanztheater Wuppertal we have a repertoire of pieces that we perform nationally and internationally. The shortest piece we play is around 35 minutes and the longest is roughly 4 hours. This current season we are playing around 75 performances in total.
Working for the Pina Bausch Tanztheater, why do you think it is important to marry together the styles and theories of multiple practitioners, such as Brecht and Artaud?
I think it's important to draw from varied sources wherever and however you work. Having a broad knowledge of how practitioners worked in the past, as well as how artists work today can only enhance the way we work or view things. Alongside this, drawing on personal life experiences/knowledge is what, for me, makes each individual so interesting.
What qualities do you appreciate in your chorographers and directors that make them positive to work with?
Openness and respect for each individual as a person and an artist
Ability to guide/lead, listen, respond, question
Awareness of the world we currently live in
How do you overcome being mentally blocked when devising a physical theatre piece?
I think it's important to leave ideas to settle, or trust in simplicity. I read or paint which often allows space for other ideas to flow in. I try not to be too precious with everything I create, especially at the start of a process. Videoing and archiving raw material is a nice way for me to draw on things I miss or forget about.
I've seen you in 'Home Brew' with Lewis Wilkins and 'Bruised Skins' by Matthew Robinson from which I've used some of the phrases in my choreography, as I love the intricate movements that have such detail and are so different from "normal" choreography. My question for you is what (if you have one that is) mantra do you use in your dance performances and career? I've heard the popular ones of "feel the beat" and "dance from your heart" but I wondered if yours had more of an advisable context.
I don't think I use a mantra as such. I often ask myself why I can watch someone stand on stage, do something very mundane and still be very interested and attached to what I see. If we talk about live performance, I'm interested in presence, conviction and commitment. If we talk about creating, that's hard to say. Depends what I want to create. Perhaps it's something to do with being as open as possible, trusting, and always being hungry to develop.
How were classes at London Contemporary Dance School scheduled? Did you explore different contemporary techniques a lot, or branch off with your own unique styles? If so, which one did you prefer doing?
At LCDS, there was a daily focus on ballet as well as Cunningham or release based techniques. Alongside these, I focused on improvisational studies and contact work as well as trying to create my own work. I enjoyed the balance between technical studies and creative work and in the third year, I also started to work with and write about video dance.
How often do you work out and do classes outside of your work/jobs?
Not very often. I am currently employed on a full-time contract, working at least five days a week. A few years ago, when I was working as a freelance artist, things were a bit different and I managed/planned each week and month as it came. I try to always find a good balance between work, play and rest. When I have time I try to take classes and workshops outside the company, but this doesn't happen very often.
Do you follow any specific diet?
Many of Pina's pieces are physically as well as mentally demanding and while I don't really follow any specific diet, I try to be aware of what my body needs. In the mornings I often make juices or smoothies and before performances I try to eat slow release energy foods. It's about balance... and magnesium pills.
Do you think acting training is relevant in addition to dance training for work in the Theatre?
I think that depends what you're interested in? I didn't undergo a full-time acting training, but I've been lucky enough to work with actors and theatre makers quite a lot. I can only be thankful for that, and it's given my body and character an extra richness and sensitivity.
Does the shape of your body change according to what genres of dancing you are doing?
Yes, the body develops or transforms depending on what I'm doing or focusing on. The type of warm-up or training I do, also effects how my body feels or senses. For me, it's important to have a varied way of training, working or viewing the body. It's important to play with techniques and styles, to round and evolve the body.
How much creativity do you get when you are rehearsing, can you contribute ideas or does the choreographer dictate how things will be?
I have worked in repertoire companies, where choreographers are very detailed and strict about how things should look or feel on the body. I've also been involved in very open, collaborative processes where the choreographer has shaped the work alongside me and other artists. I've enjoyed the varied experience; and gained very different skills from both ways of working.
Who influences you the most as a dancer and artist?
I'm constantly discovering new inspirations, forms, and ways of working. Perhaps more than 'who', it's more 'what', or why people inspire or influence me. I have a lot of respect for young choreographers and artists who have to compete with the big dog companies and organisations. Currently I'm surrounded by many beautiful artists in the small city of Wuppertal, and this alone is something I'm very thankful for.
Do you plan to start your own company ever?
I'd like to have some sort of small company in the future, yes. A collective, maybe. A collaborative group of artists- dancers, actors, musicians, and painters. When the time is right, I'll work out how I want do that…
Thank you to all the Hereford Sixth Form College students who contributed questions for this interview with Scott (including Lucie Skull, Katherine Pothecary, Amy Munday, Cara Squires, Hiranya Griffith-Unny, Elisabeth Hogg, Connor Pearson and George Swattridge).
Hereford Sixth Form College is extremely grateful for Scott to take the time out of his busy schedule to answer students' questions. We wish Scott all the very best with his career and no doubt he has inspired many students to pursue their dreams and ambitions in the world of performing.
Ed.
Related Links:
Matthew Bourne's New Adventures Swan Lake:
http://www.gettyimages.co.uk/detail/news-photo/leading-swan-jonathan-ollivier-poses-with-gavin-eden-simon-news-photo/105266096
Tanztheater Wuppertal Pina Bausch:
http://www.pina-bausch.de/en/index.php
Scott Jenning's profile:
http://www.pina-bausch.de/en/dancetheatre/ensemble/jennings.php
Guardian Article:
http://www.theguardian.com/stage/2015/apr/07/pina-bausch-wuppertal-dancers-ahnen-gebirge-sadlers-wells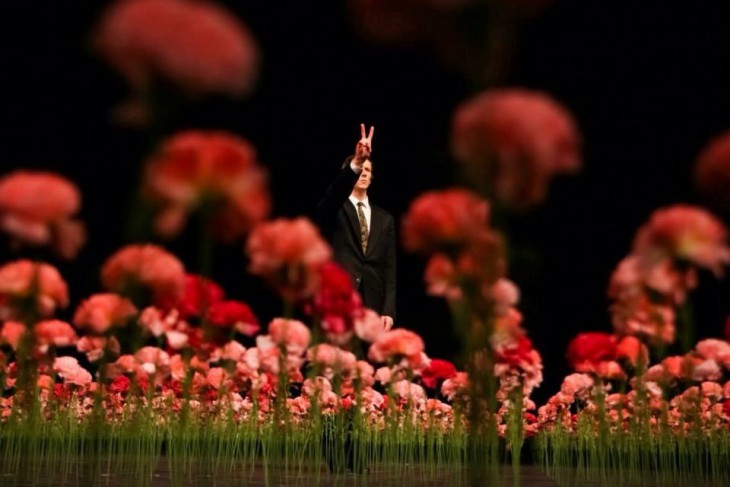 Nelken by Pina Bausch - Photo: Oliver Look