Rugby Academy Celebrate League Title with South Africa Tour
Posted on 7th May 2015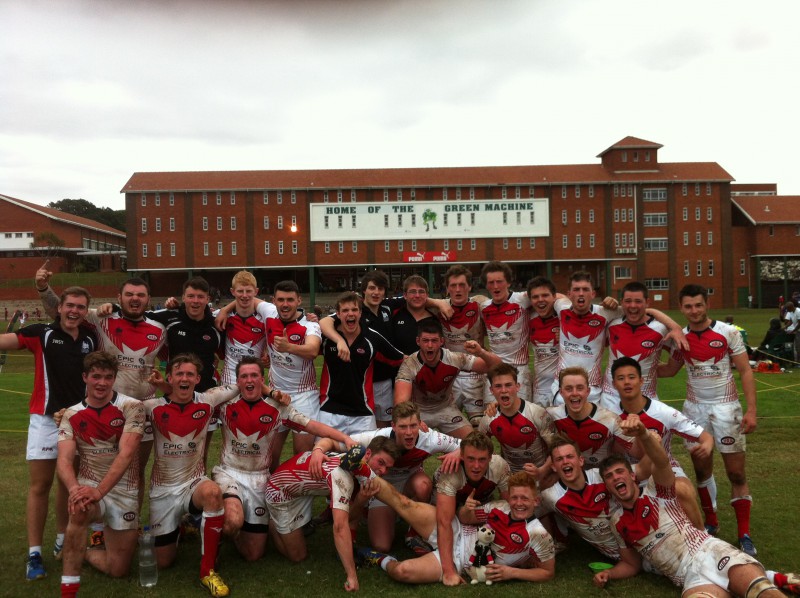 The Hereford Sixth Form College Rugby Academy has just completed their most successful season since the initiative was started in 2000. They dominated the British Colleges West Midlands Performance League to retain the title they achieved for the first time last season. Back to back league titles are a reflection of the hard work and consistency that this group of players has shown over the last two seasons.
Having secured the League title the squad then ventured further afield to take part in the Glenwood Rugby Festival in Durban, South Africa. The team continued their home form by winning their first game against Lichtenberg High School from Johannesburg. For many players the standard of rugby was the highest that they had played and collectively they rose to the challenge edging a 26–22 win with the last play of the game. The second game just two days later was a more physical challenge against Rustenburg High School who had dominated their first encounter against a strong school from Harare. A technicality regarding player registration meant that the team took to the field without key playmakers and despite performing well and being in contention until late in the second half a flurry of late scores flattered the opposition who ran out 52 – 5 winners.
This was the worst defeat that this squad had suffered and galvanized them for the final outing against Trinity High School from Pretoria. The players approached the contest with a much calmer and focused attitude and dominated possession and territory but found the defence hard to crack. The scoreboard remained tight going into the last few minutes with Trinity holding a slender advantage. The Academy showed their character and ambition to manufacture a fine score which clinched the game 14–12.
Winning two games from three in South Africa is a major achievement and one that in three previous visits had not been achieved. The group of players has benefitted enormously from the experience, both in personal and rugby terms, and they would like to thank Yeomans Travel, Epic Electrical and RFM Farm Supplies for their kind support which enabled the tour to go ahead.
Hereford Sixth Form College Rugby Academy v Lichtenberg High School
Tries: F Kelly, H Smith, J Brett, T Neal
Conversions: T Neal 3
Hereford Sixth Form College Rugby Academy v Rustenberg High School
Tries: P Halligan
Hereford Sixth Form College Rugby Academy v Trinity High School
Tries: J Kelly, J Young
Conversions: T Neal 2