'Reach' students get top tips from alumni in Oxford
Posted on 22nd November 2022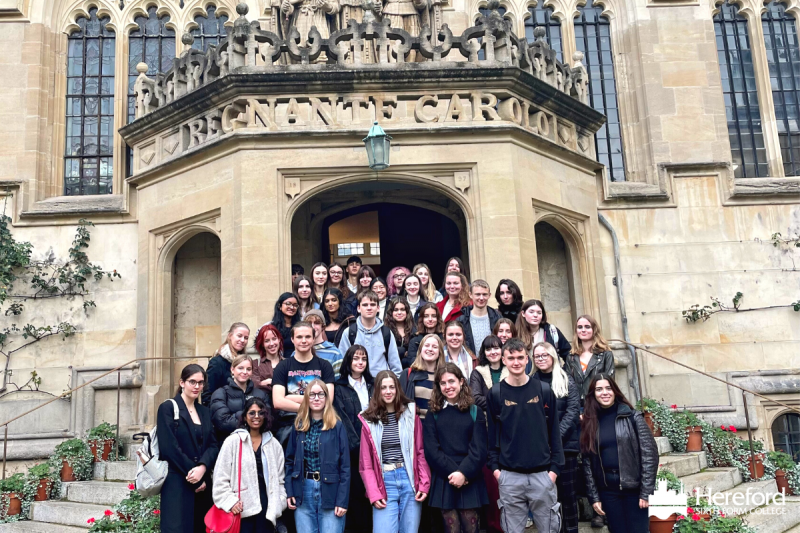 Last week, 40 students visited The University of Oxford for the day; at our Link College, Oriel, students met Arron O'Connor, who gave a brilliant talk about considering Oxbridge and how to apply. Students then participated in a Q and A with current students at Oriel, where they shared their advice, hints and tips.
The students then had the opportunity to visit Keble College, meet India Collins-Davies and enjoy a tour of the beautiful college site. Students also spent time with HSFC alumni students who came along to encourage and network with current students. The alumni students are studying a wide range of subjects and gladly gave up their time.
Our sincere thanks to HSFC Alumni students:
Harvey studying Archaeology and Anthropology
Rob studying Chemistry
Aboudee studying Medicine
Manon studying Human Sciences
Anwen studying Psychology and Linguistics
Beth studying Earth Sciences
Saffron studying Engineering
Jon studying Philosophy, Politics and Economics
Progression lead Vicky Orsmond accompanied the group, "It was fantastic to see so many former students supporting current students to aim high and be the best!"
Year 12 student, Shanice, said: "I loved being able to talk to different students who expressed their opinions about Oxford and broke any stereotypes that I had. I think hearing true reflections of the University from real down-to-earth people was really beneficial. Also, being shown around the multiple colleges was a good eye opener and further made me consider the University as a whole. Following from the trip, I believe I have a chance to secure a place in Oxford, and I am very much dedicated to doing so."