Oxbridge Success 2019
Posted on 31st January 2019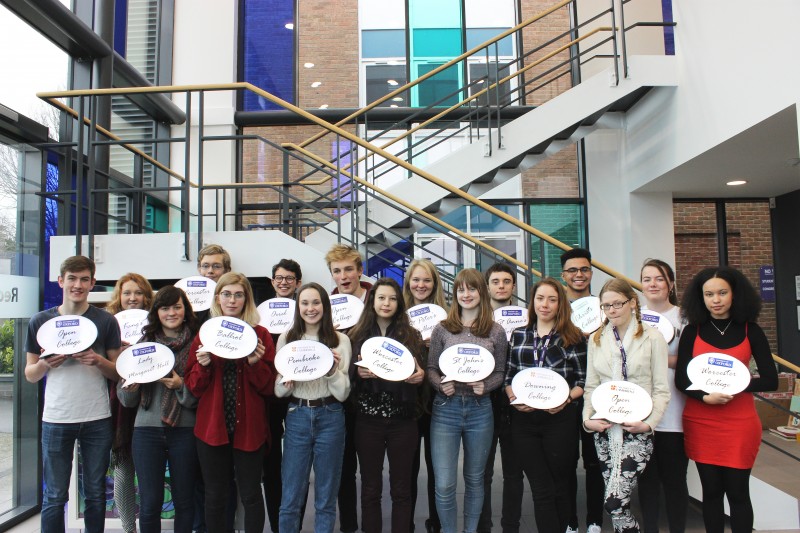 17 gifted and talented students at Hereford Sixth Form College have received offers to study at Oxford and Cambridge universities this year, so a third (33%) of the 51 students who applied, received offers. This matches the College's ten year average, but greatly exceeds the national offer rate of less than 20%. The students' subjects are far ranging, from Philosophy, Politics and Economics (PPE) at Oxford, Natural Sciences at Cambridge, to two students applying to read Music.
Julia Trim will be reading Archaeology at Sidney Sussex College, Cambridge and said, "I feel so honoured and lucky to be offered a place at, what I consider to be, the best university in the world. As the first person in my family to go to university, I feel that I have been given the most amazing opportunity and can't wait to see where it takes me. I truly couldn't have done it without my tutors who have given constant support and an unwavering confidence in my ability. I have never felt so supported or looked after in my life and I definitely wouldn't have been able to do it without Hereford Sixth Form College."
Hereford Sixth Form College students performed well in the admissions tests and challenging interviews, showing the academic curiosity and independent learning skills so valued by these universities. The College's close links with Christ's College, Cambridge, and Lady Margaret Hall, Oxford, provide regular support in Hereford for students, such as personal statement workshops and interview preparation.
Students who are considering applying for Oxbridge have access to a bespoke Reach programme, which creates a community of the most able. This weekly programme, supported by excellent teaching and practical advice, encourages students to be aspirational, and to challenge themselves to achieve among the highest grades, to equal or surpass national standards of excellence.
Hereford Sixth Form College is also the regional hub for Cambridge's HE+ programme, working with partner state schools in Herefordshire and beyond, providing extension sessions to stimulate academic interest beyond the confines of A Level study. This has meant that even if our brightest students did not get offers from Oxbridge, they have already been offered places at leading higher tier universities, such as Imperial, UCL, Bristol and King's College, London.
Peter Cooper, College Principal, is extremely proud of the College's record stretching over many years and said, "The students deserve so much credit for the efforts they have made to gain these fantastic opportunities but I must also thank all the staff involved over time who give their time and support to make this super programme possible. To be up there with the top state and private schools in the country is a real achievement."
The following students have been offered places at the University of Cambridge:
Nia Bolland (ex Builth Wells High School) - Murray Edwards College - Human, Social and Political Sciences
Emily James (ex King Henry VIII Comprehensive School) - Pembroke College - Natural Science
Zac James (Weobley High School) - Robinson College – Medicine
Shannon O'Leary (ex St Mary's RC High School) - King's College – Law
Julia Trim (ex Fairfield High School) – Sidney Sussex College – Archaeology

The following students have been offered places at the University of Oxford:
Bryn Batten (ex St Mary's RC High School) – St Hugh's College – Music
Luciana Candler (ex Tenby International School) – St Anne's College – English
Alasdair Casperd (ex Crickhowell High School) - Worcester College - Mathematics
Phoebe Cherrington-Walker (ex St Mary's RC High School) - Hertford College - Medicine
James Colley (ex Earl Mortimer College) - St Anne's College - Mathematics
Niamh Gray (ex Haberdashers' Monmouth School for Girls) - St Hilda's College – Biology
Lara Hill (ex InterHigh, Crickhowell) - Lady Margaret Hall - History
Meg Hopkins (ex Croesyceiliog School, Cwmbran) - Balliol College – PPE
Lewis Lloyd (ex Lady Hawkins School, Kington) - Open College – Geology
Julia Robertshaw (ex St Bede's Inter-Church School, Cambridge) - Worcester College – German
Ben Southwick (ex Crickhowell High School) - Oriel – Music
Maddy Wheeler (ex Moreton Hall, Oswestry) - Christs College – English