Owain Wins an Amazing Chess Final
Posted on 23rd March 2016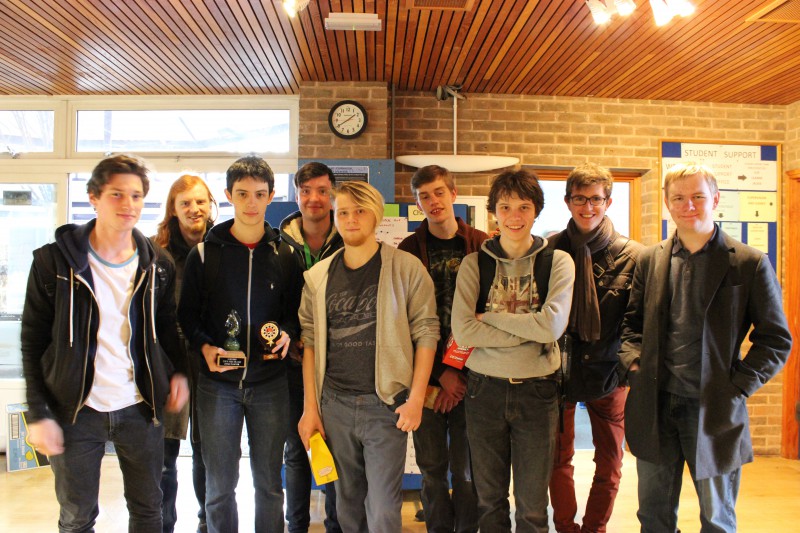 An amazing, gripping final that teetered on a knife edge throughout, concluded in the last few minutes of time with Owain Davies making the winning move over Matt Partyka to take the game and become the College Chess Champion for 2015/16.
Both finalists have been playing chess for many years and have represented Wales in International competition and won County titles, so a thrilling final was hoped for and this match certainly did not disappoint.
For those really into their chess and know the more specific terminology, Mr Alaric Stephen has summed up the game as follows;-
"The final was very close between Owain (white) and Matt (black). It opened with the Scandinavian opening (nf6 variation) and had a sharp early mid game with a lot of pieces en-pris from both sides and strong central attacks. Owain pulled ahead and capitalised on material, but his pawns guarding his king proved to be too far forward and Matt managed to get a strong attack in against Owain' s king. However Owain managed to stabilise the position and then cement his win with a clever revealed attack which ended up trading a bishop for a rook."
Congratulations to the winner Owain and to runner-up Matt for such a terrific display of their chess talent. Also congratulations to Amy Harris for taking 3rd place after beating James Bramley in an exciting 3rd/4th place playoff.
The competition began back in October with all entrants drawn into three groups of six. Within the groups each player had to play the others in their group twice, winning points depending upon the outcome of each game. The two highest scoring players in each group plus the next best two overall went on to play in the main knockout tournament. The remaining players then played in the plate knockout.
As the competition began it was soon evident that a number of very talented chess players were competing for the title this year. Owain and Matt did emerge as the No 1 and No 2 seeds but a number of other players were also hot contenders including Amy Harris, George Whitehouse, Sarah Maher, James Bramley, Hugh Beaumont and Luke Baker, all of whom made it into the knockout tournament for the top eight players.
The plate competition also involved some intense and well fought matches with Charlie Shave winning the Title and Matthew Lee Watts being runner up. The 3rd place prize was won by Kerrie Bramwell who had victory over Stefan Armstrong Jones in their playoff game.
The final was held on Mon 21st March 2016 and was followed by a presentation of prizes by Mr Alaric Stephen to the winners. Chess Champion Owain Davies was presented with a glass trophy in the shape of a knight which had been donated by a member of the Board of Governors. This trophy will remain in College to be presented to the Chess Champion in future years. The competition was organised by the Student Support Team.
Sue Segust, Student Support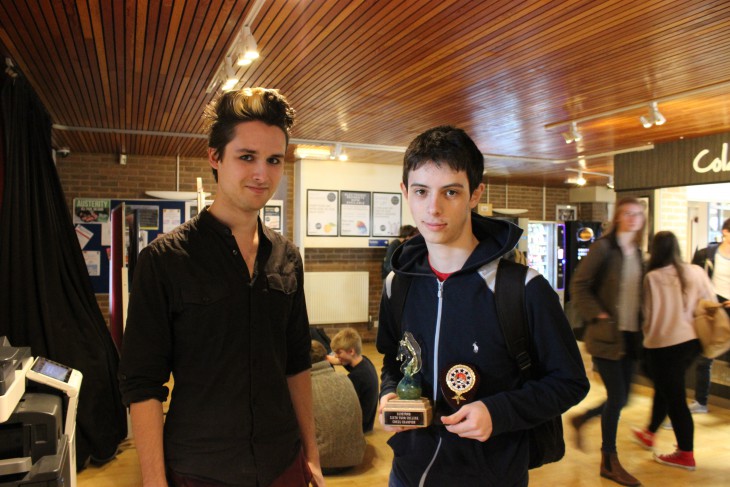 Winner, Owain Davies, receives his trophy from Alaric Stephen