Outstanding Student Receives OCR Bursary for Cambridge University
Posted on 29th September 2015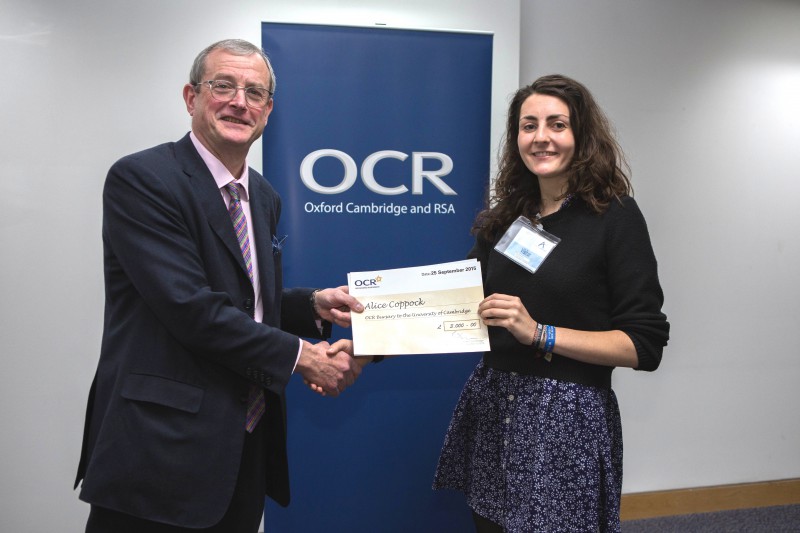 Nine exceptional students from across the West Midlands have been awarded bursaries towards their studies at the University of Cambridge by leading UK exam body OCR. One of those nine was Alice Coppock a student from Hereford Sixth Form College.
Alice from Kington, Herefordshire will be reading Natural Sciences at Newnham College.
Recipients of OCR bursaries receive £3,000 for each year of their undergraduate studies which they can use for living or tuition costs, or a combination of both. The award fund, which arises from OCR's historical association with the West Midlands Exam Board, enables talented students in the region to make the most of their studies at the University of Cambridge. This is the 12th year that OCR has funded the bursary scheme.
Liam Sammon, OCR's Director of Education and Commercial Services, congratulated the bursary winners. He was joined by Simon Lebus, Chair of OCR and Chief Executive of OCR's parent organisation, Cambridge Assessment, to present the awards.
Liam stated, "We are once again thrilled by the rich pool of highly talented and conscientious students across the West Midlands. They are worthy winners of OCR bursaries not only because of their academic achievement and potential but because of their positive impact on others. Attending the University of Cambridge is a fantastic achievement and we hope these bursaries will enable them to flourish in their next steps with less financial pressure."
Alice said,"I feel so very fortunate to be one of the individuals receiving the OCR bursary and thankful to OCR for the opportunity it presents. It removes almost all my financial stresses about starting at Cambridge and will allow me to focus my efforts on my studies, and hopefully a society or two, The bursary will enable me to fully experience all aspects of studying at the university."
Caroline Baylis, Teacher and Oxbridge Applicants Co-ordinator at Hereford Sixth Form College, said, "We were delighted when Alice was awarded the OCR bursary. She is a highly intelligent and personable student, well deserving of support for her university studies. The five A* grades she obtained at A level clearly established her academic credentials but it was during her gap year that she showed her commitment to scientific research and community involvement. Amongst other things, she did an internship with the Seawatch Foundation monitoring cetaceans in Cardigan Bay, volunteered with the Institute of Physics 'lab-on-a-lorry' project and carried on studying maths. We imagine that in years to come she will make a positive contribution to the future of marine conservation or whatever field she turns her hand to."