Outstanding Oxbridge success shows student resilience at Hereford Sixth Form College
Posted on 10th February 2022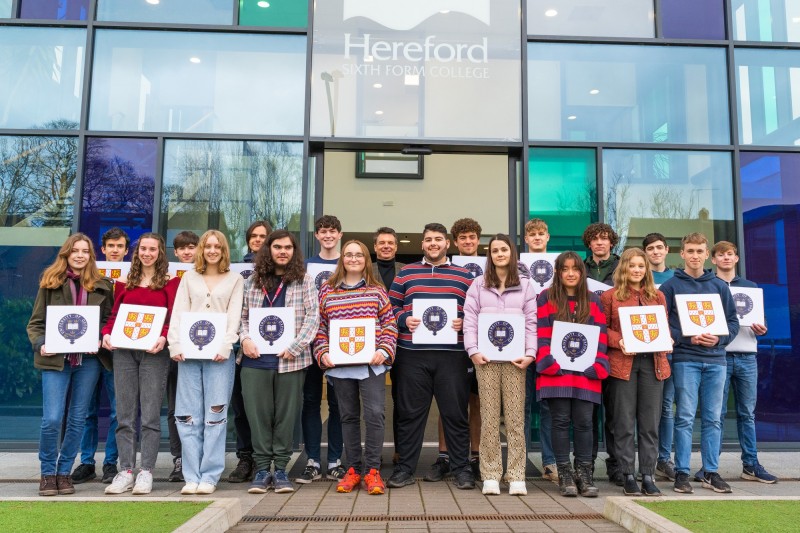 Hereford Sixth Form College students are celebrating their incredible success with Oxbridge applications. 20 high achieving students, 31% of those who applied, have been offered prestigious places to study at the Universities of Oxford and Cambridge.
The total number of successful applicants has risen to 72 offers in three years, which puts Hereford Sixth Form College in competition with the best independent schools in the country. Last year, The Spectator reported on the most successful schools for receiving offers to Oxford and Cambridge, and Hereford Sixth Form College was placed sixth when ranked in order of the applicant to offer ratio.
STEM subjects continue to be hugely successful, with offers for Mathematics, Physics, Engineering, Computer Science, Medicine and Natural Science! Particularly impressive are two students who have offers to study PPE (Philosophy, Politics and Economics) and two for Classics. This breadth of subjects demonstrates the depth of academic rigour across the subjects, and the diversity of the interests in the gifted and talented cohort.
John L, a former Earl Mortimer College student, has received an offer to study PPE at the University of Oxford. John is thrilled with his offer; "Places at Oxford are few and far between. That I managed to secure myself an offer is a great blessing, and as such I count myself very lucky. There has been support from Hereford Sixth Form College in every aspect of application. So long as you're half-diligent, there's not a thing to worry about!"
Students who are considering applying to competitive universities have access to the College's dedicated Reach programme, which aims to help students make an informed decision about their futures. These weekly sessions encourage students to consider the right options for them, whether this is Oxford or Cambridge, other top universities, or highly competitive degree apprenticeships. Students who start on the Reach programme receive the bespoke support they need to compete with the best in country, and many students who complete the course choose to go on to Imperial, UCL, Warwick and Bristol, to name a few!
The College maintains incredibly close links with Oxford and Cambridge, but also an increasing circle of successful alumni who mentor the students through the application process. Before the interviews, students benefitted from a full afternoon masterclass with Arron O'Connor, from Oriel, Oxford, about the process. 18 former students returned to the College to lead workshops on interviews, ranging from Architecture to Archaeology! The College also ran an evening session for the families of interviewees with Ellie Wood, from Christ's, Cambridge, so the whole family were aware of the process.
Libby S, a former St Mary's RC High School student, has received an offer to study Veterinary Medicine at the University of Cambridge. Libby said was feeling "both surprised and thrilled! A lot of hard work has gone into my applications and studies, but it's still difficult to believe I've got an offer! The College has supported me since I first arrived, with talks related to both my chosen subjects and the Cambridge application process. There was always the opportunity to talk to an advisor when I needed to, and any questions or worries I had could be easily solved. Hereford Sixth Form College has been invaluable in gaining my place."
Vicky Orsmond, creator of the Reach programme, says "Once again our students have overcome the hardships of the pandemic and have proven themselves to be up there with the best schools in the country: our students are so academic, so driven, so impressive. It has been such a joy being able to support them through the process, and I know we will all keep in touch- I'll likely be interviewing them for my YouTube for their hints, tips and support for future students of Reach!"

The Daily Telegraph, page 13, Thursday 16th December 2021
Commenting on this success, Principal Peter Cooper said; "As the table from the Daily Telegraph shows, the College has really become a national player in the Oxbridge admissions stakes. All credit to our students, teaching and support teams and the excellent connections and programmes run by our careers staff. An excellent effort and result all round."
The following students have been offered places at the University of Oxford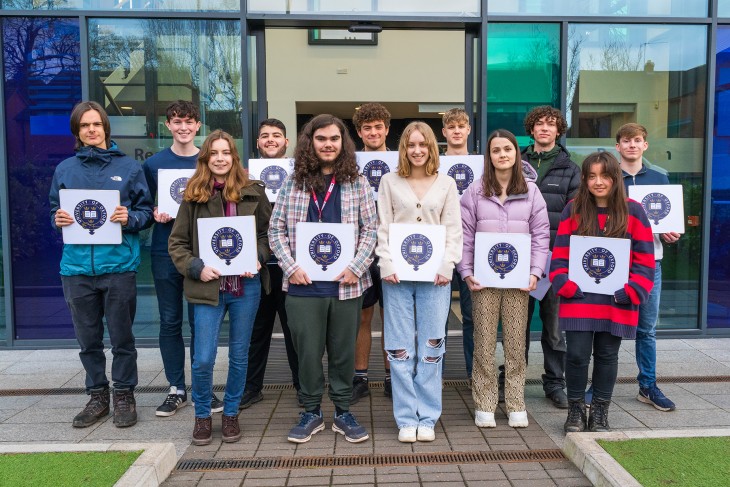 Students who have received offers from Oxford
Abdalrahman A (former Whitecross High School student)
Anwen G (former St Mary's RC High School student)
Bethan T (former Ysgol Gwernyfed student)
Felix S (former Lacon Childe Secondary School student)
Gethin C (former King Henry VIII Comprehensive School student)
Grace S (former John Kyrle High School student)
John L (former Earl Mortimer College student)
Louis B (former King Henry VIII Comprehensive School student)
Louis K (former Weobley High School student)
Manon F (former King Henry VIII Comprehensive School student)
Matt P (former The Chantry School student)
Samuel J (former Whitecross High School student)
The following students have been offered places at the University of Cambridge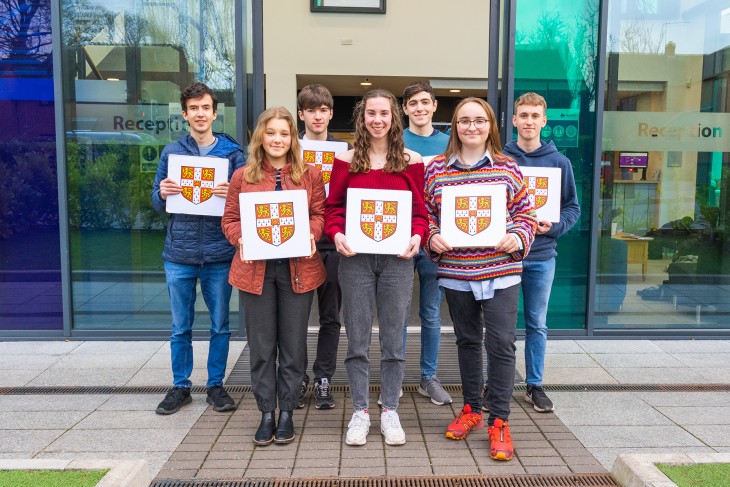 Students who have received offers from Cambridge
Alex B (former Church Stretton School student)
Anni R (former Crickhowell High School student)
Gracie B (former Cathedral School Llandaff student)
Jem S (former Weobley High School student)
Libby S (former St Mary's RC High School student)
Matthew W (former St Alban's RC High School student)
Rubab M
Scott J (former Wigmore High School student)