Nic Howes, Heartstart Lifesaver
Posted on 11th March 2016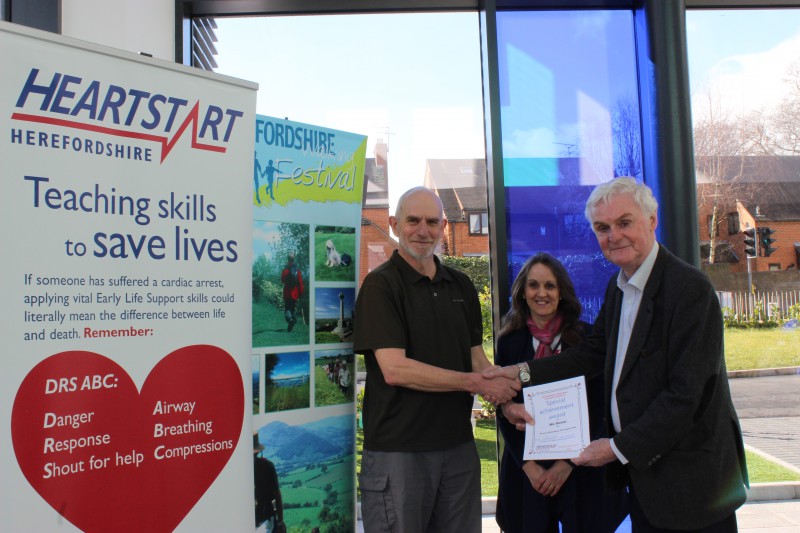 Nic Howes, Tutor of Geography at Hereford Sixth Form College, has recently been presented with two certificates of achievement, for his use of Heartstart basic emergency life support skills.
Nic had undertaken the Herefordshire Heartstart course for local walk leaders so that he was fully equipped for his role as a guide for the Herefordshire Walking Festival.
But Nic had to unexpectedly put his Heartstart skills into practice during an incident in Nottingham last year. When out walking with family in a riverside park, he saw a man leaning against a tree with one arm across his chest. The man moved off, staggered and fell into bushes, hidden from site.
Nic said, "The man wasn't making much sense and was determined to get up and walk home something he was clearly unable to do without falling over."
Nic rang for an ambulance and stayed with him, getting into position to gently support and encourage him not to get up as he'd been taught on the Heartstart course. When the paramedics arrived, it transpired that the man was known to them - he suffered with angina and was taken to hospital.
Loraine Coleman, Co-ordinator/Project Manager from Herefordshire Heartstart was pleased to recommend that Nic receive a special achievement award from the British Heart Foundation and also made a recommendation to the Trustees of Herefordshire Heartstart that Nic also receive an achievement certificate from the Charity who trained Nic.
Dr John Ballance, Medical Director and Chairman for Herefordshire Heartstart and Lorraine Coleman recently met with Nic at Hereford Sixth Form College to make the presentation.
Loraine Coleman said, " We would like to congratulate Nic for having the confidence to use the Heartstart skills. Well done Nic for staying calm, calling the ambulance, staying with the man, sitting behind him and supporting him in a position taught in Heartstart which prevented him from coming to further harm."
"Nic stated that the man may have been intoxicated. Others may have left this man to fend for himself based on this judement, but Nic saw someone in need and rushed to his aid. Nic showed a bravery and compassion of which he should be proud. The man was clearly in need and Nic's selfless actions may well have saved his life."
"At the two hour Heartstart course we aim to equip people with the skills they need to help someone in an emergency. Nic showed the qualities that we hope to instill; looking out for others and remaining calm to help someone in need."
Congratulations from everyone at Hereford Sixth Form College, Nic.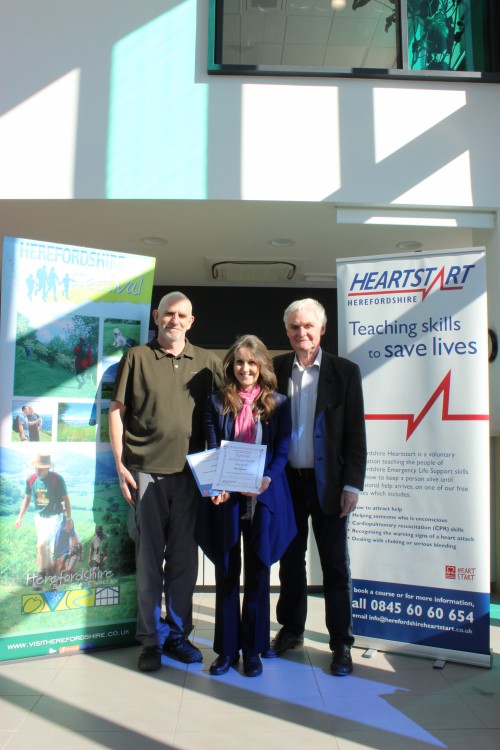 Nic Howes with Loraine Coleman and Dr John Ballance
Herefordshire Heartstart run public courses and courses for groups including walk leaders, voluntary organisations, schools and businesses throughout Herefordshire. Heartstart How to Save a Life courses take just 2 hours.
At the course you will learn:
how to deal with a conscious casualty and unconscious casualty

how to put someone into the recovery position

how to recognise signs and symptoms of a heart attack

how to deal with choking, serious bleeding and CPR (cardiopulmonary resuscitation)
To find out details of free courses in Herefordshire or if you can help by making a donation or organising a fundraising event contact Loraine Coleman, Co-ordinator and Schools Project Manager on 01432 850067 or e-mail info@herefordshireheartstart.co.uk or you can write to:
Herefordshire Heartstart
PO Box 305
Hereford
HR1 9JD