Netball Academy Record: Five College Teams, Five Wins
Posted on 26th January 2016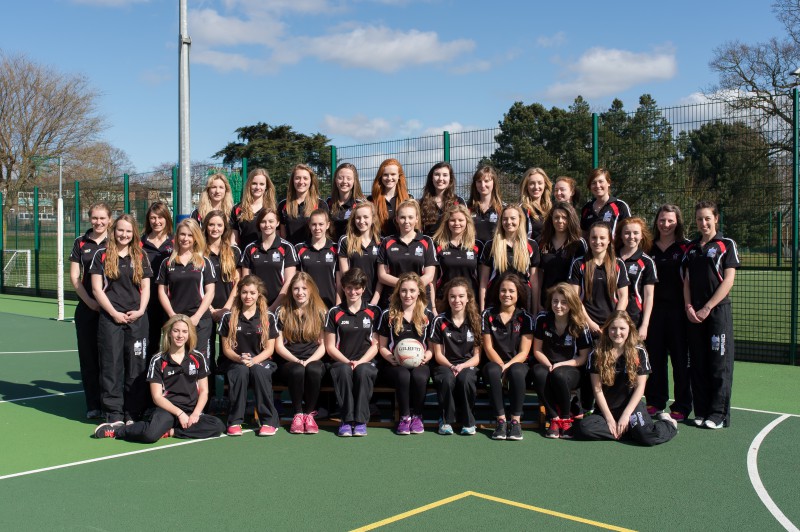 Wednesday, 13th January 2016 saw Hereford Sixth Form College Netball Academy break records and put out five teams in five separate fixtures – With all five getting a win. An exceptional day for College Netball and a fantastic effort from all involved.
First Team – Codsall Community High School (AoC National Cup R4) 51-6 Win
Codsall were unknown opposition, never having played them before. The first quarter saw Hereford take an early lead, with Meg P, Terry Cullen and Millie Manning making some excellent turnovers in the defensive end. The Codsall goal defence was their dominant player but Sabrina Millman was able to out manoeuvre her and gain access to the circle. The first quarter ended 8 -2 in Hereford's favour.
No team changes at quarter time, allowing Hereford to settle and increase the lead. Lydia Stansbury once again shooting well in the circle, and was able to dominate Codsall's GK, with the help of Alice Eckley and Paige Anthony with some excellent attacking play. The lead stretched to 25 -5.
At half time Izzy King (WD), Rosie Jackson(C) and Georgia Noble (GS) took to court, with Mollie Martyn coming on as GK. The team needed a few minutes to regain their composure but Codsall also made a few team changes which played into Hereford's hands. A clean defensive sheet for the third quarter with no goals scored from Codsall. Georgia settled into her GS role and made the shooting circle more dynamic, Hereford extending their lead to 35 -5.
In the last quarter Codsall returned to the stronger team line up, and a few more changes to the Hereford team with POM Paige Anthony coming off for a well-deserved rest. Hereford's target was 50 goals to finish, in an exciting last minute of the game Hereford were able to score off their centre and make a brilliant turnover to end the game in the final second with a goal, resulting in a 51-6 victory to Hereford Sixth Form College.
The team now face Gower College in the Quarter Finals of the AOC Cup on Feb 3rd at home. They are also representing Herefordshire at the West Midlands Regional Schools tournament on Jan 31st.
Second Team – Gloucestershire College – 61-4 Win
A strong performance for the seconds against Gloucester this week. Some great partnerships in both attack and defence, especially for Jess as GD against a physically strong GA and all players contributing at least once to an interception somewhere on the court. Due to the score line we were able to make numerous changes and try different combinations, all of which had a positive impact on the court. The addition of Meg Sparrow has added speed and agility in to the centre court with other players adapting well to this change. Some awesome feeding and shooting from the attack saw the goal difference creep up speedily throughout the game and at the end of the third quarter, on 39 goals; the target was to reach 60 by the final whistle. The whole team pulled together and worked incredibly hard to make this happen, meaning the end of the game finished on 61-4. An incredible performance from all ten players and definitely something to take away for the next game. Huge well done to Meg C who was voted player of the match.
Special mention also goes to India for being selected to play regional competition in Powys for her age category after trialling through her county.
Third Team – RGS Worcester - 23-15 Win
The Thirds travelled to RGS Worcester and it was a very close game. It was neck and neck throughout the first half with very good shooting from Emily Lowe, who got players' player. We pulled away in the last half to win 23-15 and only allowing the opposition to score 4 goals in the last quarter.
Fourth Team – RGS Worcester 23-18 Win
The Fourths also played RGS Worcester and it was another tight game; goal for goal throughout. Going into the last quarter 16-15 up, the girls kept their centres and fought for any loose balls – Beth got some lovely interceptions in the centre third and we again pulled away and won the game 23-18. Exceptional shooting from Lili-Beth and a very well done to Amy who had a great half at GA and stepped up to C to replace Ugne.
Fifth Team – John Masefield High School 17-4 Loss and Lucton School 10-1 Win
The Fifths had two really good matches. After a hard battling game, the girls lost their first match against John Masefield but they quickly learnt from their mistakes and turned things around in their next game against Lucton. The girls played some really good attacking netball and the defence was solid – only conceding one goal. The game ended 10-1.