Model United Nations Conference 27th- 29th March 2015
Posted on 24th April 2015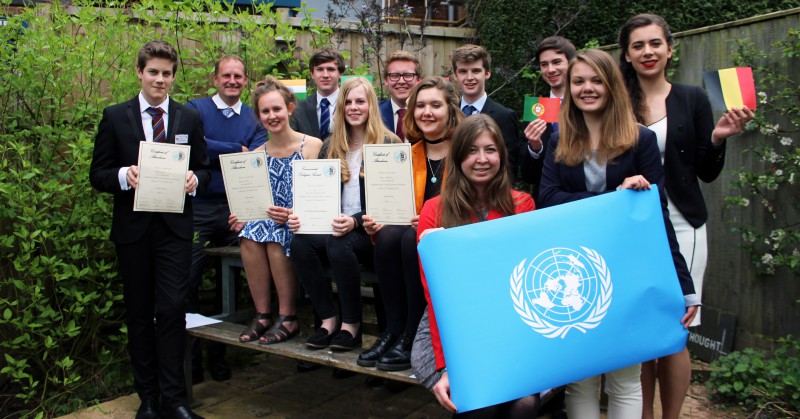 At the end of the spring term, Hereford Sixth Form College took a team of 14 students to compete at the Model United Nations Conference at Magdalene School in Oxford.
It was the first appearance for the College at this prestigious event, and the students were in competition with 20 other educational establishments, the majority of whose delegates had undertaken the considerable intellectual challenges of the exercise many times before, and had been intensively coached by their tutors. Hereford Sixth Form College was the only state school represented.
On our first appearance the College placed third and Alice Gent, Abi Powell, Hannah Willis, Chelsie Wiltshire and Natalie Cottrell, all picked up Commended delegated awards.
This remarkable success was achieved largely by the teams own efforts. Organised by a first year student; Holly Pickerell, they met, unsupervised, for many weeks before the event and practised the difficult skills of constructing clear, lucid arguments on contemporary global issues from the perspective of specific countries they had been allocated (Iran and South Africa). At the event itself they conducted themselves with impressive maturity, lobbied for their motions in committees with great skill, and then debated in front of the full assembly on the final day with real élan.
The team, formed from a core of history students, expanded to include scientists, economists and literature students and demonstrated the full breadth of talent that exists in the College.
To have come third on their first attempt was a remarkable, unprecedented achievement, and all the competitors are determined to return next year and win.
Congratulations to the full squad, Ben Allen, Will Aston, Natalie Cottrell, Sophie Finch, Alice Gent, Dan Hamblin, George Lawson, Rob Newton, Holly Pickerell, India Pinhorn, Abi Powell, Hannah Willis and Chelsie Wiltshire.