Local Students' Scoop Scholarship Awards
Posted on 14th June 2016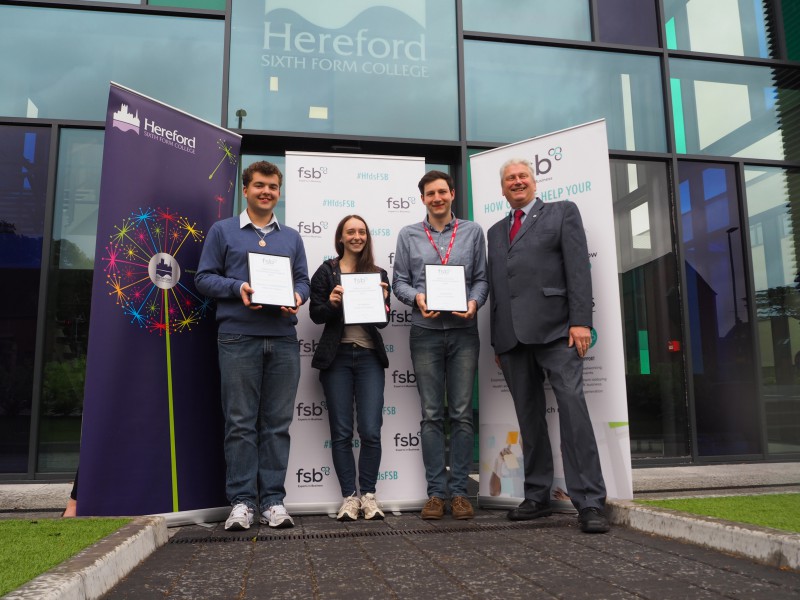 Three Herefordshire students had their entrepreneurial spirits rewarded when they were presented with certificates of achievement and awarded funding through the FSB Herefordshire Three Colleges Enterprise Scholarship.
The Scholarship seeks to offer support and recognition to some of the finest student entrepreneurs in the County – potentially helping them to turn their ideas and fledgling businesses into sustainable, rewarding careers.
The scheme is run through a partnership of FSB Herefordshire, Hereford College of Arts, Hereford Sixth Form College and Herefordshire & Ludlow College. Any students from the three colleges can take part provided they are studying full or part time on an accredited course. Applicants must demonstrate entrepreneurial spirit or flair and/or be running their own business.
Their applications consist of a written summary of their business operation or ideas – backed up with costings, achievements to date, development plans and projections for the future. A panel of judges, drawn from FSB Herefordshire and the three colleges, considered and shortlisted all the applications received. They then met to agree winners in under and over 19 categories, plus a highly commended candidate.
In the under 19 category, Jessica Bowen won with her business 'Inky Links', which is successfully supplying innovative printing packs to primary schools.
Adam Moore won the over 19 category with his business 'Adam's Catering'. Adam is hoping to continue his studies At Worcester University and also continue to run and develop his event catering company.
A Highly Commended Award was made to Benjamin McCormick, who has successfully developed a business creating jewellery from old coins, which is sold via markets, fairs and a local boutique gift shop.
Commenting on the awards, FSB Herefordshire Chairman Richard Asghar-Sandys said, "I was really astounded at the variety and quality of business ideas that we received this year. It was no easy task to decide on our final three but it's heartening to find that the entrepreneurial spirit is alive and thriving in Herefordshire. Jess, Adam and Ben particularly impressed the judging panel with their combination of business vision, meticulous planning and sheer hard work that is turning their dreams into reality and their ideas into income".