Keele University 70th Anniversary Lecture given by Sir David Attenborough
Posted on 17th May 2019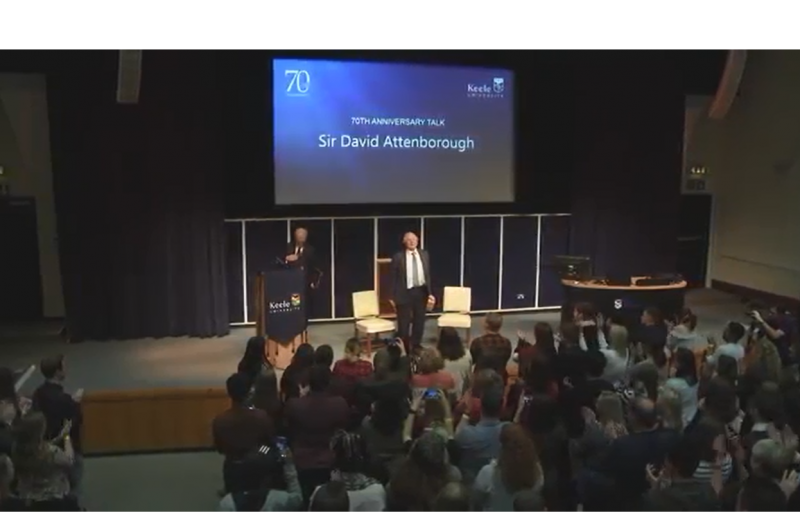 On 6th May 2019, I was lucky enough to be invited to Keele University's 70th Anniversary Lecture given by Sir David Attenborough, where he also officially opened new laboratories.
Sir David talked about the history of the increasing awareness and understanding of the damage human beings are causing to the natural environment, then answered questions from the floor.
His responses were an interesting mix of personal experiences of the natural world alongside his serious concerns for the state of the environment, and his cautious relief that at last governments and people are waking up to the seriousness of the situation.
In response to questions, Sir David revealed that the person who was his main influence was the ornithologist and conservationist, Sir Peter Scott, and that his favourite animal is the bird of paradise, two species of which he has not yet seen. Just as satisfying to him, however, would be a glimpse of the peregrine falcons nesting in his local church.
Sir David went on to explain how the world of filming and broadcasting has changed beyond recognition, referring to the excitement of being able to film in extreme places and conditions. He identified the marine ecosystem as being the most vulnerable because of human beings' wanton over-exploitation and disregard for the oceans and their bounty.
With regard to the future, he said he suspected that we are on the edge of a moral revolution, in which people are realising just how intolerable it is to maltreat our planet in the way we have been, reminding the audience that there was a time when civilized, educated people thought it acceptable to own another human being as a slave, and how that acceptance was reversed over a very short period.
Sir David ended by stating how all the solid, academic scientific assessment points to climate change having a major devastating effect on cities and political situations, besides causing large areas of desertification and huge loss of coastal areas. He acknowledged that we are at tipping point now but that there was just a chance that we may be able to avoid the worst excesses of climate change damage, provided the movement to take action becomes more powerful.
Jane Godfrey
Head of Environmental Science
Sir David Attenborough at Keele - Lecture