It's Raining Oxbridge Offers
Posted on 20th January 2016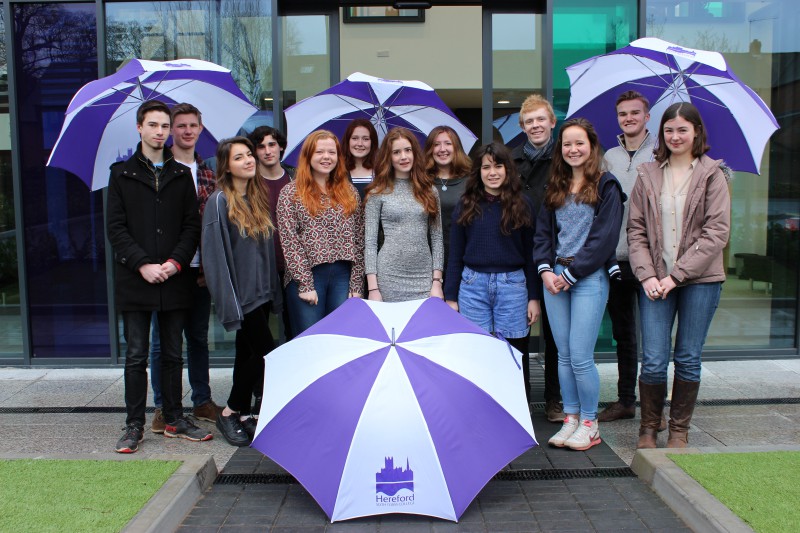 13 students have received offers to study at the universities of Oxford and Cambridge.
The subjects range from Arabic and Islamic Studies to Anglo-Saxon, Norse and Celtic History and include Earth Science, Economics, Engineering, English, Geography, Law, Mathematics, Music and Veterinary Medicine reflecting the breadth of academic excellence at the College.
Kate Barber, received an offer from Corpus Christi College, Cambridge, to read Anglo-Saxon, Norse & Celtic History. Kate said, "I have wanted to go to Cambridge for a really long time and it feels great to be finally on my way. The College and all of my tutors have been really supportive in helping me achieve my goals and I am very grateful to them."
The College has extremely strong links with Oxford and Cambridge and provides a full extra-curricular and enrichment programme to enhance student applications to the most selective universities.
Principal, Jonathan Godfrey, said, "I am delighted that the hard work of staff and students has been rewarded by these offers. Our co-ordinator of programmes to support entry to the most competitive universities, Caroline Baylis, provides a wide range of support – visits from Oxford and Cambridge lecturers, talks from ex students, a programme of extension seminars, mock interviews and advice sessions which maximise our students chances to succeed."
Among those helping with mock interviews are Dr Ken Hopkins (Chair of Governors) and James Miller (ex Head of Newcastle Grammar School). Dr Hopkins said, "I am always hugely impressed by the quality of candidates we interview and the way they have been supported by the College. Our success rate in gaining places is twice the national average."
The successful students are:
Cambridge University
Iona Allan (ex Wigmore School) - Girton (Veterinary Medicine)
Kate Barber (ex John Masefield High School) - Corpus Christi (Anglo-Saxon, Norse & Celtic)
Charles Shave (Bishop of Hereford's Bluecoat School) - Christ's (Mathematics)
Oxford University
Benedict Allen (ex Monmouthshire Comprehensive) - Pembroke (Arabic/Islamic Studies)
Sophia Bangham (ex Haberdashers' School for Girls) - Trinity (Law)
Alice Gent (ex Bishop of Hereford Bluecoat School) - St Benet's Hall (History)
Edward Harris (ex Hereford Cathedral School) - Keble (Geography)
Adam Kelly (ex Bishop of Hereford Bluecoat School) - Mansfield (English)
Ella Khan (ex The Steiner Academy Hereford) - St Edmunds Hall (English)
Alasdair Knight (ex Wigmore School) - St Ann's (Earth Science)
Rowan Morris (ex Earl Mortimer College and Sixth Form Centre) - Wadham (Engineering)
India Pinhorn (ex Crickhowell High School) - Trinity (Economics & Management)
Caitlin Prowle (ex Ysgol Gyfun Gwynllyw, Pontypool) -Queen's (Music)