Hereford Sixth Form College Students Debate the Parameters of Free Speech
Posted on 24th March 2020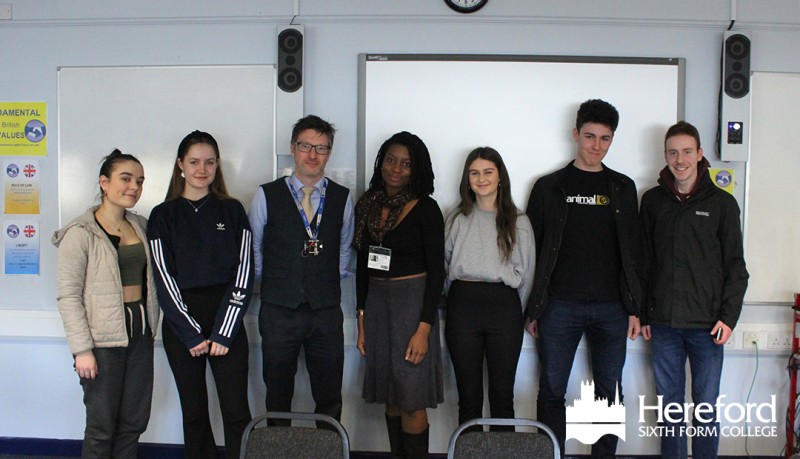 On the 12th March, Hereford Sixth Form College hosted an event titled "Are there too many restrictions on freedom of expression in the UK?". A hot and often controversial topic frequently distorted by "Fake News" and controversial individuals and groups in the realm of Social Media- it was precisely the type of discussion to appeal to our students' critical thinking.
Guest Speakers were Inaya Folarin Iman a Freelance Journalist and Director of the Free Speech Union and Liz Harvey a Herefordshire County Councillor. Unfortunately, Cllr Liz Harvey had to cancel at short notice but will come in when college reconvenes.
The top floor of Risbury was packed out with around 100 students primarily from the Politics, Law and Philosophy & Ethics departments.
Inaya began with an outline of the historical milestones of free speech, winding in examples of where they have been important in establishing rights and principles for everyone. She stressed it was a key factor in any democracy and expressed the view that silencing extremists allowed them to claim persecution; and that their views can be better defeated in the open arena of debate.
Students challenged her view with regards to non-platforming the most extreme views and making a distinction between legal restrictions and campus Student Unions banning speakers such as the MP Amber Rudd.
Inaya was a fascinating speaker who made a strong case for the value of Free Speech. We look forward to hosting another speaker who will make the case that current legal restrictions are necessary as soon as Hereford Sixth Form College reconvenes.
All events at Hereford Sixth Form College take place within Government PREVENT & Safeguarding criteria.
Marco Martinelli, Enrichment Lead