Hereford Sixth Form College students REACH new heights with Oxbridge Success
Posted on 28th January 2020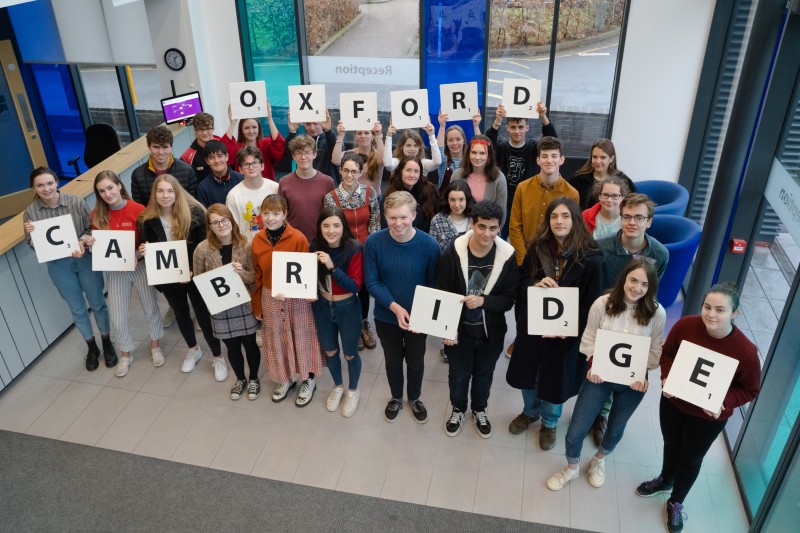 Hereford Sixth Form College students have had the highest ever rate of success in their applications to Oxford and Cambridge universities. 31 students, 42% of those who applied, received offers, compared with the national average where fewer than 20% of those who apply get offers. This is amongst the highest figures in the country for either state or independent schools. For a small rural county this is a phenomenal achievement.
Stephanie DuToit, who has been offered a place at St Hugh's College, University of Oxford, to study Psychology, said; "Hereford Sixth Form College has provided me with so much support and has helped me gain both the academic knowledge and confidence to get this far. The Reach programme has helped push me further academically."
The sciences have been a particular success. Three students have been offered places to study Chemistry at Oxford, and three to study Natural Sciences at Cambridge, which demonstrates the calibre of the College's able students and the quality of the STEM subjects. Elite athlete, Harriet Castle, had her Oxford interview for Japanese whilst in Venice competing in Karate for Wales! Students have been offered places on a variety of courses such as Maths, PPE, Classics, English, Modern Languages and two for Medicine: one Oxford, one Cambridge. One student has gained a place on the 'Opportunity Oxford' scheme that supports students from under represented backgrounds. This is a unique opportunity for one of the College's brightest students.
Students who are considering applying for Oxbridge have access to the College's flagship programme 'Reach', which creates a community of the most able. These weekly sessions support 200 of the most academic students with excellent teaching and guidance. With this bespoke support, Hereford Sixth Form students are able to maximise their potential and pilot their own futures, whether that may be at universities or degree apprenticeships.
Hereford Sixth Form College is also the regional hub for Cambridge's HE+ programme, working with partner state schools in Herefordshire and beyond, providing masterclass sessions to stimulate academic interest beyond the confines of A Level study.
Dr Mark King, from Christ's College in Cambridge, says, "Hereford Sixth Form College has an excellent support system in place for students who want to apply to selective universities. The Reach and HE+ Programmes, which the University of Cambridge supports, are helping more students to make competitive applications to top universities and to achieve their full academic potential."
Hereford Sixth Form College students excelled in their admissions tests and challenging interviews, showing the academic curiosity and independent learning skills so valued by these universities. The College's close links with Christ's College, Cambridge, and Lady Margaret Hall, Oxford, provide regular support for students. Students also have opportunities to apply for learning opportunities only open to the maintained sector, such as UNIQ, Villiers Park, and the Sutton Trust summer schools. With access to personal statement workshops, practice interviews, and application support, students feel more confident in their ability.
Peter Cooper, Principal of Hereford Sixth Form College, is extremely proud of the students' record breaking success; "I want to congratulate all the students, the wonderful staff who teach them and our brilliant Reach team for their fantastic efforts. It gives me great pride that Hereford and its surrounding areas punch so far above their weight at a national level. Most public schools will be envious of what our College community has achieved".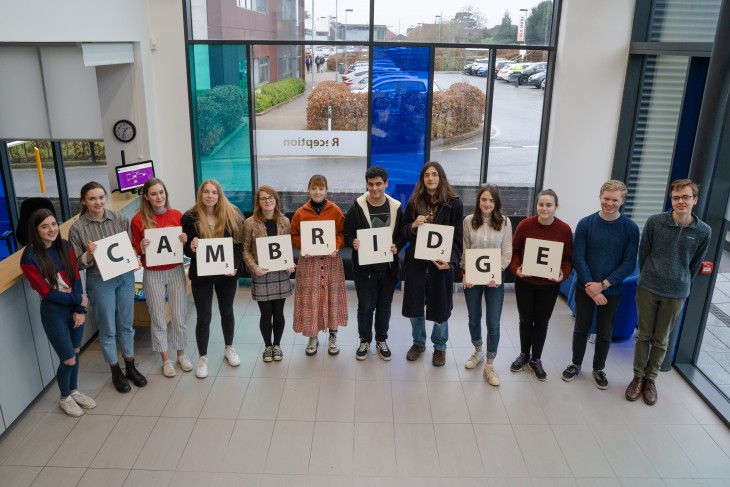 L-R: Elizabeth Steel, Emma Robinson, Erica Morgan, Georgia King, Liberty Vincent, Sophie Campbell, Harvey Sayani, Buck Blake, Martha Wherry, Catie Sheridan, Bevis Drury, and Matthew Harris
The following students have been offered places at the University of Cambridge:
Georgia King (former Tenbury High School student)-Law
Liberty Vincent (former The Chase student) - English
Emma Robinson (former John Kyrle High School student) - English
Elizabeth Steel (former St Mary's RC High School student) - HSPS
Callum Berry (former St Mary's RC High School student)- French and Spanish
Buck Blake (former Builth Wells High School student) - Natural Sciences
Sophie Cambell (former St Mary's RC High School student) - History and Spanish
Erica Morgan (former Christ College student) - Natural Sciences
Harvey Sayani (former Croesyceiliog School student) - Mathematics
Matthew Harris (former Whitecross High School student) - Geography
Bevis Drury (former Bishop of Hereford's Bluecoat School student) - Natural Sciences
Martha Wherry (former Chantry School student) - Medicine
Catie Sheridan - Archaeology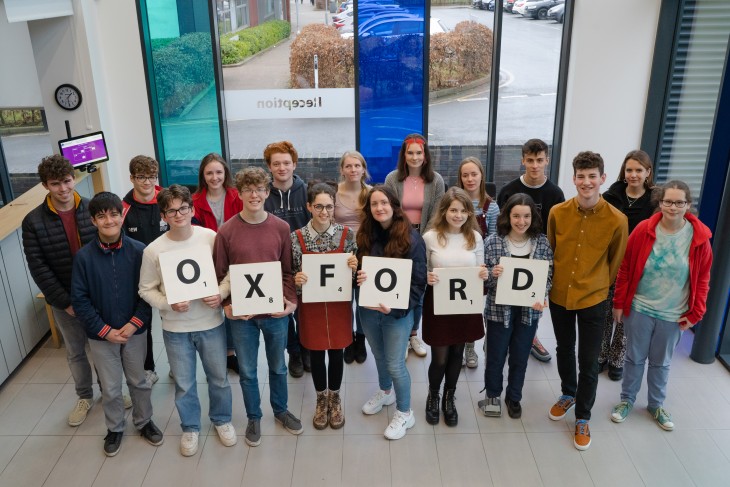 L-R: Rob Lyon, Columbus Layton, Oliver Elliot-Williams, Elias Formaggia, Stephanie DuToit, Max Gunther, Rory Inglis, Lottie Oliver, Ellie Williams, Dora Grasby, Isobel Holland, Bethan Howls, Harriet Castle, Imee Marriot, Dylan Taylor-Bloodworth, Harvey Cross, Ruby Davies, and Charlie Baxter
The following students have been offered places at the University of Oxford:
Rob Lyon (former Earl Mortimer College student) - Chemistry
Max Gunther (former Tenbury High School student) - Medicine
Oliver Elliot-Williams (former Dyson-Perrins Church of England Academy student) - Theology
Imee Marriot (former Malvern College student) - English and History
Dylan Taylor-Bloodworth (former Wigmore High School student) - Theology & Philosophy
Ruby Davies (former St Mary's RC High School student) - English
Rory Inglis (former St Mary's RC High School student) - Ancient History and Archaeology
Harriet Castle (former St Mary's RC High School student)
Colombus Layton (former St Mary's RC High School student) - Chemistry
Bethan Howls (former Croesyceiliog School student) - Classics
Ellie Williams (former John Beddoes School student) - Classics and English
Isobel Holland (former King Henry VIII School student) - PPE
Elias Formaggia (former King Henry VIII School student) - Biological Science
Stephanie DuToit (former Haberdasher's Monmouth School for Girls) - Psychology
Charlie Baxter (former Whitecross High School student) - Mathematics
Dora Grasby (former Hereford Cathedral School student) - English
Lottie Oliver (former Lady Hawkins' School student) - Chemistry
Harvey Cross (former Weobley High School student) - Archaeology and Anthropology