Hereford Sixth Form College leads field with the Oxbridge touch
Posted on 21st September 2021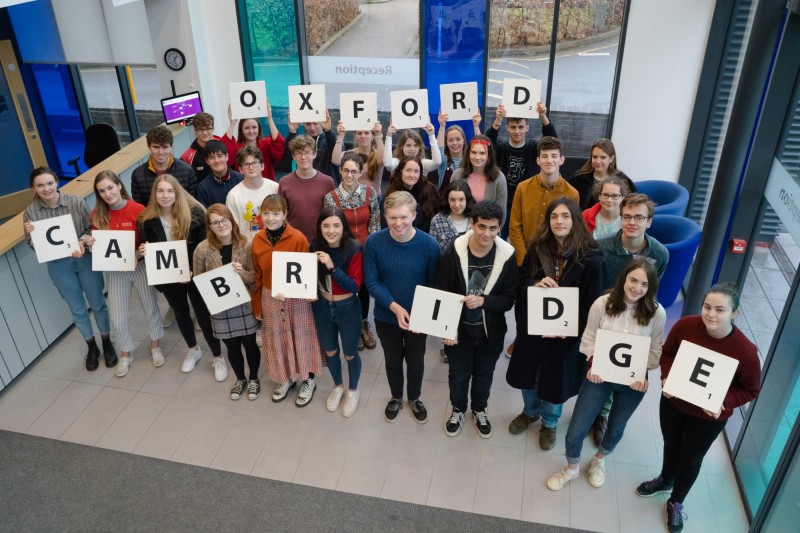 Some may see Herefordshire as a backwater, but when it comes to students progressing to top institution, Hereford Sixth Form College is making its mark on the national stage. Hereford Sixth Form College leads the national highest percentage of students getting into Oxbridge with entries from non-selective state schools and colleges. The Spectator recently released an article on the 2020 entries to Oxbridge and Cambridge in their yearly 'The Oxbridge Files'. Hereford Sixth Form overall was placed 19th in the country at getting students into Oxford and Cambridge, but more pertinent was the applicant to offer ratio.
This showed that, St Pauls Girls, and Queen Elizabeth Barnet both had 45% applicant to offer ratio, closely followed by London Academy of Excellence (44%), Westminster School (43%) and Magdalen College (42%). Hereford Sixth Form College would be ranked 6th place, at 41% applicant to offers. This is in comparison with a national average of lower than 20% applicant to offer ratio! Likewise, 80% of their medics were placed this year, against a national picture of around 10% gaining places. This demonstrates that the college's bespoke and unique 'Reach' programme helps students make an informed choice leading to students performing against the best nationally.
Reach helps students learn about university options, whether that be the more traditional Russell Group universities or whether students want to consider highly competitive higher and degree apprenticeships. Students on Reach also often consider conservatoires for Music or Drama. Reach takes around 300 of the Gifted and Talented students at Hereford and gives them weekly lessons, focussing upon options post sixth form; it also gives them bespoke Careers lessons, with advice from successful alumni, as well as support from admissions tutors from Cambridge and Oxford.
Reuben, a student who is off to study Computer Science at Cambridge said: "Reach was very good because it meant I always knew where to look to find things such as books, academic papers or activities which helped me to learn more about computer science. I was also always made aware of events and opportunities that I could attend to understand what modern computer science looks like and made me want to be a part of it."
Vicky Orsmond, Senior Progression Lead at Hereford Sixth Form College, said: "I feel very passionately that our students from beautiful, rural Herefordshire should see themselves as equal to the best schools in the country; why would they not? Our students are outstandingly bright, driven and academic, and Reach helps them see themselves as up there with the best. Whether you want to go to university, or compete for a top apprenticeship, or even go to RADA, Reach supports you."
Principal Peter Cooper praised the work of the staff and students. "The staff and students should take a bow. This is a real indication of the quality of teaching across the curriculum and across all subjects. The REACH programme really focusses students on the possibilities and encourages them to go for high goals. The fact that this exists within a happy, striving, comprehensive environment which also sees some students improving GCSEs and others mastering vocational courses leading to valued apprenticeships, make this achievement all the more significant. Well done all!"