Hereford Sixth Form College holds Student Mock Election
Posted on 18th December 2019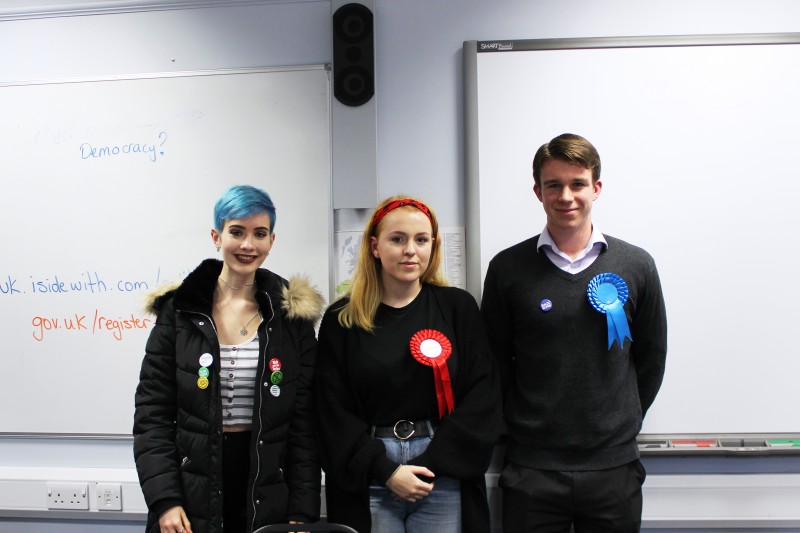 After hosting a 2019 Herefordshire General Election Hustings; the College followed another established tradition in the form of a Student Mock Election.
Since 2010, the College has held a Mock Election where students represent parties of their ideological views and take questions from the audience on manifesto policies. These are always lively and well attended events and this years was no exception!
Zanny Bexley stood for Labour, "old hand" James Lister stood for the Conservatives; whilst Caitlin Savage stood for the Green Party.
Students began with the customary four minute speeches and then took questions from the audience on the key policy areas of BREXIT, Climate change and the NHS. This was followed by several questions form the audience.
Students had the opportunity to vote online for their preferred candidate. The results were as follow s- Labour substantially in the lead with 149, Conservatives 72 and the Greens 56.
Marco Martinelli (Teacher of Politics and Criminology and Enrichment Co-ordinator)
Democracy and freedom of speech are both rights and values fostered by Hereford Sixth Form College. My own election campaign for President of SRC was based around the key aims of equality, communication and reform. These are values that closely align with student-led enrichment events such as this one which SRC is proud to support.
No matter which political party you affiliate with, if one at all, or the result of our mock general election, the fact that students have the courage to speak intellectually in a challenging environment in front of a large group of students is a huge achievement and a credit to them and our educational environment!
This is coupled with the fact that the event, kindly organised by Marco Martinelli and the Debate Society, was as always very well attended!
I'd like to congratulate James, Zanny and Caitlin on the way that they held themselves and thank them for the time and commitment that was required to play their part in the event which, from speaking with many students in attendance, was a great success.
Matthew Payne (President of the Student Representative Council)