Hereford Sixth Form College Collaborates with North Shropshire College
Posted on 11th March 2016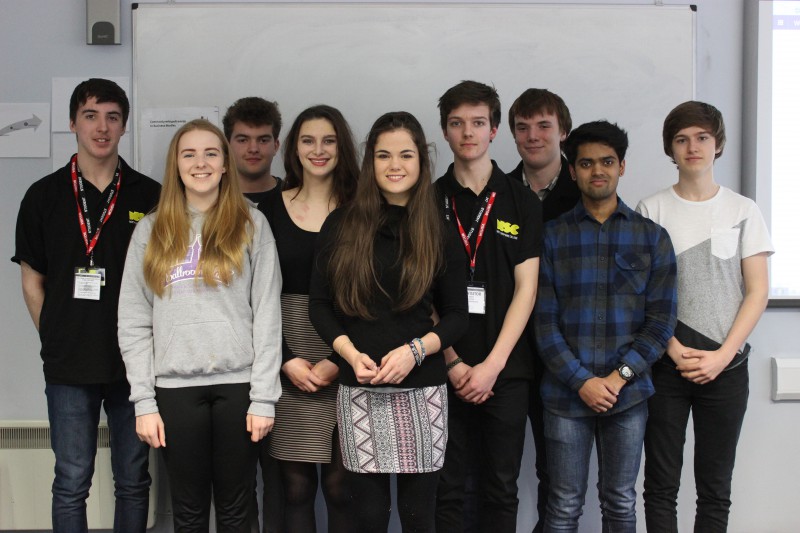 Engineering Students from North Shropshire College's (NSC) Aspire Centre near Tenbury Wells and Young Enterprise Students from Hereford Sixth Form College are working collaboratively, NSC Aspire students are providing their partners with products they have made in their engineering workshop.
These products include the defunct Half Crown, the old Penny and old Florin (Two Shillings) coin rings. All these are made from now pre decimal coins which are no longer legal currency. This has provided an opportunity to recycle old coins into a worthwhile marketable product for the Enterprise students to promote and sell. Furthermore, Aspire students have produced a three-coin necklace, designed by Hereford Sixth Form College.
NSC Aspire students have also supplied spoon and knife bracelets made from cutlery retrieved from charity shops and markets. This further enhances the recycling philosophy encouraged by Hereford Sixth Form College students.
NSC's Engineering lecturer, Simon Thomas, commented "The value added benefit to this collaborative initiative is that students, who are unfamiliar with each other, are now working together, networking and are exposed to how business works in the world of commerce. So far this has been outstanding work by all students concerned. It is hoped that these products marketed by Hereford Sixth Form College's Young Enterprise can help them win the national competition."
Hereford Sixth Form College's Young Enterprise Co-ordinator, Majella White, commented, "Watching these young people work together, and seeing their skills and their confidence grow over the past few months has been extremely satisfying. It goes to the heart of the Young Enterprise experience, and what we as educators are trying to achieve with our students."
For more information about or to apply for engineering courses at NSC's Aspire Campus, please visit www.nsc.ac.uk. You can also call the College Admissions Team on 01691 688080 or email admissions@nsc.ac.uk.