Hay Festival Launches Hay Levels with Hereford Sixth Form College
Posted on 4th June 2014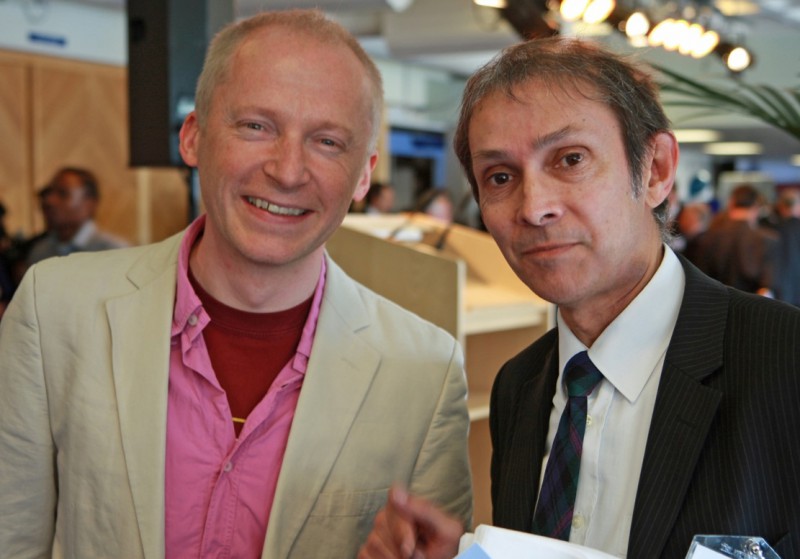 Marcus du Sautoy and Jonathan Godfrey at the launch of Hay Levels.
Hay Festival Director, Peter Florence, and Jonathan Godfrey, Principal of Hereford Sixth Form College launched the Hay-Level Project at Hay Festival on Sunday, 25th May.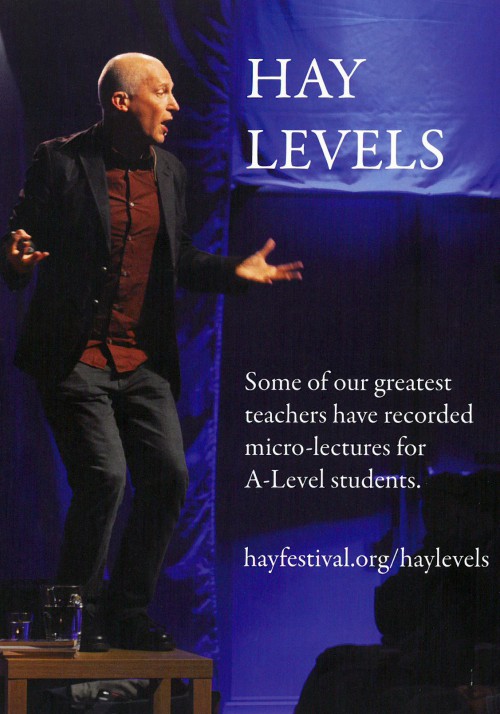 Hay Levels
Hay-Levels are short 5-15 minute films by some of the world's greatest academics which aim to inspire, encourage and support current A-Level students. Designed as a collaboration with Hereford Sixth Form College, the original inspiration for the project came from a ride from Hereford to Hay when Marcus du Sautoy, Professor of Mathematics and the Public Understanding of Science, was given a lift to the Festival by Jonathan Godfrey and a group of students. The journey became a tutorial on maths for the lucky students and Peter Florence determined to make the experience available to as many students as possible in a wide range of A-Level subjects.
Last year I was in the back of a minibus with a bunch of sixth formers. This year it's great to have the chance to reach all those kids preparing for A-Levels and help them to put their ideas into a wider picture.
Peter Florence, Hay Festival Director, said, "We are deeply grateful to our partner universities and specifically to these fabulous academics. These are great teachers, and their generosity and clarity are extraordinary. We were lucky to have advice on content from staff at Hereford Sixth Form College, the best non-selective sixth form college in the country."
Jonathan Godfrey said, "I was delighted when Peter suggested the idea of Hay-Levels and have been staggered by the generous response from famous and distinguished academics from all disciplines such as Richard Dawkins, Nicholas Stern, Tristram Hunt, Steve Jones and Helena Kennedy. The making of the film has been generously sponsored by the Tata Group."
Hay Levels: Professor Marcus du Sautoy on tackling math exams