Guest Speakers Dorian and Edwin Kirk | The Story of 'A Rule of Tum'
Posted on 25th January 2019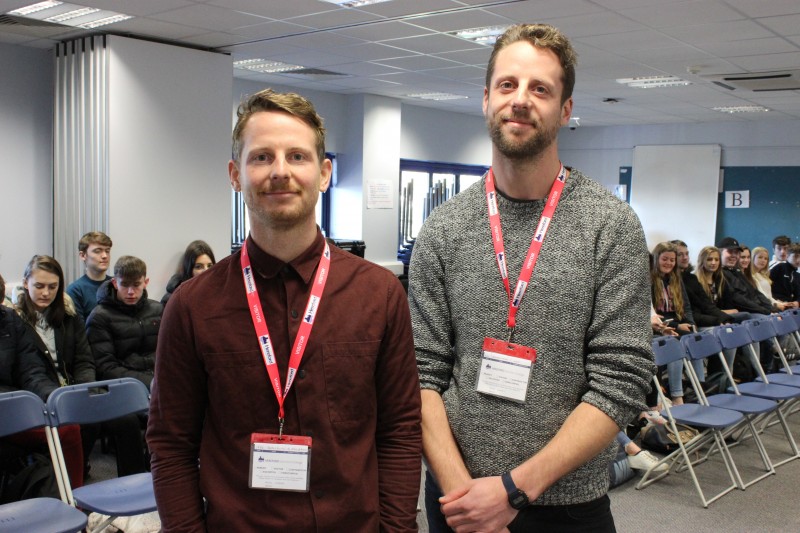 Business and Economics students were treated to a visit from local entrepreneurs, Dorian and Edwin Kirk.
The brothers, along with friend Jon Stead, are the founders of the successful A Rule of Tum Group Ltd which encompasses The Burger Shop and The Book Shop steak restaurant in Hereford along with The Burger Shop in Worcester.
They gave students a very honest account of their journey to success which wasn't all plain sailing.
Their concept was honest food, great service in unique spaces. They wrote a business plan, which they openly admit was laughed at – a painful experience but a massive learning curve - so they started to seek out advice to fine tune it and move forward.
With no money and no premises it was going to be hard to show off their product. But a lucky break saw a friend's parents offer them a barn to set up a pop up restaurant. They sold tickets and held high end supper clubs, celebrating local ingredients, over a three month period.
Every bit of profit made, saw them reinvesting in the business in some small way.
They started attending local festivals and the never ending queues proved that their product was good and word was spreading.
Their next venture saw them take up residency in the micro-brewery pub, The Beer in Hand. Burger Thursdays saw queues around the block, Fish & Chip Fridays soon followed along with a sell-out Sunday Lunch slot.
Finally, premises came up in Aubrey Street, with a three month, low risk lease and The Burger Shop was born. Jon was instrumental in setting up the brand and creating the hype on social media and the rest is history.
Since then, the guys have been getting noticed nationally. They were runners up at the OFM Awards 2016 for the Best Ethical Restaurant and for Best Cheap Eats. They also received a restaurant review from Jay Rayner in The Guardian, who gave their Hereford Hop Burger a "very good with a gold star and a tick".
In 2017 they won the OFM's Best UK Sunday Lunch award.
With the success of their own brand and a growing independent food and drink culture in Herefordshire, their next move was to set up Hereford's first Indie Food Festival - which was a huge success.
The bedrock of their business is People | Planet | Profit. Their profit relies on having a phenomenal team of people behind them. Their ethos is to treat their staff and suppliers with the utmost respect and, in turn, they have an extremely loyal team. In terms of planet, they have an ethical approach to their business – reducing waste and using the best local seasonal ingredients – they have even been listed in Giles Coren's Ethical Restaurant Guide.
In 2018, their entrepreneurial spirit took hold and they negotiated with the landlord to purchase the properties they were leasing in Hereford. However, banks don't particularly like restaurants so they had to come up with a plan.
They started with a bond scheme which hit its initial target but had to relaunch when they were unable to receive any of the pledged investment due to FCA regulations.
They moved over to Crowdcube which gave them 30 days to raise the funds. To inspire people to invest in their business they had interviews with local media and posted regular video updates on social media. But, they did it and 2019 looks like it will have lots of exciting challenges ahead for the Rule of Tum Group.
The Food Festival will be back, and their vision to help make Hereford the Midlands epicentre for food and drink is on track.
The brothers have done amazing things but it's through 90% hard graft and 10% passion. They stress they have only learnt through their own mistakes – and to any of our students thinking of setting up their own business, they recommended getting as much advice as possible along the way and emphasised "don't worry about making mistakes, just learn from them!"
It was wonderful to hear about Dorian and Edwin's success and we would like to record our thanks to them for taking time out to come and tell their story to our students.