Guest Speaker: Paul Eggerton, Freelance Cameraman and Director
Posted on 17th December 2015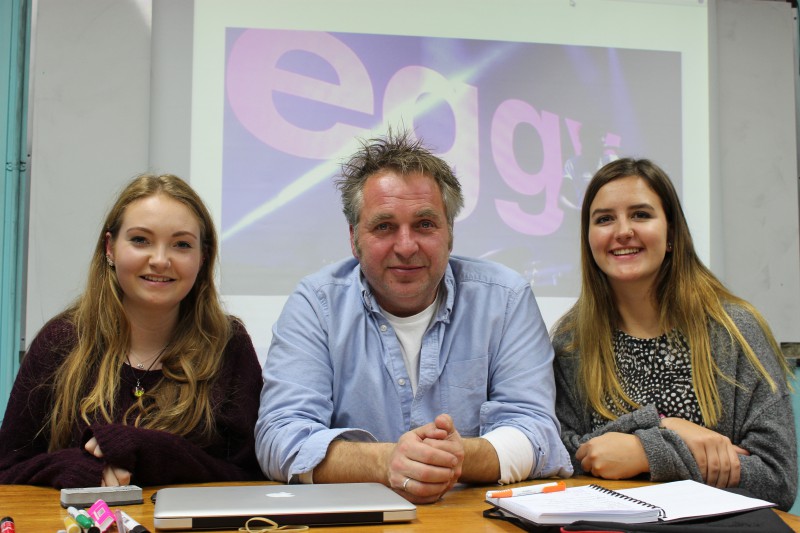 Freelance cameraman and Director, Paul Eggerton, joined the Media & Journalism students in November to discuss his work.
Paul explained that he fell into this line of work by accident. He was touring with a punk band in Australia and decided to take some still shots of the band during their tour and discovered he had a real flair.
On returning to Herefordshire he enrolled on a two year Photography course at Hereford College of Arts, progressing to an HND in Film & Video Production near Brighton.
It was then a case of working his way up. Starting as a Runner, Paul worked on music promos and small documentaries rubbing shoulders with bands such as Placebo and renowned Director, Chris Cunningham.
He was a Clapper Loader, loading films, a now obsolete role due to the introduction of digital. Followed by a Camera Assistant – basically lugging equipment for camera crews and fixing lenses.
As Second Assistant Director, Paul worked on more music videos and got involved in some hand held camera work on stage which snowballed and led to him touring with all sorts of artists.
From music and sport to interviewing politicians, it's been a hugely varied career.
Now turning his hand to directing, he has worked with a diverse range of musicians from Led Zeppelin, The Prodigy, and Puff Daddy to Elbow with the Hallé Orchestra.
Paul talked about the intricacies of directing each camera and showed a rough cut of his latest Stereophonics video. He described directing nine cameras - knowing whether to take a wide, tight or celebrity shot as well as dealing with the lighting and many other factors.
Coupled with lots of entertaining anecdotes, video clips and photos, Paul gave students a really good understanding of what goes on in the industry.
Thank you for taking the time to talk to us.
Ed.