From Avenue Q to the National Youth Theatre
Posted on 27th May 2015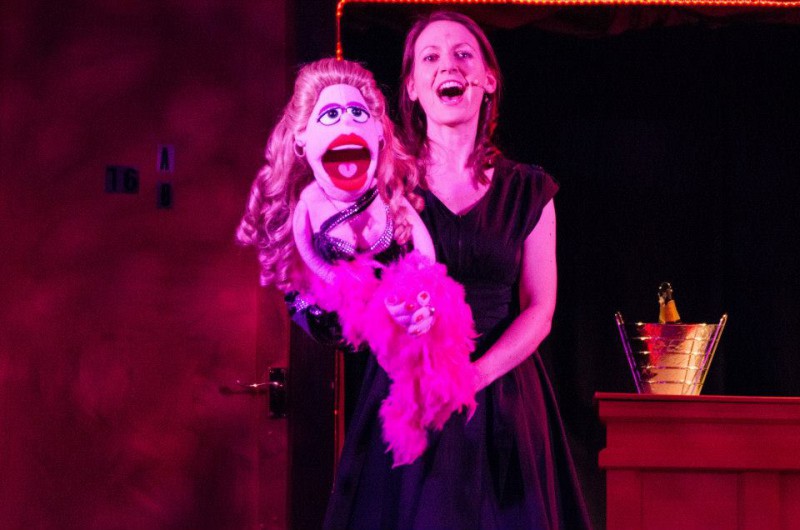 The summer term is turning out to be a very busy one for students who have a passion for Drama – both academically and in leisure – with no less than six events taking place.
Avenue Q
Hereford Musical Theatre Company (HMTC) has just finished its production of Avenue Q, a Broadway and West End hit with puppets. A hilarious, adult show telling the story of Princeton, a university graduate desperately searching for his purpose in life.
Avenue Q - the only avenue in New York City where Princeton could afford the rent. Once moved in, he meets all the characters in the neighbourhood.
Student Holly Clack gave a stunning performance as Kate Monster, the lead female role. Meanwhile, Louise Wynn-Mackenzie, (Library Assistant at Hereford Sixth Form College), played the part of Lucy – a very promiscuous 'vixen'. Louise stated, "It was an honour to work with the genuine West End puppets, supplied by Paul Jomain. The cast had solid rehearsals for three months, constantly learning how to puppeteer. We had to focus on lip-synching and understand where our eye line should be during the show (e.g. not to look at your puppet, but to contemplate where your puppet would be looking)."
"The emphasis – like the stage versions of The Lion King and War Horse – was that the puppeteers were the 'spirit' of the puppet, and that the audience should be drawn into watching the puppet, almost forgetting that the human is actually there, who is 100% visible on stage. The whole experience was fantastic and very challenging – one which the cast wholeheartedly took on board". The show received fantastic reviews, including from the National Operatic and Dramatic Association (NODA), the Hereford Times and The Best of Hereford.
Avenue Q consisted of College alumni too, including Lewis Booton (Nicky), Joe Mounfield (Brian), Sarah Rowberry (Christmas Eve) and Samantha Stokes (Bad Idea Bear), all of whom were perfectly cast for their roles.
National Youth Theatre
Student, Emily Watson, who is part of HMTC's Stage Crew, recently discovered that she has been accepted onto the Stage Management summer course by the National Youth Theatre. Likewise, students Sarah Brice, Elliot Gooch, Arran Lowe, Ben Butler and Tom Fitzwilliams have all been accepted onto the Acting course. Congratulations to all – this is a fantastic achievement.
Trinity Guildhall Examinations
Over the first May Bank Holiday weekend, the College hosted examiners from Trinity Guildhall who examined 56 candidates who are all part of the Performing Arts Academy (PAA), lead and co-ordinated by Colin Thompson, tutor of Drama and Theatre Studies. These varied from Musical Theatre, to Individual Acting Skills to the ATCL Diploma. The results are still coming in but so far they have been superb – with 28 Distinctions awarded.
X-entricity Performs Grease
From 5th-9th May, many students were involved with X-entricity's production of Grease in Ross-on-Wye, including Jack Chambers who played the lead role of Danny and Elena Crapper (alumni) as Sandy. If you missed this fantastic production, make a note in your diary - it's transferring to The Courtyard in Hereford from 28th- 31st October 2015.
Click here to find out more about X-entricity.
Upstage Production Company Presents Our Town
In July, the College's Upstage Productions will be performing Thornton Wilder's play Our Town in the college's Performing Arts Centre. This is being directed by Colin Thompson and will take place on the 7th-9th July.
Forge Production House Ltd Presents A Midsummer Night's Dream
And lastly but by no means least, Forge Production House Ltd will be touring Shakespeare's A Midsummer Night's Dream towards the end of July in locations such as Ludlow, Birmingham and Bristol, before finishing at Hereford Sixth Form College. This vibrant and energetic production has been directed by Teja Boocock, (part-time Technician and Theatre Manager at the College), and involves many students and alumni, including Breanne Burton, Holly Clack, Olivia Hutton, Jack Chambers and Joe Mounfield.
Click here to find out more about Forge Production House Ltd.
To book tickets, please visit https://www.ticketsource.co.uk/forgeproductionhouseltd or phone 07572 612388
To be involved with any of these productions and extra-curricular exams – on top of studying A-Levels – takes hard work, energy and dedication. Well done to every single person involved and we know this isn't the last we'll see of Hereford Sixth Form College talent emerging into the wider world.
Ed.