First 'Futures Day' Creates a Real Buzz
Posted on 29th June 2015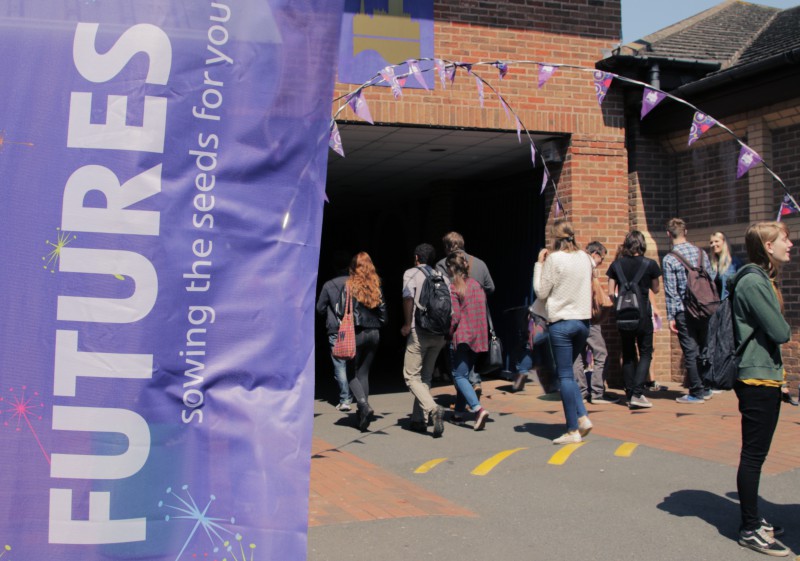 Months of planning by the Careers Department came into fruition on the first ever Futures Day at Hereford Sixth Form College.
Approximately 1000 students attended presentations by 200 visiting speakers, offering topics such as Running Your Own Business; So You Want to be a Vet; How to Choose Your University Degree Course and How to Plan a Gap Year.
Universities including Worcester; Bath Spa; Cardiff and Cardiff Metropolitan; Liverpool; Bristol and Exeter all had pitches in the Careers Fair which took place simultaneously in the College Pavilion, and the Performing Arts Centre which was abuzz with music from College bands; fund-raising stalls for gap year projects and campaigns such as Safe Summer and Stop Smoking.The Courtyard Theatre was there too, promoting volunteering and career opportunities within Hereford and students could also visit the Army and RAF stands to get the very latest information on recruitment.
Hilary White, Head of the College's Careers Department said "I am thrilled with the way this first Futures Day has gone. We've had so much positive feedback from our visiting speakers, students and staff – there have been a lot of smiles today!"
Ms White continued, "It is so important for our students to get the very best and the most up-to-date information to help them make important decisions about their futures – and this is what Futures Day 2015 has been all about. There have been workshops on using LinkedIn to start building students' professional platforms on social media, and cutting edge technology on web-based CV builders. We've had dentists; engineers; lawyers; medics; yoga teachers; booksellers; agriculturalists and IT specialists all sharing their knowledge with our students. We've had panels of experts discussing apprenticeships in engineering, business administration, health-care and accountancy; alumni offering advice and insights into their current careers... and so much more."
The College sends over 700 students to university each year, achieving 100% application success rate in almost every subject. About a hundred students take up apprenticeships and jobs in accountancy, business administration and engineering, to name just a few destinations, as well as some students taking on life-changing gap year projects all over the world.
Hereford Sixth Form College is one of the most successful sixth form colleges in the UK. "We believe an effective careers programme plays a large part in motivating students and inevitably impacts positively on their achievements. Futures Day has been an important component of our 2015 careers provision".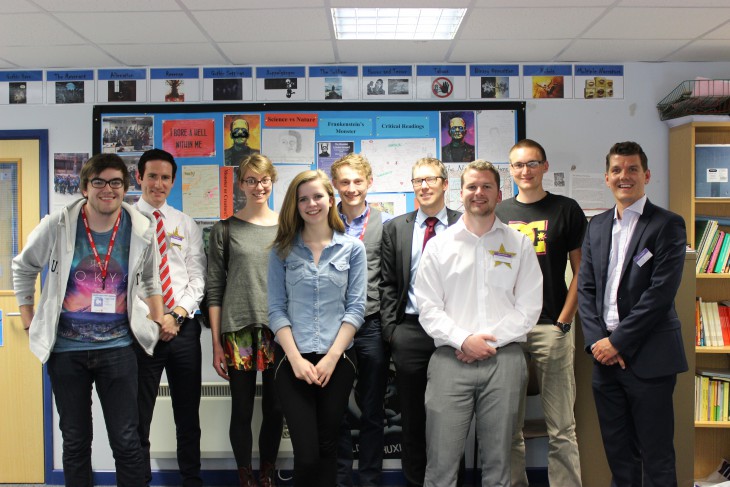 Photo features L-R: Kieran Young (Mathematics Undergraduate, Aston University), Richard Dudley (HealthWatch, Herefordshire), Laura Johnson (Foundation Diploma in Art & Design, Hereford College of Arts), Robyn Barratt (Theatre Management, The Courtyard), Peter Crowther (Chemistry/Physics Undergraduate (year in industry), University of Bristol), Richard Perkins (Civil Engineer, Balfour Beatty), Adam Moreton (Purchasing Manager, Wyvern Business Systems), Craig Townsend (Logistics, Tesco), Nick Harrison (Account Manager, Hewlett-Packard)