Election Hustings 2015
Posted on 6th May 2015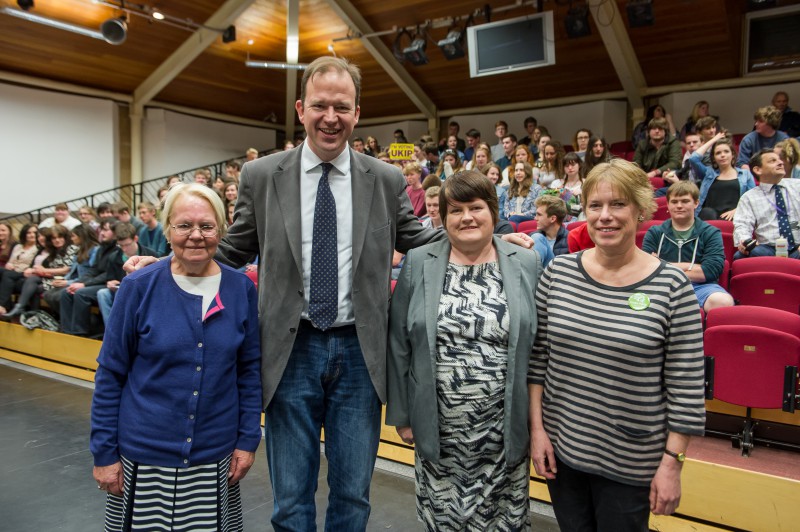 Following a now well established tradition, Hereford Sixth Form College students were given the opportunity to question the candidates for the Hereford and South Herefordshire constituency. The panel was made up of current Conservative MP Jesse Norman, Diana Toynbee of the Green Party, Liberal Democrat Lucy Hurds and Labour party activist, Jo Kelly. (Jo stood in for Anna Coda-Hancorn, who had a car accident on the way to the hustings, but fortunately wasn't seriously injured). The UKIP candidate Nigel Ely had a prior engagement on the day and sent his apologies.
Students chose the questions on the topics of education, the environment, NHS and taxation with each candidate given three minutes to answer. Environmental Science student Ceri Middleton, asked how MPs would make Herefordshire greener and whether they would ban fracking. Politics student, Harry Ruxton enquired what candidates would do to stop large corporations and the super-rich from evading billions of taxes every year. Law student, Joel Starkie enquired if the candidates would halt the privatisation of the NHS.
With the 2015 election imminent, it is important that those students voting for the first time be aware of the party stances and use their vote carefully.
Debate Society events are clearly having a notable effect – College alumni have a notable track record of involvement in both local and national politics. The extensive rolling programme of debates and guest speakers run throughout the year provides a real window on contemporary political, social, environmental and economic issues. Long may it continue.