County Speed Skateboarder Scoops Scholarship
Posted on 30th June 2015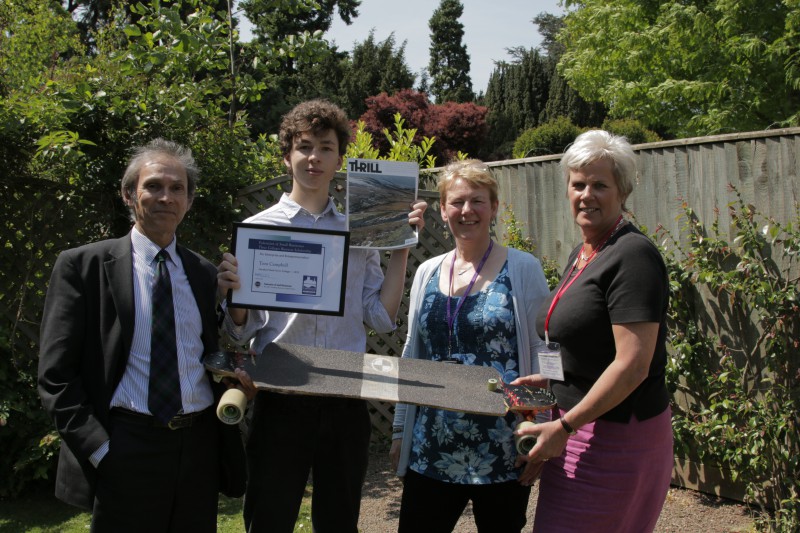 Hereford Sixth Form College student, Tom Campbell, has been awarded the Federation of Small Businesses (FSB) Three College Business Scholarship 2015.
The award, now in its third year is open to students studying accredited courses at one of Hereford's colleges: Hereford College of Arts, Herefordshire & Ludlow College and Hereford Sixth Form College. The award is an excellent addition to any CV and also carries a cash prize of £200 for the winner to invest in their young business.
The Scholarship is divided into two categories. Tom picked up the 2015 under 19s award for enterprise by stunning the judging panel with his downhill speed-skating business, which has already made a significant profit in its first trading year.
Tom says, "Downhill speed-skating is fairly new to Britain. Although there are plenty of skaters there didn't seem to be any competitions for us to enter. In June last year, I decided to give it a go and by August I had a real winner on my hands. I worked with a council in Wales to close a road near Llandovery, which became our downhill racetrack. I also arranged for caterers to be on site and a designated area was set up as a temporary campsite for skaters and spectators. The competition attracted entrants from all over the UK and I even had a skater from Brazil and another from Lithuania!"
Tom's early success is just the start of things; he plans to work with investors to build a multi sports track in Herefordshire which will attract world class skateboarders and other track athletes.
After completing his A Levels in Economics, History and Mathematics, Tom plans to take some time off to pursue his sport and has already negotiated sponsorship allowing him to compete in Norway, where speeds reach 60mph over a two mile downhill course.
If you would like to find out more contact Tom Campbell at briannecollective@gmail.com or search for the Brianne Collective Facebook page.